Christopher Abrahams will be representing South Africa at the 2019 World Latte Art Championship in Berlin at the beginning of June 2019. We got a chance to chat with him about his recent win and preparations for the upcoming competition...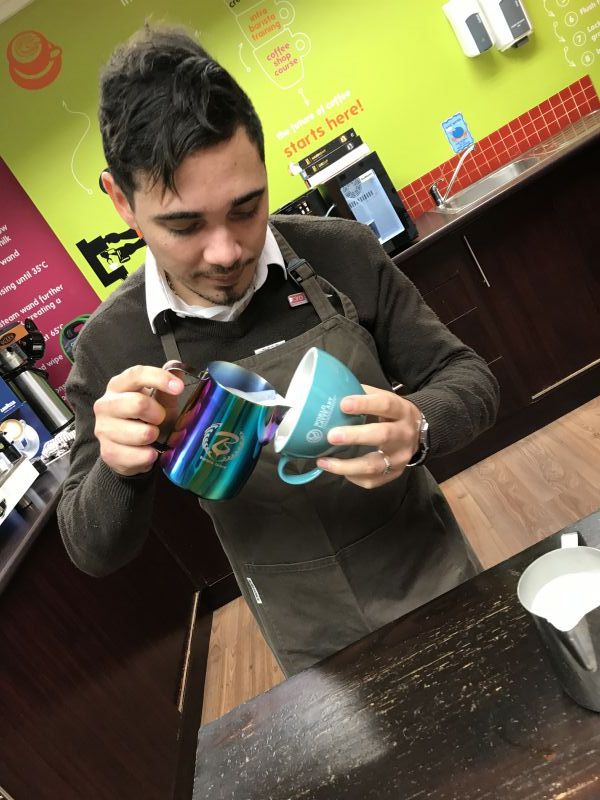 Congratulations on winning the 2019 Latte Art Championship! How did it feel to win?
"It was a great feeling! I worked quite hard in hopes of doing well. It's not always easy to find time to practice, so I sacrificed a few late evenings where possible."
What is the competition format for latte art?
"The rules change annually, or sometimes every second year. At this point in time, it's focussed on creativity and realistic patterns. There are three rounds. The first round is a set of free pour designs and a set of designer pours, which has to be finished in eight minutes. The semi-final round consists of two sets of free pour designs and a separate set of free pour macchiato designs, which has to be done in nine minutes. The final round consists of two sets of free pour designs followed by a separate set of designer pours, which has to be finished in ten minutes.
The latte artist has to present the panel of judges with photographs of the exact designs that they will be pouring, as a reference point for the judges to use when comparing the similarity of the actual pours to the photo provided. The latte artist has to finish their set in the required time; if not, a point will be deducted for every second that they've gone over time. After a two-minute period, the latte artist will be disqualified."
One of your winning pours in the finals was 'The Tribal Angel' – tell us about it?
"It took me a while to come up with the design. The designer pour is usually quite difficult to come up with, as it needs to be as creative as possible and gives you the opportunity to use an etching tool, to assist you in making it realistic. So I tried to focus on my strengths, by applying a combination of techniques that I felt comfortable using and then thought of how I could turn it into something I like – that being angels. The moment I first poured it, I knew it would be the design I'd be using for the competition."
You'll be competing at the 2019 Berlin World Coffee Championships – how do you
prepare for a competition like this?
"It's definitely an opportunity which not every barista gets to experience, so it's worth putting as much effort into your preparation as possible, to make a success. It therefore takes months of practice and in some cases, possibly even a year to prepare for it."
How do you decide what concept to go with on the day?
"I believe that every latte artist is different. There are some who decide on their designs months or weeks before the competition and some who decide the night before. I usually try to decide which designs I'll be doing at least two weeks to two months before the competition. I find that the week before the competition is the trickiest, as I usually start doubting my designs and begin to make minor 'last minute changes. This isn't always a good thing to do, but has had a positive impact on my performances thus far."
How do you come up with your designs?
"The process as a whole, involves quite a bit of drawing, as well as practicing different techniques to achieve in the cup what is created on paper. The main focus is to be unique, surprising, creative and realistically impressive."
How do you remain calm and concentrate in front of a crowd?
"I must be honest, I'm not the calmest in front of crowds. It's different when there's an expectation to pour a specific design. Pouring for the sake of pouring latte art is usually so much easier, even if surrounded by a large crowd. I tend to shake a lot and to this day, I still have no idea how to handle it on stage. There are a few small techniques though which help a bit."
What does your day-to-day work at Ciro involve?
"I currently work as a senior trainer at Ciro in the Western Cape region. Most of my day is spent behind the laptop doing administration. I don't get much time during working hours to make coffee or pour coffee; it's usually just before working hours or after. I'm quite fortunate to have a colleague ( Bakhe Mapasa), the junior trainer, who does quite a bit of the day courses and one day courses. There are also periods where I have the opportunity to spend a few days away at specific sites, where I get to train large groups.
I also assist the sales team when doing tastings with customers, as well as assist with events where possible. I'm also responsible for running the Barista Upliftment Programme)within the Western Cape. Every three months I have the opportunity to interview suitable candidates from various organisations, and have been doing so through DeafSA this year. This is an amazing opportunity to teach deaf trainees about the art of coffee and also to improve my sign language."
How did you get started in the coffee industry?
"I had my first experience with a freshly grounded cup of coffee just less than seven years ago at Ciro. I truly had no idea that the coffee industry was as broad as it was. It was soon after, when I saw the first bit of latte art, which excited me most. I worked on it for about two years and then stopped for about a year. Thereafter, I decided to get back into the 'swing of things' and start pouring and exploring the latte art aspect of the coffee industry."
What are your aspirations for your coffee career?
"My main focus is to continue working hard at latte art, in the hope that I can reach the semi-finals at the world stage one day. I'd like to become an ambassador for latte art in South Africa and uplift upcoming latte artists in the future. I'd also like to become a world judge one day and judge the world latte art completions in the future. It would also be great to represent South Africa in another category of the competition, which I hope to achieve in a few years' time."
Good luck for the World Latte Art Championship in Berlin, Christopher – we wish you all the best!