On Finals Day, we asked many people around the arena who was their favourite to win and Jooyeon Jeon had obviously entranced the crowd as her name kept popping up in the answers. The predictions (and perhaps hopes) of all those people turned out to be the winning choice. Jooyeon Jeon from South Korea became the 2nd female World Barista Champion in a row on Sunday. In the end it was between herself and South African favourite, Michalis Dimitrakopoulos of Greece who has been to SA as part of the All Stars program. It was her second time at the WBC, having competed and placing 14th last year in Amsterdam.
Her set stood out for a number of reasons, the most significant being the creative way she presented her stage set up and made the judges sit and move around and sceondly her focus on the sugars through a study of carbohydrates in coffee. It was a highly technical set. I would be lying if I said I fully understood exactly what she was talking about (this post helped me to understand just how important carbohydrates in coffee are), but you can watch it yourself on the World Barista Championship feed to see how she impressed the judges with this incredibly well-researched performance. The coffee was from Colombia, specifically the farm La Palma Y El Tucan, and was a Sidra varietal processed by anaerobic fermentation which was a very popular trend at this year's competition. As much as the processing method of fermentation manipulates the flavour of the coffee, she went mad scientist on her signature beverage round and removed and reintroduced different sugars from her coffee. It was wild.
She was such a treat to watch, one simply couldn't stop smiling as she addressed the judges from sitting on the table and then invited them to join her. So exciting to see South Korea take the title! We were super impressed by the coffee culture there when Seoul hosted WBC 2017 and obviously having the WBC in her home country inspired Jooyeon to reach for such great heights!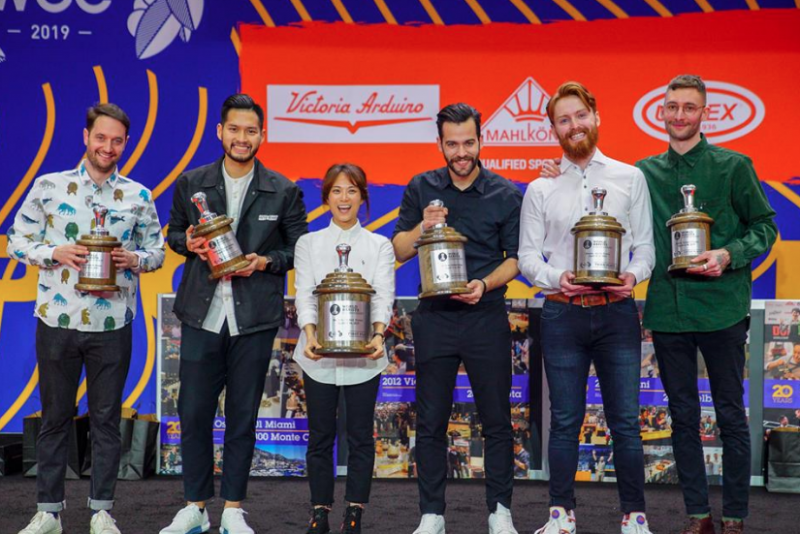 The fantastic Top 6. From left to right: Mathieu Theis – SWITZERLAND (6th), Mikael Jasin – INDONESIA (4th), Jooyeon Jeon – SOUTH KOREA (WINNER), Michalis Dimitrakopoulos – GREECE (Runner Up), Cole Torode – CANADA (3rd), Wojtek Bialczak – GERMANY (5th). Photo by Lanny Huang for World Coffee Events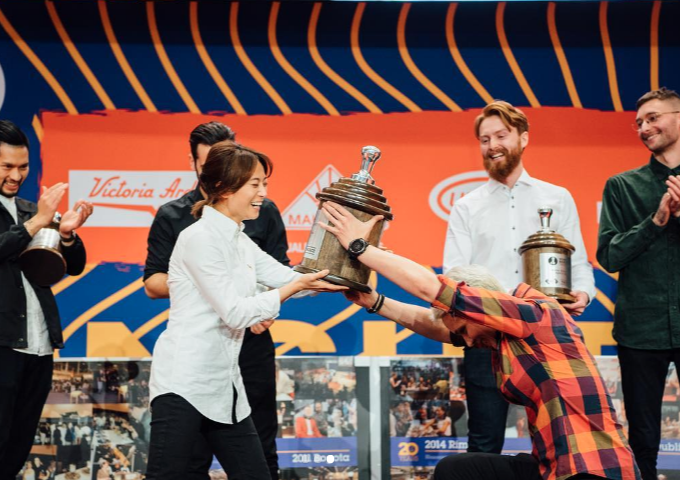 From one Champion to another. Beautiful moment caught by Lanny Huang for World Coffee Events
It is difficult to believe that the events in Boston have already concluded. We had so much to do around the SCA Expo and greater Boston, but it was difficult to tear ourselves away from the stage, especially during semis and Finals.