In July 2018 we went to see the WBC All-Stars, and we never imagined we'd bump into an All-Star of our very own. Natalie du Toit is South Africa's most decorated Paralympian with 13 Gold and 2 Silver medals! We caught up with her to see what she's up to these days and we asked her about her connection to coffee.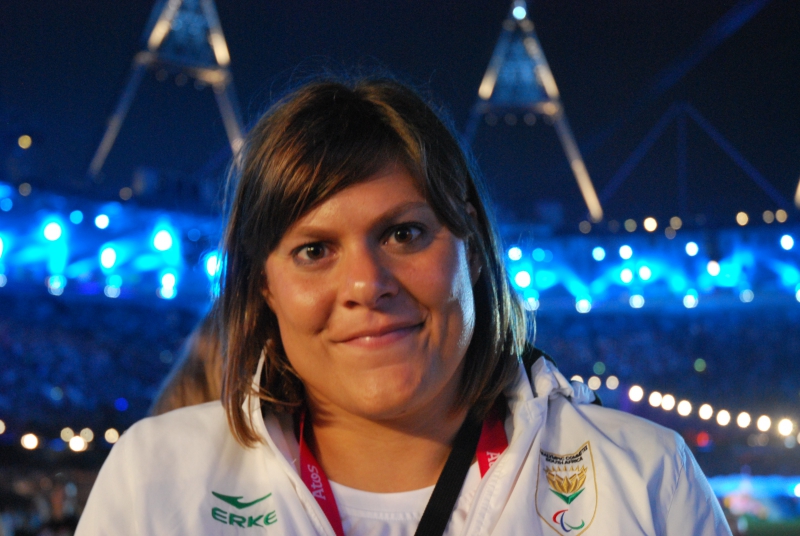 Firstly Natalie, it was so good to see you at the WBC All-Stars stage at Coffee & Chocolate Expo - what were you doing there and what did you think about the show?
It is an honour to share my experience with the readers of the Coffee Magazine and thank you for this opportunity. The WBC All-Stars stage at Montecasino was something I had got to know about through an advertisement on Facebook. I have had a fascination with coffee and chocolate for years now and somehow always drink coffee with something chocolate related. I was keen to see the different pairings of coffee and chocolate and was not quite able to experience that, but did manage to walk around and buy some espresso coffee and experience a few hours out and about, tasting coffee and enjoying some time outside.
Can you believe the coffee market in SA has grown to this point where we can have our own Expo just for the coffee-loving public and to bring a World Coffee Event to our shores?
My colleagues and I are a prime example of why the coffee market is growing. We are always meeting at restaurants, quaint coffee shops and coffee bars. It is always interesting to taste the different brands/mixes and network with other people all whilst having your daily fix.
You have been an inspiration to so many South African's through swimming, now that you've hung up your goggles, what are you up to these days?
My choice in work these days includes:
Communications - My business interest and my particular role is to communicate on the digital and social side. Social Media has become a communications tool that we all need to be on and a two-way style of communications will always be a challenge. I am therefore focused on the well being and strategic side of social media, training and growing businesses and sports organisations, teams as well as businesses.
A crypto currency/blockchain based transparent sports project called SportsPodium where we level the playing field by taking ethics, real value, sustainability and passion in sports to full throttle by rewarding aspiring athletes for the most important element of training which is diligence. As a former athlete, this is truly exciting for me to witness as it allows the merging of sport and business in unchartered waters - excuse the pun. This project will shift the development scope within sport and allow opportunities and growth opportunities that have never been witnessed before.
I also serve on a few Sports Commissions and am working on growing and learning for myself and building something in business that becomes as equally successful as to that of my prior sporting career. Within this, it is to support sports in a holistic approach, making sure that mistakes are not revisited and at the same time using the communications space and platform to inform and educate.
And then of course, my studies. I am currently studying a B.Com through the Da Vinci Institute and always upskilling myself with free workshops online.
As a public figure and a social media specialist, how does one become an influencer?
It depends on which platforms you would like to be an influencer on, so choose one or two… , then choose the type of information you would like to cover. Very importantly, your content must have meaning, it must be interesting and you must be constant with posting.
You lived in Italy for a while - do you prefer the Italian style coffees or the more Third-Wave style that we have adopted here?
Living in Italy was interesting. I am so used drinking coffee whenever I want and had to quickly understand that coffee was only a short espresso that was drunk at a lightning pace and then you move on. I was so used to drinking cappuccino slowly and savouring the taste. It was also frowned upon when I tried to order a cappuccino with my dinner and was told not to embarrass my team. The machines are usually switched off late afternoon and no coffee is served for dinner. I was sold on the Italian style of coffee with milk and actually travel with an electrical espresso Bialetti machine with my taste of ground coffee.
Which is your favourite way to drink coffee? (At a Cafe, if so feel free to name it, or a brew method at home…)
Taking part in Barista courses at Coffeequip and learning all the quirks to making a great cup of coffee is always fun and entertaining and ultimately allows this to become an interesting conversation around the table. What type of equipment, what is the best set-up, how old should the roast be and how long does it take to expire? What type of milk should one use and how to create the patterns on the top of the foam. So much to learn!