By Janelle Verster
---
What seemed to be a perfectly normal working day in Pretoria that morning, soon turned into a big adventure. Something like Alice who fell through the rabbit hole into Wonderland or Lucy who walked through the wardrobe into Narnia.
It all started with a call from my husband, Pieter. "A White Wagtail has been spotted at Rooisand; there are cheap flights available – are we going?" My voice could not hide away my shock. "Today?" Now I am not the world's best aeroplane passenger or flight companion – to be honest, I am a very bad flyer. Sometimes I will cry softly for a large part of a flight (trying to do it unnoticeably, though) and with every slight bit of turbulence I am usually very concerned. Over and above this, we returned from the exact same part of the country only three nights ago after a nice, long December holiday at my in-laws' place in Hermanus. It was only our second day back at work. "Take half an hour to think about it and call me back."
I quickly went to get coffee at our cafeteria whilst processing the information. The White Wagtail. It might sound like the name of a ship – maybe we were shipwreck hunters. Not yet. And no, it's not a plane. Nor is it Superman. It's a bird…
In our free time, we like to do what they call "birding". Like thousands of other people in South Africa (yes, believe it or not), we try to see as many different bird species as possible in the Southern Africa region (SA and its neighbouring countries for birding purposes). We have driven many kilometres in search of birds and each trip is like a treasure hunt. But one can also say that we are "twitchers" (for other interesting birding jargon, search "Twitchers vocabulary" on Wikipedia). Twitchers are birders who jump at the opportunity to go and see a rare bird when it unexpectedly pops up somewhere. Often, o so very often, one "dips" on the bird (miss it completely despite all the effort to get to the spot it was reported from – when you arrive it is gone…), so there was a good chance that the White Wagtail would also be gone when we arrive at the spot it was seen.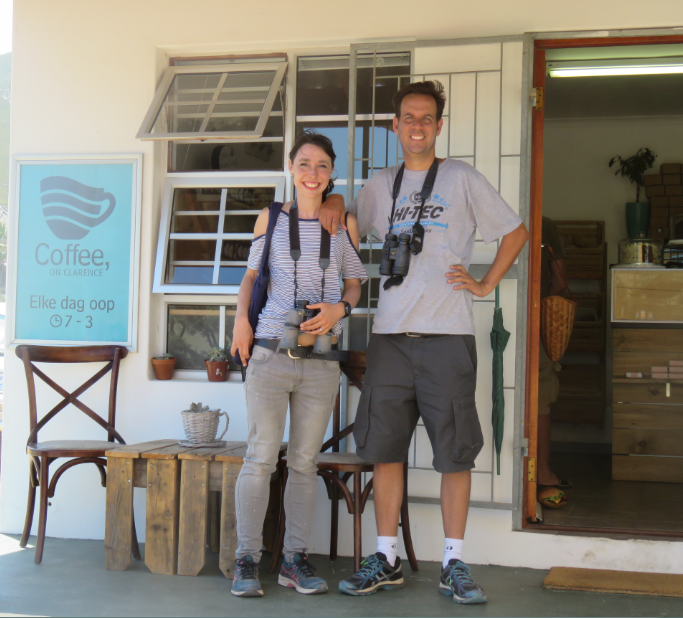 The White Wagtail is, however, not just any bird. It has never, ever been spotted in the Southern Africa region. It comes from very far – these birds are generally found in Asia and Europe and some of them do a seasonal migration to the northern parts of Africa. The records closest to Southern Africa that I know of, were in Malawi and Tanzania. So how did this vagrant bird end up close to the very south of the African continent? It seems as if some birds' "internal compasses" go haywire sometimes. Others might be young and inexperienced in their travels, and some others might be pushed off course by the weather (Melissa Mayntz wrote an interesting article about vagrant birds on www.thespruce.com). It cannot be said with any certainty how this one got here. But this one, expertly found by a gentleman by the name of Lester van Groeningen, was something very worthwhile of "twitching": in the words of Trevor Hardaker, one of the most famous names in South African birding circles and compiler of the SA Rare Bird News Report (by the way, if you are interested in news like this, you are welcome to join the sa-rarebirdnews group on Google), "Get here now!!!"
And so we did. That evening of the 9th of January 2018, Pieter and I were on our way back to the Western Cape, with our very good friend, Eduard, joining us. As with Alice and many characters from fantasy tales, our transition to the other "world" was, however, not all smooth-sailing. Bad weather in Gauteng meant our plane had to take a detour to OR Tambo first on its way back from wherever before it eventually landed at Lanseria International Airport to pick us up. At least we had the privilege of spending the few hours in the airport lounge, myself with a coffee and the latest Coffee Magazine.
After our delayed flight, we still had to tackle the around 120 kilometres to Hermanus by rental car. We eventually arrived at my parents-in-law's home at 22:35, answered a few of their curious questions, had some food and went to bed, as we knew that often only the early worm catches the bird. Many birds tend to be less active when it is hot, so we left Hermanus very early the next morning, eager and hopeful to find the bird, but also a bit nervous: what if it left already? What if we cannot find it? What if it flies off before all the members of our group sees it? All these questions arose from previous not-so-good experiences…
It could also be the case that we would have to search for the bird for several hours, so we made a quick stop for provisions at a nice filling station shop in Onrusrivier on our way to the Rooisand Nature Reserve where the bird had been spotted the previous day. Of course I wanted a coffee too… At the coffee machine, I came across other people with the same love for coffee (and for birds!). "Are you also here for the bird?", they asked me. I think the binoculars around my neck, despite it still being dark outside, gave it away.
We arrived at the Rooisand Nature Reserve some minutes later, myself still sipping on the cup of coffee. The Reserve is situated close to the famous Arabella Country Estate and golf club, near the Overberg town of Kleinmond. It is indeed a wonderland, with wild horses wandering around the wetland. As with the bird, it is also not known how the horses got there in the first place. It is possible to walk a few kilometres along the mud flats of the reserve, so we hoped that the bird (if there) would be close to where it was spotted the previous day. Not that we dislike walking (I actually love walking!), but to find a bird of around 20 centimetres in an area of a few kilometres can be quite a scramble. What makes it even more difficult to find, is the vast number of bird species of a similar size that can be found in the reserve and the fact that there are Cape Wagtails almost everywhere along the banks of the water. The Cape Wagtail is a common resident of the Southern African region and that, as it name tends to suggest, is also found in the Cape. It is quite similar to the White Wagtail to the untrained eye (including the three of us, who only recently heard that something like a White Wagtail existed…). We got excited at the sighting of any wagtail and carefully tried to study each individual bird in the bad light of the early morning. However, none of these could be confirmed to be a White Wagtail.
Together with my "team" and my coffee, I eventually moved closer to the bird hide next to which the bird was seen the previous day. There we found the same people we came across next to the coffee machine earlier that morning, now throwing their arms in the air as they saw us. They found the bird! We hurried closer, careful not to disturb the bird that we still could not see at this stage. The friendly people managed to get the bird in their spotting scope and kindly offered us a look through the scope: each of us, in turn, saw the bird and it was clearly the right one! We then watched for minutes through our binoculars how the bird was hopping around and feeding with two Cape Wagtails and later it even came so close that we could identify it with the naked eye.
We celebrated the find with a wonderful cup of coffee brewed from Kamili coffee beans at Coffee, on Clarence – a lovely place for coffee and eats that we discovered in Betty's Bay. Like us, owners Kristi and Jacques also left Pretoria for "another world" in the Overberg, but on a different adventure and on a permanent basis. I asked these friendly strangers quite a lot of questions about their nice little coffee shop in Clarence Drive (on the R44), and they were equally interested in our birding story. They opened their coffee shop in September 2017 and already open at 7:00 in the mornings, perfect for early adventurers like birders, runners, cyclists, beachgoers and surfers.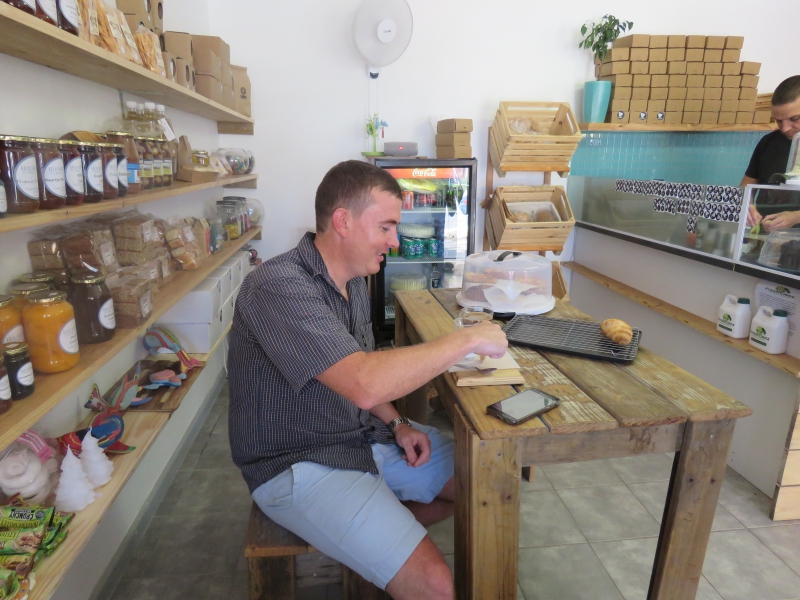 Well, we have been back at the office now for a few days after getting up at 3:38 am on the Wednesday morning to return to our normal world, telling some perplexed co-workers of our adventures. But it appears as if the bird has now followed in the footsteps of Alice in Wonderland and Lucy of Narnia, as it could not be found by anyone since Thursday…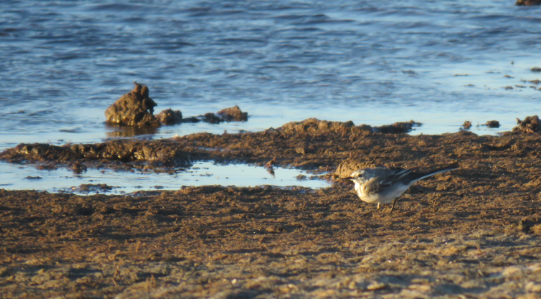 The White Wagtail at Rooisand Nature Reserve (Photo: Pieter Verster)