I have had the distinct privilege of visiting
3fe in Dublin
, Ireland and meeting the lovely Colin Harmon. You would be hard pressed to find a more humble success story than this Irish gentleman. So it follows then that the book is written in the same manner: humble, self-deprecating and caring.
What I Know About Running Coffee Shops (WIKARCS)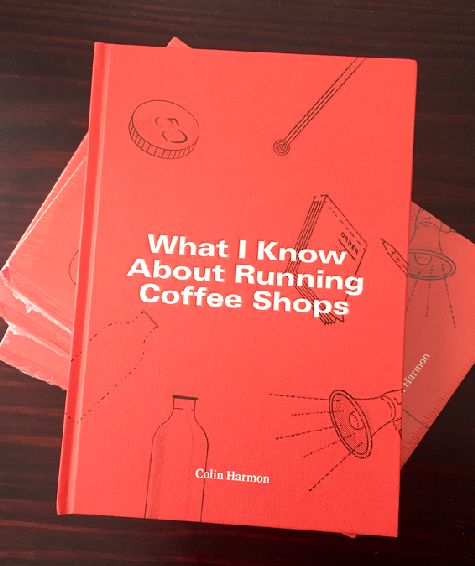 I am a very tactile person and so when the box arrived and I ripped off the plastic of our copy, I was immediately in love with the cover. As Iain said, "It feels like a book that my grandmother would have on her shelf." It is hard cover and textured and 3FE red and I just love running my fingers over it. It has that nostalgic feel of reading an old classic curled up on the couch.
But enough about the aesthetics, what of the content?
This is not a complicated book. It is a book of personal experience and it is told with no airs and graces.
I love that.
In his introduction, this line stood out to me about the pull of owning a cafe:
"Many of these people I've met have never run a business before and have no experience in cafes, but have become determined to leave their existing careers behind and open their own coffee business. It's very difficult to be successful in the hospitality industry - and doing it without any experience is next to impossible - but there's something about coffee that draws people in."
We come across people on a daily basis who think it will be easy to pull off such a task. I urge all of them to read this book first. At the end of the day, a coffee business is a hospitality business and so many people forget that. You don't have a business without keeping your customers (and staff) happy, no matter how good your coffee is. If you've ever been in the service industry you will immediately relate to some of the struggles that Colin has faced in the process of building 3FE.
The book is very thoughtfully structured offering practical tips and drawings for beginners and only very briefly touches on the coffee itself through the lens of improving service rather than how you should brew your coffee.
And really it's the little things in WIKARCS, like how the amount of sunlight you can get in your shop should be important to you when choosing a location, because sunlight effects people's mental health, and the struggle of maintaining a clean toilet, that just really can't be learned through any other means than trial and error and some hard graft.
An insightful study into how people use the cafe space that all who read it will benefit from, whether you're a customer, a cafe owner or a person with a coffee dream.
Highly,
highly
recommended.
We brought 40 copies into SA, all of which have sold. If you comment below to say you would like a copy, perhaps we can bring in another shipment.