You know, we love it when two of our favourite indulgences find a way to collaborate. In this case, it's the new Cafe Racer Porter from Devil's Peak Brewing Company and FIERCE utilising our wonderful friends at
Legado Coffee Roasters
to add a rich body and flavour to this brew.
We are extremely lucky to receive a lot of interesting packages in the mail and we welcomed the arrival of something that was a little different to the beans and gadgets (We did also recently receive a delivery of wine-soaked coffee beans from Quaffee, there'll be more on that soon! We're sensing a pattern...).
With a not-so-subtle Patron Tequila aroma, the first sip is surprising. Gently creamy and delightfully sweet. We looked to the label to see what exactly was contributing to the complexity of this stout. And here we found,
lactose. I
n our ignorance we wondered, isn't that milk/dairy related? Why yes indeed, it is. It's the sugar derived from milk, and why would one use this in beer?

"It is a stout beer (dark beer made via the use of roasted malts or roast barley) that contains lactose, a common sugar derived from milk. Since the lactose is unfermentable, it adds sweetness, body, and calories to the finished beer, contrasting the roasted flavor."
So now you know. You don't really need to know the details though. Devil's Peak brew excellent beer. Legado roasts excellent coffee. You can't really go wrong here folks, just try it!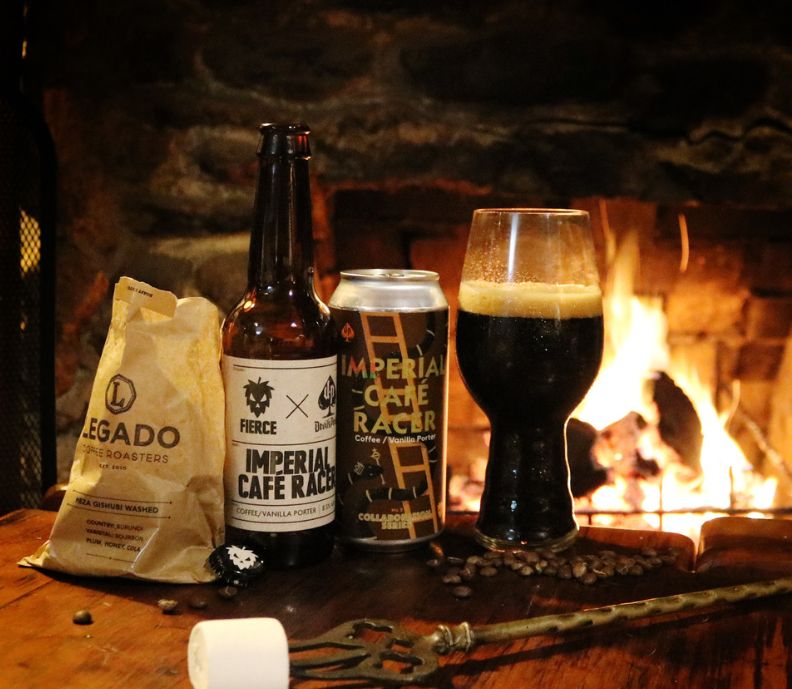 Photo from Devil's Peak Brewing Company, unfortunately, we weren't drinking it by a fireplace, so this pic took 1st place, doesn't this just look sublime?!