Breaking News! SCASA appoints a full time Barista Competition co-ordinator.
Running the National Barista Competitions in South Africa is no easy task. Securing the venues, setting up the competition stage, the barista practice area, the Judges room, the sponsors, the barista orientation and running the 3 competitions (Barista, Latte Art and Cup Tasters) and co-ordinating over 40 people to assist in running a smooth event, is just the start of whats required! In an endeavor to run the best possible competitions, consistently and efficiently, SCASA decided to appoint a National Competition Co-Ordinator.
Enter Coffee- Superhero,
Chris Rootman.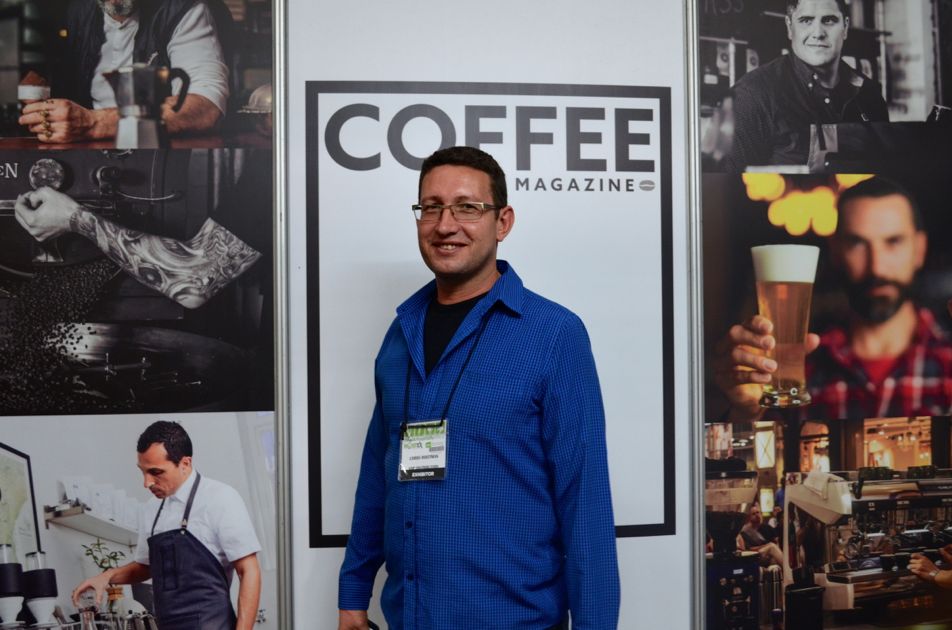 Chris, who is a full time Barista Trainer and Coffee professional for VDP Distributors, volunteered to assist in running the Nationals held at Gateway in 2015. Now Chris is the quiet type, but he manages to get everything done, before anyone's noticed it even needs to be done. He's sneaky and frighteningly efficient like that!
Chris was then asked to fly up to Gauteng to run the 2016 Regionals at Food & Hospitality Africa, where he earned the friendly nickname Chris "Ruthless" Rootman - a tongue in cheek nickname, because he's such a friendly, nice bloke. But don't let that fool you - if you try and sneak something past Chris or disrupt his program…you'll have another thing coming your way!
SCASA announced last week, that because of his excellent performance and Chris has earned the job on a permanent basis - we caught up with Chris to chat about his recent appointment:
Coffee Magazine: SCASA has just appointed you as the National Barista Championship Competition Co-ordinator! Congratulations. What does this mean to you?
Chris: It is a great honour to be asked to be a key-person in the 'behind the scenes' workings of all our SCASA Barista Competitions. On a deeper level it tells me that the Championships have grown phenomenally in that it requires such a person, and it excites me for the future of these competitions.
Coffee Magazine: Tell us what this role entails?

Wow! Great question. There is so much depth to all the working-ons behind the scenes of these events that it would take up pages. In a nutshell I would say that it is 1. A role of communicating between the SCASA Board, the event organisers, the sponsors, baristas and coaches, judges and most importantly the volunteers. 2. Nuts and bolts. Getting my hands dirty with all the amazing volunteers who give us their time so generously, to build, carry, move decorate and get the stage, practice room and judges room for competition day. 3. Timekeeping. These competitions run on heavy deadlines. From getting everything there, building it, to everyone, including our judges, on stage, on time.
Coffee Magazine: Why do you love it?
Having competed a couple of years, I know the stress and the drama and the heavy emotions that goes with all the preparations both before and on competition day. Being part of a great team that provides a space for our countries best baristas to show off their skills is a great honour. But it is the mental and emotional side that makes me tick. You are surrounded by people who are extremely nervous and high strung from when they arrive in the morning to that second they call for time. Who jump for joy or cry in anguish when they get backstage after their performances. I find that you feed off these emotions and find that you experience every one of those with them. It keeps a person humble.
Coffee Magazine: If people out there are reading this, and want to assist, What does SCASA need the most to make your job and the competitions better?
Volunteers and crowds. We always need extra hands to help fill all the gaps that pop up. Loud cheering clapping screaming crowds make the Baristas even more excited and brings another level to the competitions.
Coffee Magazine: Tell us a little about your other work in coffee, working at VDP and what it entails on a daily basis?
I am blessed to work with the prestigious Douwe Egberts brand. Our brand is deeply involved with farming development and sustainability of the industry and we try very hard to filter that through in our barista training and service delivery. In short we supply roasted coffee and world class barista training. The other department in VDP specialise in Craft Beer and prestige wines distribution in KZN.
Coffee Magazine: How do you drink your coffee / what's your coffee ritual.
Currently I'm on a cortado journey. I find the smaller amount of milk gives space to the espresso with that hint of sweetness from the milk.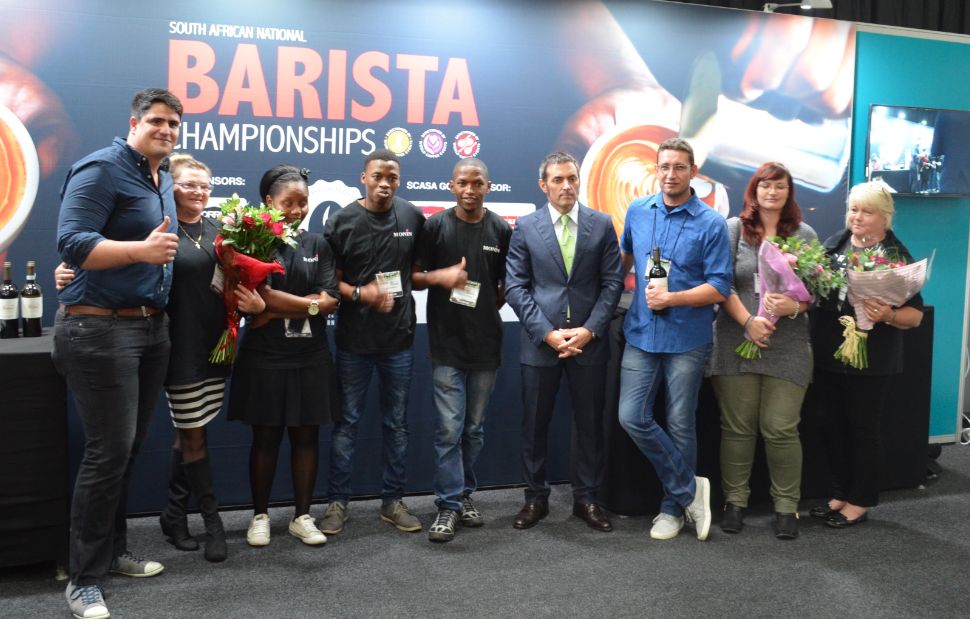 Chris with the volunteer team at the recent Gauteng Barista Championship!