All words by Matt Carter.
Photographs by TheCoffeeMag
---
It was about 5 years ago that I went to my first coffee competition; I heard about it on the radio and thought I should check it out.
When I got there I had no idea what was going on but I saw 7 people looking very serious and 4 of them drinking AMAZING looking coffee, I decided right then and there that I want to do that some day.
Fast forward 5 years and here we sit at the South African National Barista Championships 2013 and that glamorous vision of drinking some of the best coffee in SA has been replaced by a twitch and a throbbing headache. This year I have been asked to be a sensory judge. Aside from the dream coming true, I have quickly realised what it actually involves. Let me take you through the process.
It starts at a regional level where you judge anyone who enters the competition (which means with a straight face you get to drink everything from molten hot coffee that tastes a year old to some of the region's best). It is up to you and the team to find the top 6 to go to nationals.
A few days before nationals all the judges go through a rigorous training program that basically teaches you how to drink coffee. You might think reading this that I'm joking, how hard can it be?
Well, despite popular belief, very.
You need to not only assess the coffee visually, but also on taste and smell as well, and when you're doing that correctly you go into part of the program called calibration; this is to ensure that we're all seeing and tasting the same thing. After drinking a few espressos and cappuccinos, we are ready for action!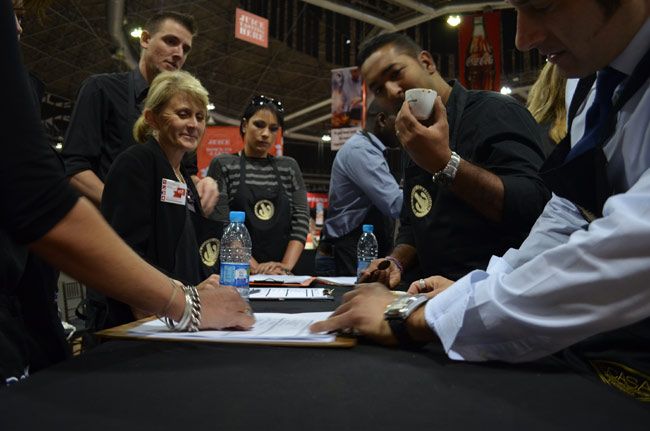 Early the next morning before the competitors arrive from around the country eager to be named the Top South African Barista, the judges crawl into the judge's room and re-calibrate . I'm not sure if we do it because we need it or because we don't function properly without a critical level of caffeine, but once we're all on the same page, we're ready to take to the stage and find our top Barista!
We will listen, write, slurp, sip, stir, smell and try follow as many instructions as we can drinking South Africa's best coffee made by South Africa's best baristas and then we will make notes and tell them what was wrong or right with their drinks. At the end of the day most judges will have tasted 18 different coffees. When each competitor is done we head into our "safe space" known as the judge's deliberation room and compare notes under the watchful eye of the head judge to make sure everything has been done as fair as possible.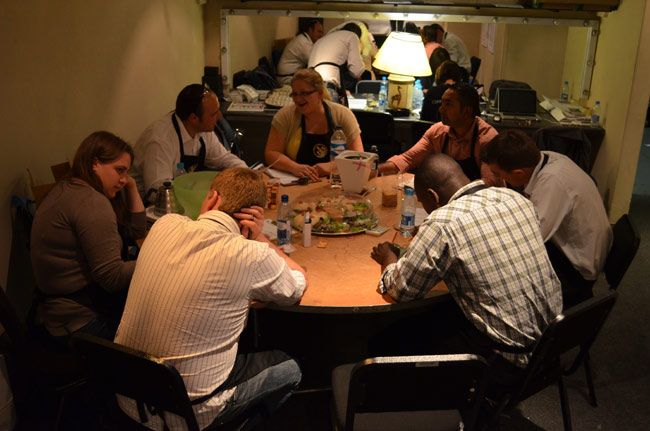 During this whole process we cannot drink any alcohol or eat any spicy food so that we preserve our palates. So we head home and have a bland meal with water and head to bed to lay there and not fall asleep due to a high caffeine level. We do this for 3 days till we find South Africa's top barista.
As tough as it is and as stressful as it is to make sure one is being honest and fair there is nothing greater than being able to serve in the industry in this way. On the plus side you also get to drink some of the most amazing coffees South Africa has to offer, and for coffee nuts like us that's quite a treat! You work with people who are pure legends in the industry and get to call them friends.
When the whole thing is over you feel a mix of emotions: proud to have been part of the team that found the top barista; sad to leave your new found friends; tired from sleepless nights, but at least you still have the caffeine-induced twitch to remind you that you were there, and it was AWESOME!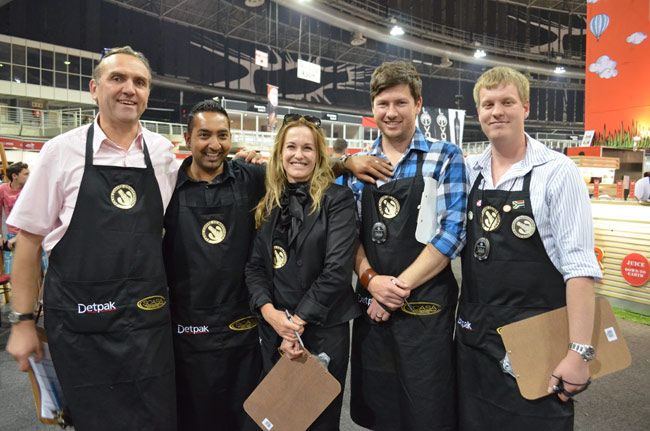 ---
We just want to send a huge thank you and well done to all the Judges who gave of their time this weekend to help decide on our new Barista Champion, Lovejoy Chirambasukwa. We know it's a difficult task and you handled it beautifully.