Wow! We are so stoked with the amazing result of the 1st Home Barista Jam hosted by the
Coffee&Chocolate Expo!
What a huge success and SO MUCH FUN! Coffee is for everyone and this weekend just proved how crazy South Africans are about coffee!
The challenge
was unique
. The results were a fantastic amount of fun!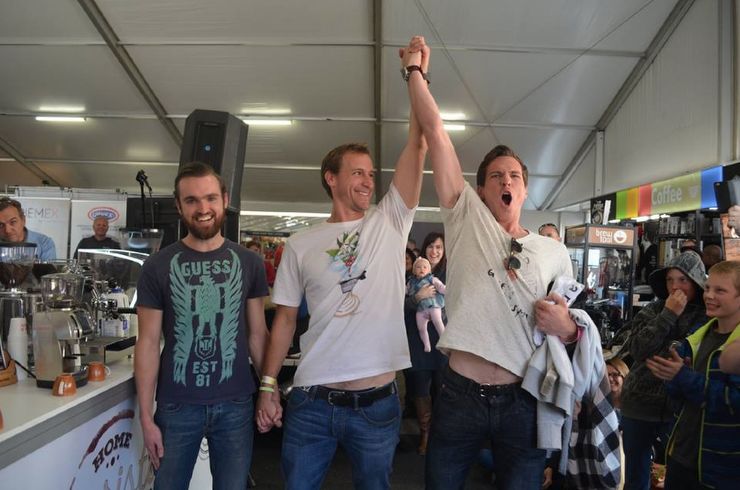 That is the face of a champion!!!! Reinhard Nell, a student from Tukkies, takes the double crown and the bulk of the spoils at this weekend's competition. He almost didn't compete in the manual brewing competition which means he wouldn't have been eligible for this prize, but he made the last minute decision and it paid off. He was a bundle of nerves and excitement the whole weekend and it was such a pleasure to have him as part of the crew!
David Coleman and I tasted a heck of a lot of coffees and the overwhelming feeling we both had constantly was that we were thoroughly impressed by everyone who participated. Iain Evans provided a running and insightful commentary on the events on stage. Throughout the weekend we welcomed fellow coffee professionals on stage to delight and inform the enthusiastic crowd. David did countless demos, Ishan Natalie shed light on what it takes to make a perfect espresso, Matt Carter made us a delicious Chemex, together they ran a taste test on the pour over versus the Chemex. Wayne Burrows and Alicia Bulter got us all a little tipsy on Thursday night with a phenomenal presentation and coffee cocktail demo.
Here are the names of the brave home baristas who took to the stage this weekend: Sean Jammy, Peter Primich, Karel Viviers, Smit van Zyl, Rudie Buys, Nathan King, Asher Friedman, David Lambert, Charl Grobler, John Brinkman, Trevor Fitz, Reinhard Nell and Daniel Sievwright. Well done guys!
Before we do anything else, we have to thank each and every one of the amazing sponsors that came onboard to make this such a worthwhile weekend!
You're all legends to us! In no particular order:
MoreFlavour
(AeroPress, Porlex),
Bean There Coffee Company
,
Urban Grind Roasters
,
Koldserve
(LaMarzocco Linea Mini, Hario, Chemex),
The Roastery
(Acaia),
Importalia
(Mazzer Mini, Isomac TEA),
Morrico Imports/Exports
(Nuova Simonelli), AL&CD Ashley (Severin, Bodum),
Ultipure
(Brita Professional),
PartsHub
(Baratza Forte Grinder, beautiful smalls from JoFrex), Clover Milk and last but certainly not least our hosts Coffee&Chocolate Expo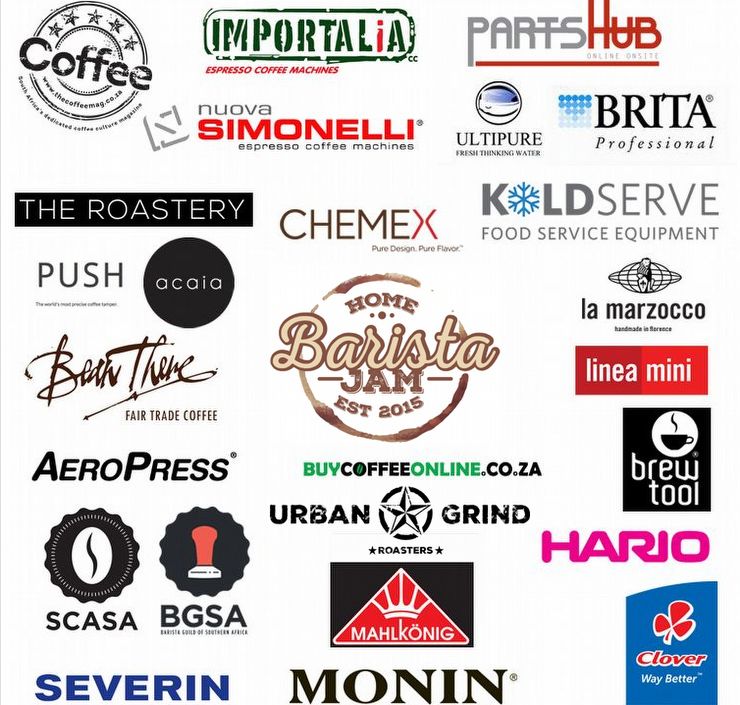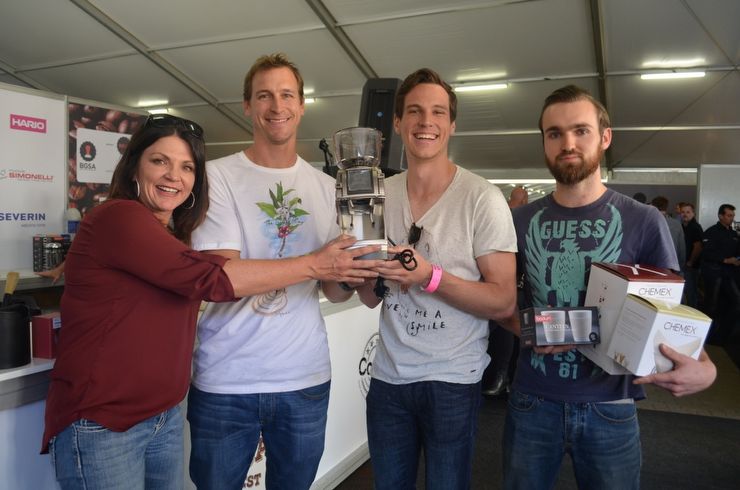 Huge shout out to Nadine Shone of Coffee&Chocolate Expo for her support of this idea and for helping us to create this platform. And that sparkly trophy? It's a Baratza Forte grinder that was sponsored by Johan Fritz of PartsHub. All the competitors had their eye on it throughout the weekend. Reinhard is going to have an amazing time with this beautiful grinder currently not available anywhere in SA.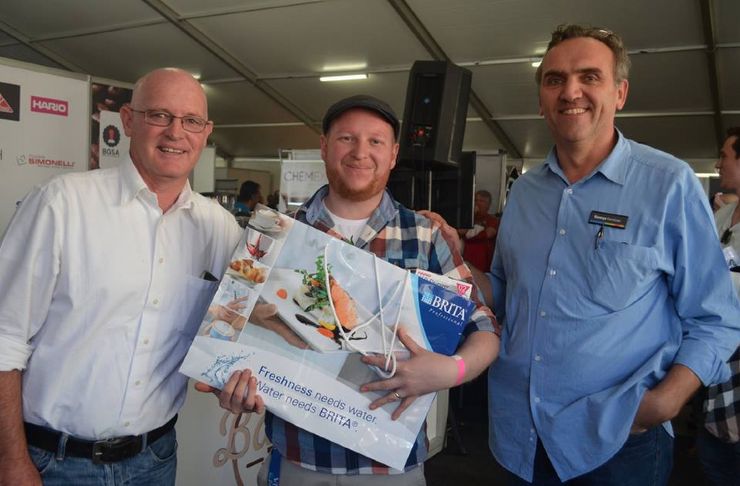 Rudie Buys (centre) was quite the character on stage, performing 'magic tricks' when he got too nervous and generally keeping the crowd entertained. He also entered manual brewers last minute and he ended up making an AeroPress that best represented the delicious Ethiopian Sidamo beans kindly sponsored by Bean There. On his left is Brand of Ultipure and Brita, who provided all the water filtration for the event and to his left is George Karatzas of Koldserve who sponsored the use of his beautiful LaMarzocco Linea MIni and numerous prizes.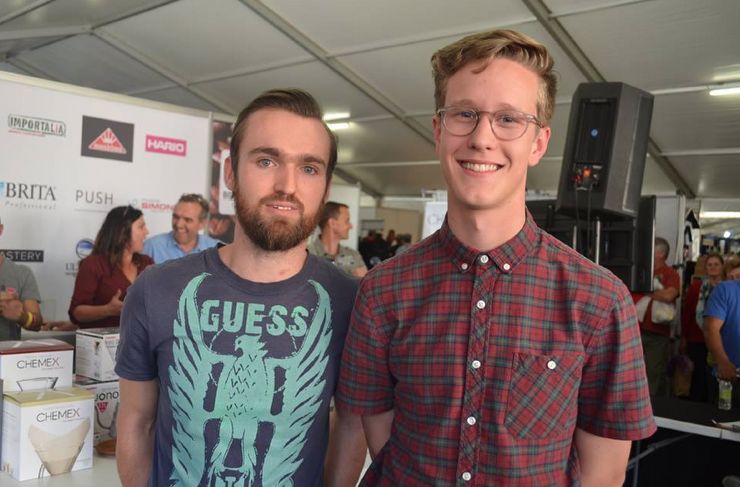 Trevor Fitz and Daniel Sievwright shared the spot prize of R1000 for best latte art during the competition. Daniel is SIXTEEN, 16! Well, these gentlemen certainly have great coffee things ahead of them!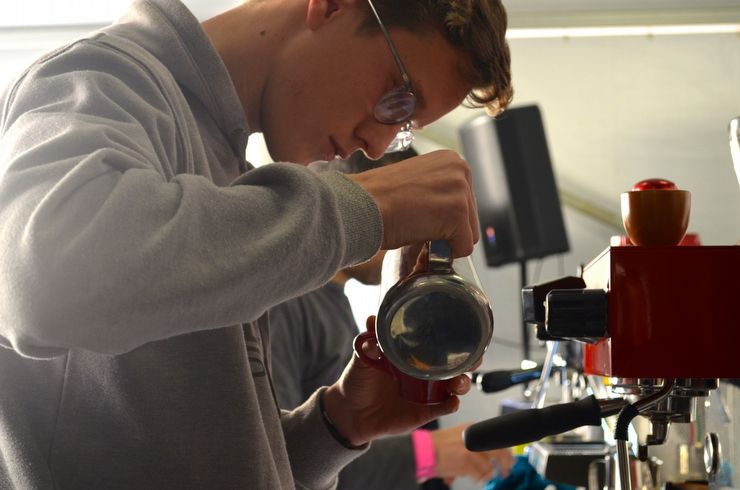 Love this shot of Daniel concentrating so hard on that latte art pour!
Passion!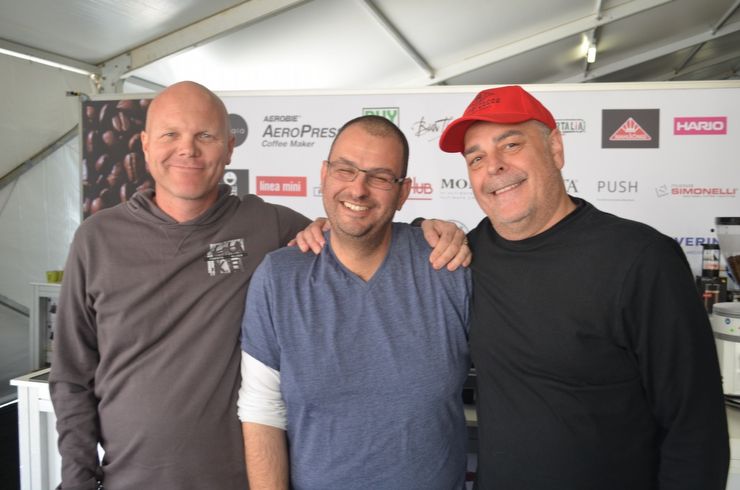 "The Ballies" Round -
The original Barista Underground crew of John Brinkman, Sean jammy and Peter Primich.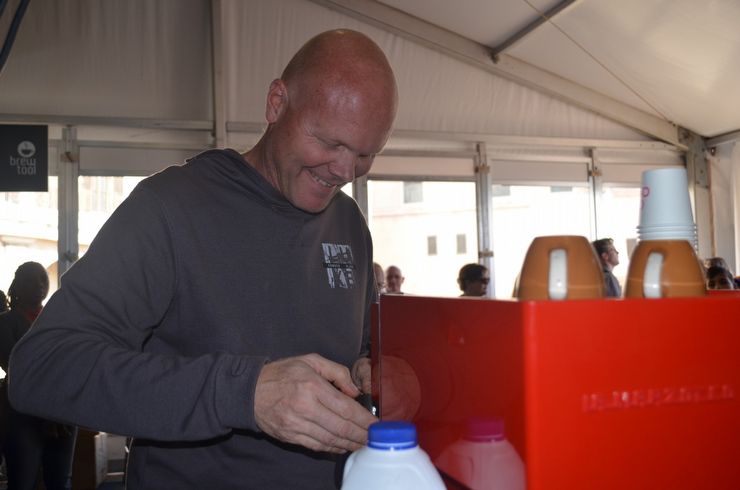 John Brinkman - years of experience as a home barista and always on the cutting edge of various coffee experiments at home!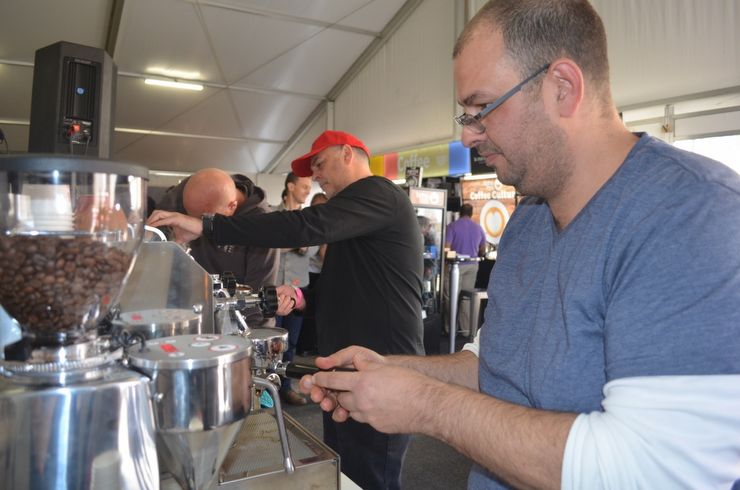 Sean Jammy, closest to camera in the espresso round, eventually placed 2nd in this category.
Rudy Buys, eventualy winner in the Manual brewing category with this Aeropress effort.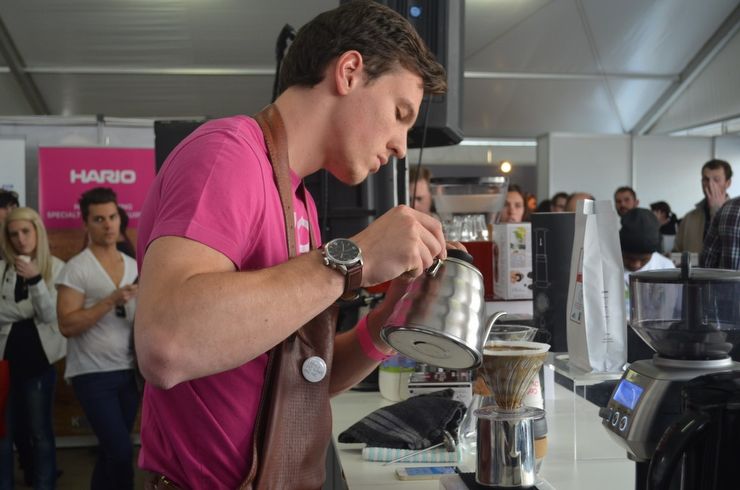 Reinhard Nel, overall winner, placed 3rd in manual brewing, seen here brewing his V60 pour-over.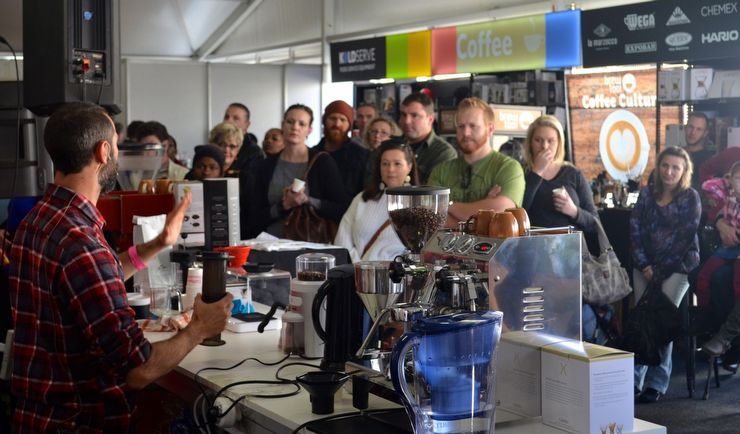 The effervescent Dave Coleman from MoreFlavour, shows the public the intricacies that go into his famous "Inverted Aeropress" method.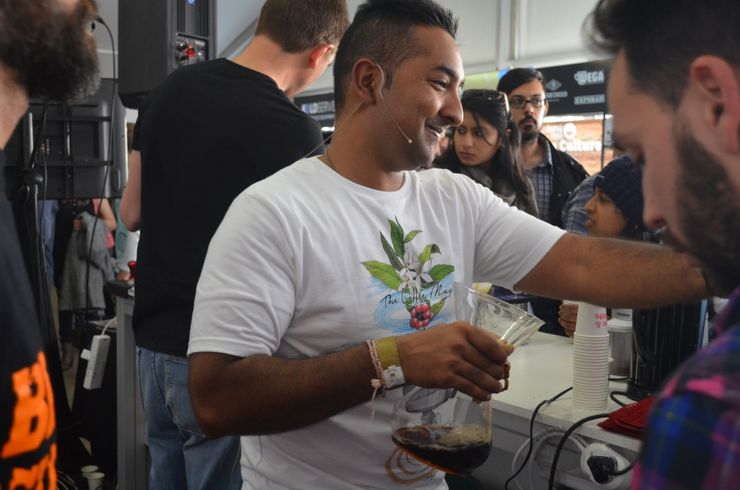 SA Barista Champ, Ishan Natalie and Matt Carter compare the TDS of a Chemex vs a pourover in one of their demos for the public.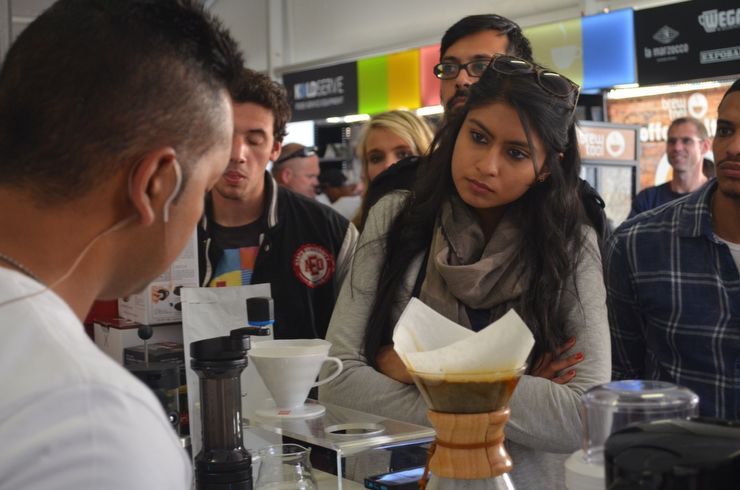 Hanging on every word....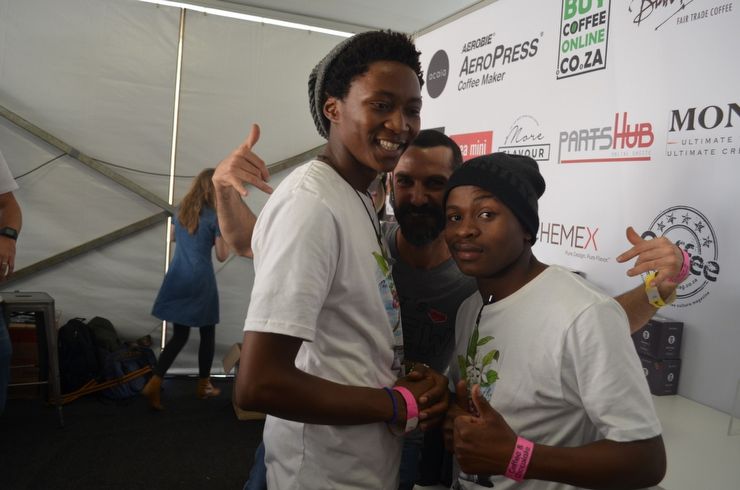 Team CoffeeMag's excellent helpers, Sayda and Peter, with Dave in the middle.