Words by Dylan Pieterse
---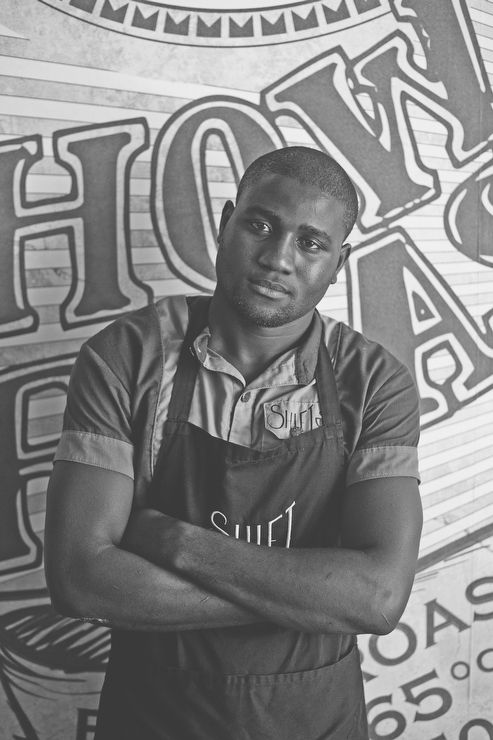 Got the Soul!!!
Walking into
Shift Espresso Bar
I noticed a lot of business meetings happening and people scattered throughout the Bar, working on laptops or simply paging through their Facebook updates on their mobile devices.. We were greeted by the owner Luigi who got out his chair with a real big smile as he welcomed us to the cafe and lead us to the man behind the coffee machine who wore an even bigger smile. This was Soul. He has an interesting history beginning in his home country, Malawi. His brother was his first trainer in the ways of coffee. He would spend many hours watching his brother make coffee when his brother worked in a Woolworths cafe. Soul said that his brother was definitely his inspiration. Soul received some of his formal training in Knysna as well as a silo company in Port Elizabeth.
Soul loves working at Shift because he enjoys the creamy taste of their home blend coffee which is from Kenya (I can definitely relate to Soul on that point). He loves meeting new people and hearing about their different careers and listening to their life stories. Shift Espresso Bar seems to attract a large amount of international travellers enjoying the great coffee on offer. The atmosphere there is laid back, relaxed and stress free. I met a very friendly Canadian who was modelling in Cape Town and was soon to head off to paris. Back to Soul, coffee is definitely this man's passion, coffee is a part of his life and he never wants to part from it. His dream is to open his own coffee shop and I believe he has the right personality and the skills to do so. He doesn't see coffee as an art, he believe that the main point is the taste… "people never focus on the look they just want the beautiful liquid in the cup". I asked him if he ever gets tired of making so many cups of coffee on a daily basis, but Soul and Luigi just laughed. Luigi added… "no, he is too focused to be bored and he loves being on top of his feet, and plus, I make sure he is too." They laughed again. There is definitely a good bond in this work place.
Shift Espresso Bar is definitely a place I will return to, with a great man like Soul I can always expect great coffee.