We are excited to announce the new
SCASA
board.
A little bit about being on the board: To sit on the SCASA board you have to be nominated for the position and if you accept you volunteer your time for the good of the Speciality Coffee industry in South Africa. These positions are unpaid and all the actions of the board should be to benefit and further the Speciality coffee industry.
Why is this important for you guys? Well, if we have an organisation that can provide and uphold a standard of coffee service, that means that the end consumer will be drinking better coffees at more locations across the country. They want to inspire baristas and cafe owners to take pride in what they do and make it an extremely fun and collaborative community to be part of, which also results in more delicious coffees for you! We also want an South African World Barista Champion and the better SCASA functions, the more likely it is that this will one day be a reality. Craig took us to 15th, Ishan is determined to go higher!!!
Exciting new portfolios have been included this year such as the Barista Guild and Roaster's Guild. Ishan Natalie our current SA Barista Champ will be the voice for the baristas on the board and be in charge of heading up regional departments that bring together local baristas and the public to interact more frequently. Jono Robinson of Bean There will be doing the same for the Roasters of SA, creating a forum for roasters to share knowledge and experience and keep our country at the forefront of international coffee.
You will notice that all the board members are from very different walks of this industry and we are sure that this diversity will be very powerful moving forward!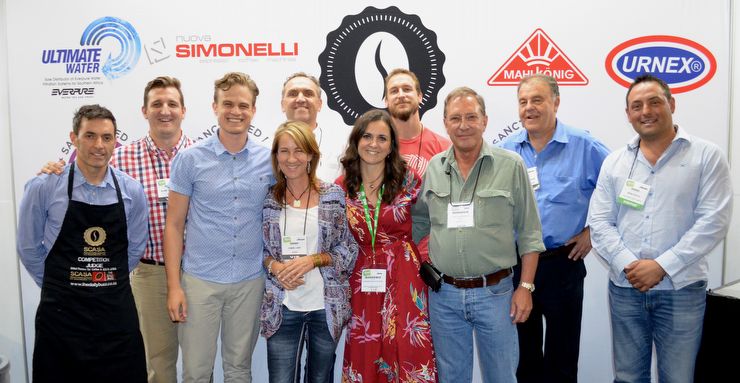 Chairperson
: George Karatzas
(Koldserve)
Vice-Chairperson and SCASA Sponsorship portfolio
: Iain Evans (
TheCoffeeMag)
Treasurer and Sponsor Members portfolio
: Dewald DeBeer (
Ciro Beverage Solutions
)
Kyle Fraser
(PlusNarrative
):
Marketing portfolio and Barista & Roasters Guild portfolio
Jade Reinertsen (
Jawbone
):
Ordinary Membership portfolio
Danielle Stapowicz (
Famous Brands Coffee)
:
Corporate/Franchise Membership portfolio
Alessandro Morrico (
Morrico Imports
):
Barista Competitions director
Jonathan Robinson (
Bean There Coffee Company
):
Roasters Guild portfolio
Ishan Natalie (
TriBeCa
):
Barista Guild portfolio
Ryan Palos (
Caturra
)- portfolio TBC
Andre Mutingh (
Ultimate Water
)- portfolio TBC
A big thank you to outgoing Chairman, Lionel de Roland Phillips (
I&M Smith
), outgoing Treasurer, Carol Lane (
Sevenoaks Trading
) and Dale Mazon (TriBeCa) who have all served for many years on the SCASA board. The dedication does not go unnoticed.