Ishan Natalie is the number one barista in the country!
Our gracious host, the
IFEA convention,
had already closed its doors and as we waited for the final scores to be tallied, the anticipation was almost unbearable.
The winner goes away with a R10 000 Tissot, a beautiful Compak grinder sponsored by
Partshub
and an all expenses paid trip to the World Barista Championship in Seattle in April 2015!
After the excruciating wait, the Top 6 were given their places, leaving Top 2 Ishan Natalie of TriBeCa and Roddie Nzirainengwe of Union Hand Roasted on stage with Craig Charity, who has made an effort to be at every event this year and was there to hand over his title.
These two gentlemen are both wonderful examples of baristas who want to better this industry and believe in collaboration and that coffee is about bringing people together, but in the end there could only be one champion.
And Ishan Natalie is that man! The emotion was overwhelming and you could see just how much this meant to him. The competition and the industry have evolved so much since the last time Ishan won in 2010 and so has he. We are so excited to get him on that World Stage, the semi-finals are our goal South Africa!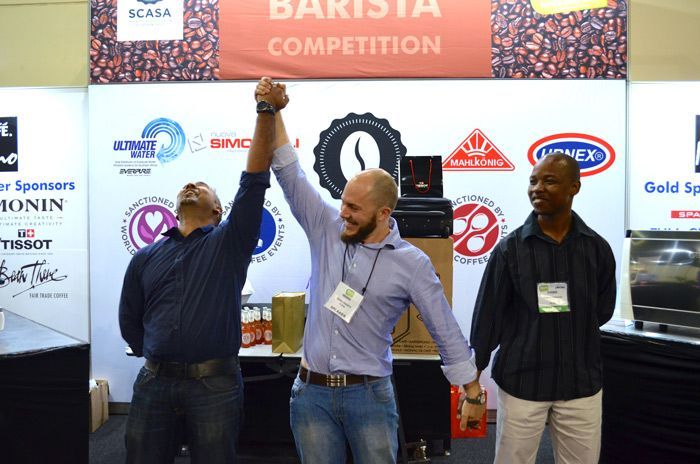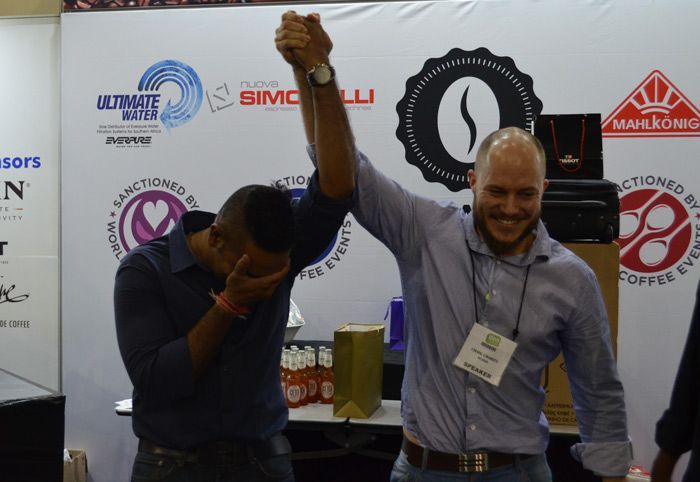 Emotional!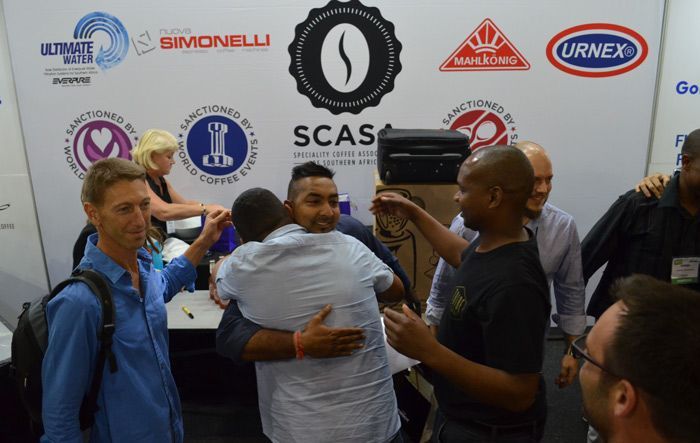 The other baristas couldn't have been happier for Ishan!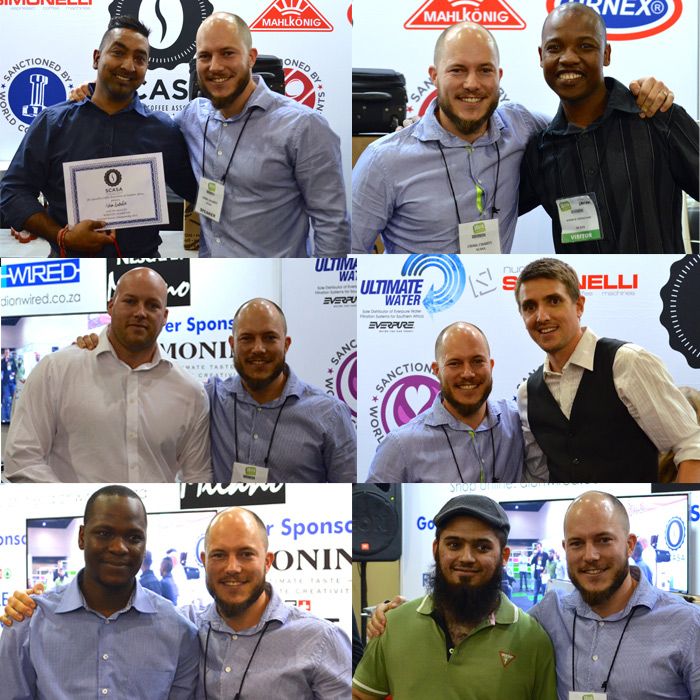 The Top 6 in order: 1.Ishan Natalie, 2.Roddie Nzirainengwe, 3. Travis Scott, 4. Matt Carter, 5. Musa Magubane, 6. Azhar Khan. All pictured with outgoing champ, Craig Charity!
The Eastern Cape region may not have had a competitor in the Top 6, but they walked away with both the Cup Tasters Champion and Latte Art Champion!

Donovan McLagan of Urban Espress who has previously placed 5th in the world at this discipline, proved that he still has it, by tasting his way to the Top. Byron Keet of Famous Brands poured some sensational Latte Art to take the milk manipulation title! Both these competitions will be held in Goethenberg, Sweden at the World of Coffee next year.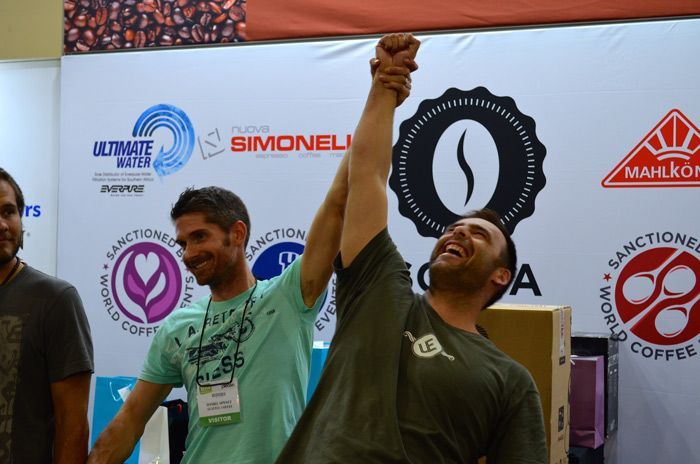 Sheer joy at the announcement! Well done Don!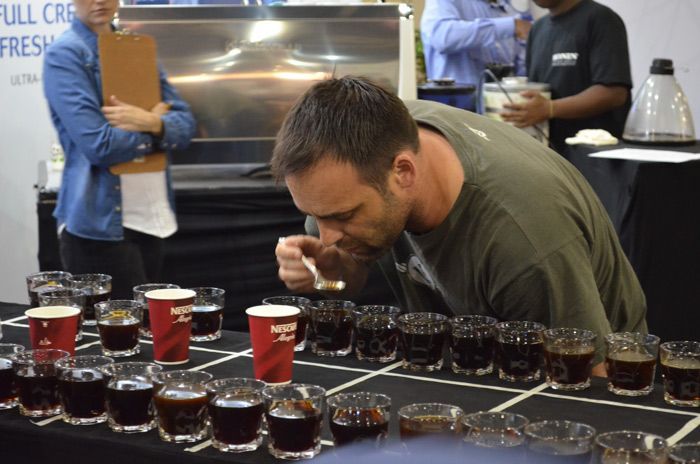 Don in action. His finals round score was 6 out of 8, enough to take him to the World Champs. Thanks must once again go to Gerald Charles of Rock and Roller Coffee Culture for running this competition.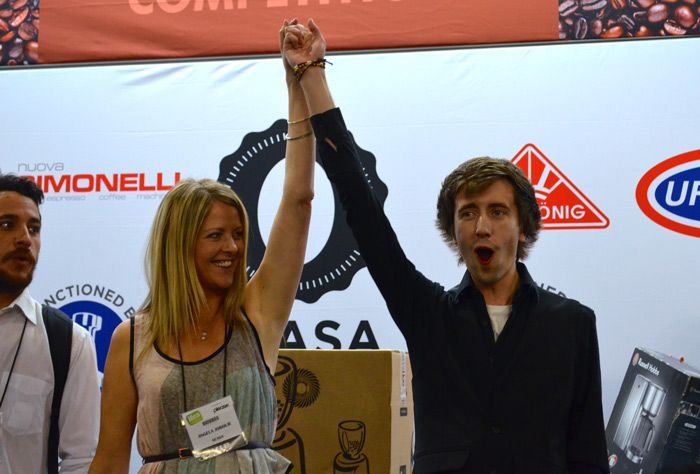 Hiccup, as he is affectionately known, takes the title! Byron has great things ahead of him, the young 21 year old is already a Champion and he has his sights set on World Domination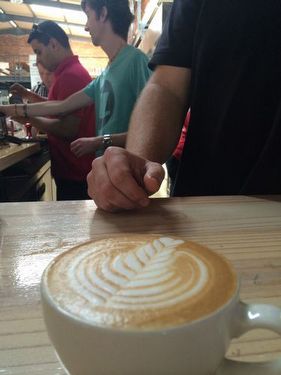 A ten-tiered tulip, poured by Latte Art Champion Byron Monty Keet. This wasn't even on stage, the man has mad skills!
The Nationals was an incredible event. Thank you to everyone who was involved in putting it together, to the amazing patient and hardworking judges who give of their time and skills, to the SCASA board and to all the support from the fantastic sponsors, without which, none of this would be possible.
You can see all the
sponsors that make these 5 Coffee Competition events possible here
and find out how to get involved yourself.
You can go back and watch all the
amazing performances on our Livestream feed
.
Now the journey to Worlds begins! We can't wait to get behind these three deserving Champions and see them take South African to a new level on the World Stage!