The coffee is dark and has a distinct Italian personality.
"We call it The Mad House" says Antique Cafe's owner, Terry Toffoli. And one would not be mistaken for thinking that you had fallen down Alice's rabbit hole and were sitting at the Mad Hatters Tea-party. The dusty grand piano, the quirky mismatched furniture, and of course, the manly barista S'bone in a paisley pastel apron! It's wonderful mad-house at that.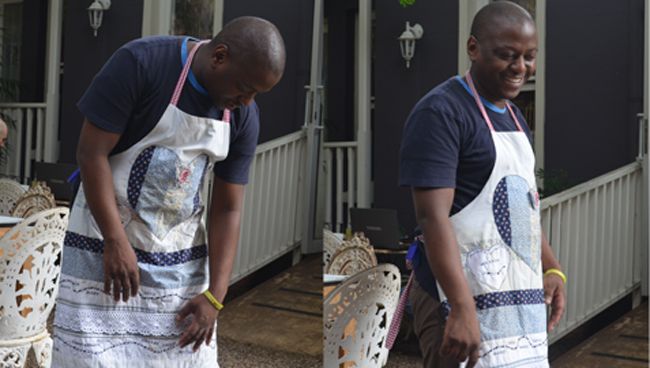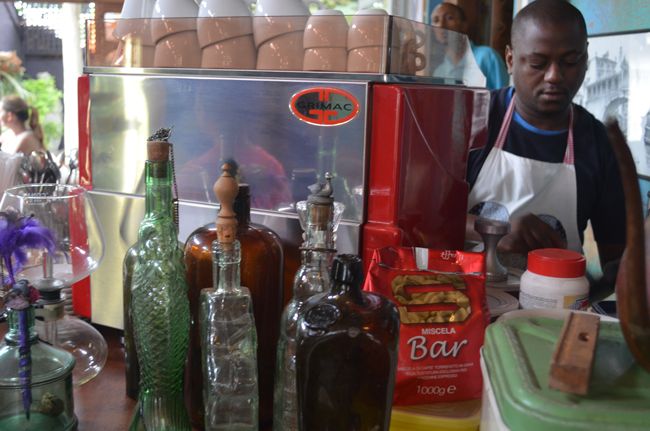 Out in the dappled shade of the garden we sip espresso and cortados and chat to husband and wife team, Terry and Stefano about their new venture. "We took over the original Antique Cafe mid-2013 after spending the last few years in Japan, Italy, and Paris. Stefano suggested coming back to Durban. We wanted to come home.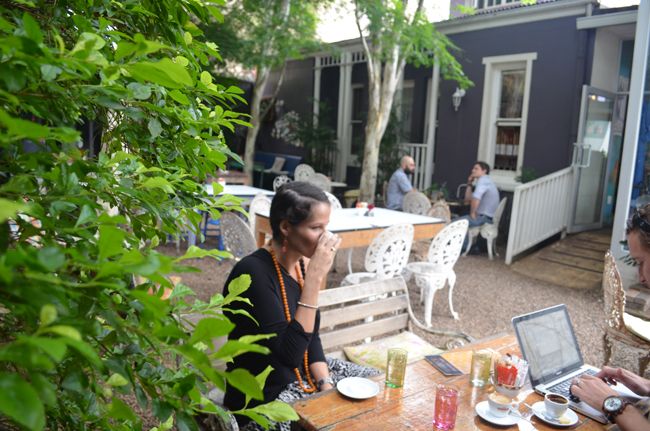 Discussing the coffee, we naturally quizzes the couple about using imported Italian, Saicaf beans, as opposed to locally roasted. Stefano says "We tasted about 20 different types of beans, local and Italian imported. Being Italian we drink coffee all day long - cappuccino in the morning for breakfast, then espresso. I wanted to stay true to that character"
Terry adds "Everybody's going local,especially with coffee. We do everything else here locally, The mayo and salad dressing made on site, Jenny Clark bakes on site and a lot of what we make in the kitchen is local. But my husband is Italian and we had to have Italian coffee! "
Are you having fun? We ask. "We are. We had to re-ajust our plan slightly. Stefano wanted to make some furniture, I wanted to bake more and make some clothing, but it's busy. We had over 200 people come through the doors last Saturday…so you don't always get to do the things you dream of.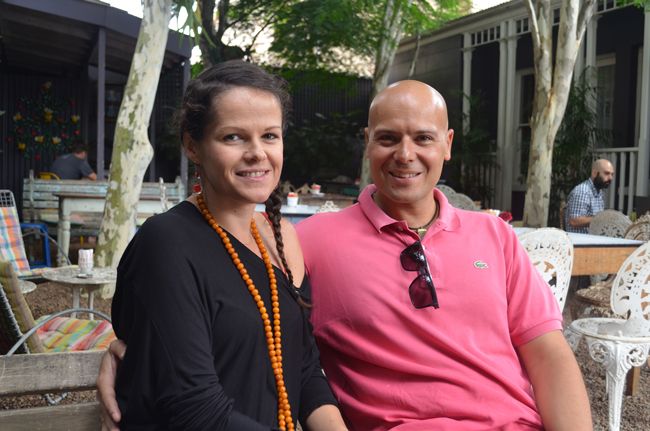 The couple have already given the Antique Cafe of old a few fresh twists. "When we renovated, we turned one of the rooms into a wine cellar. We have parts of the private collection of Peter Clarck's La Vierge wines" says Terry. The day of this interview, they were holding their first wine tasting for 50 people.
Then there's S'bonelo, the barista "Just call me S-Bone" he chuckles.
Terry enthuses. "He was very quiet when we took over, but now he's the star of the show. If he's not here for a day - my regulars send me text and Facebook messages to ask where he is!"
When asked about his choice aprons…"The people love it!" he beams.