Gauteng Baristas, both commercial and home-baristas, if you are still keen to enter the Gauteng Regional Barista competition, it takes place this next weekend, from Thursday 27th Feb - Sunday 2nd March.
Current Gauteng Champion and past National Champion Ishan Natalie, sums it up perfectly: "It's fun and exciting to come together with fellow coffee lovers and friends as every coffee interaction and competition helps us grow"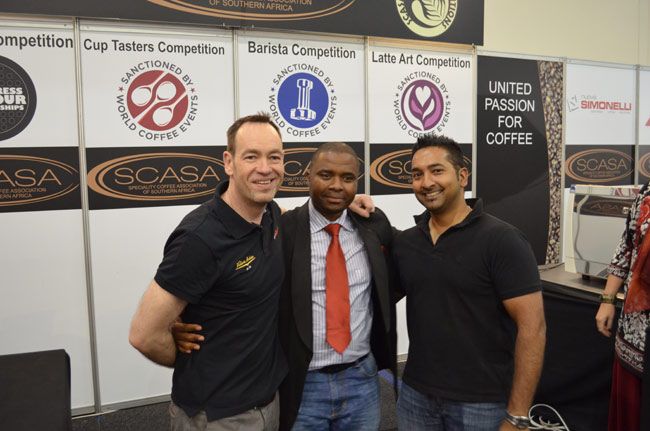 Gwilym Davies (World Champ 2009), Johnson Sehoro (Gauteng 2013 runner up) and Ishan Natalie (Gauteng 2013 Champion and past SA Champion Barista) at the 2013 Gauteng Regional competition.
Ishan, who works for TriBeCa as a barista trainer and is no stranger to the competitive arena, has advice for aspiring compettiors: "To compete well at comps, you need to put in the time to source coffees, roast them in various ways and evaluate them once they have degassed, which is the biggest challenge and takes the most time. Then putting together all the information on the coffee chosen to create a picture for the judges and the journey of that coffee. It takes practice and patience, as nothing works out the way you want all the time leading up to the competition."
"The dedication to showcasing the craft of a barista and sharing that knowledge is key"
Contact
info@scasa.co.za
immediately to enter or
download form here
---
There are 4 competitive categories:
Barista Competition
Latte Art Competition
Cup Tasters Competition
and a new category - the Manual Brewing Competition, which will be loosely based on the WBC Brewer's Cup competition, with a view to SCASA introducing the Officially sanctioned Brewers Cup Competition to South Africa in the 2015 cycle and sending a SA Champ to the 2016 WBC Brewers Cup.