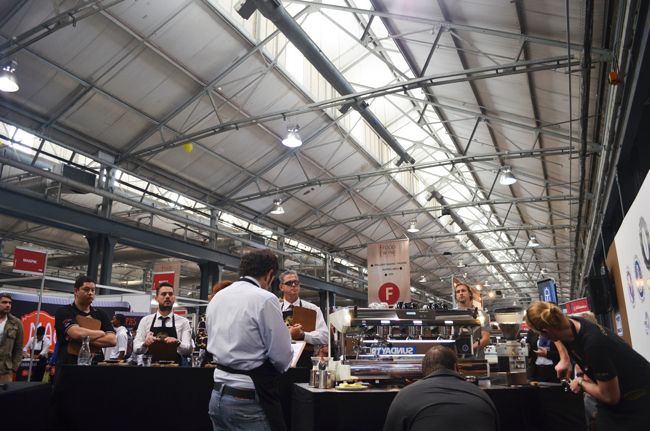 The stage at The Good Food and Wine Show.
It was quite a weekend at Durban's Good Food and Wine Show. The KZN Barista Regionals have given us cored out apples as glasses, Aeropress extractions, herb melanges, technical difficulties and single origin coffees to enthrall the senses. We had two very strong competitors who travelled from different regions to compete (now, that's passion!), but in the end it was
Craig Charity of Lineage Coffee
at Stretta Cafe who rose victorious to claim the title.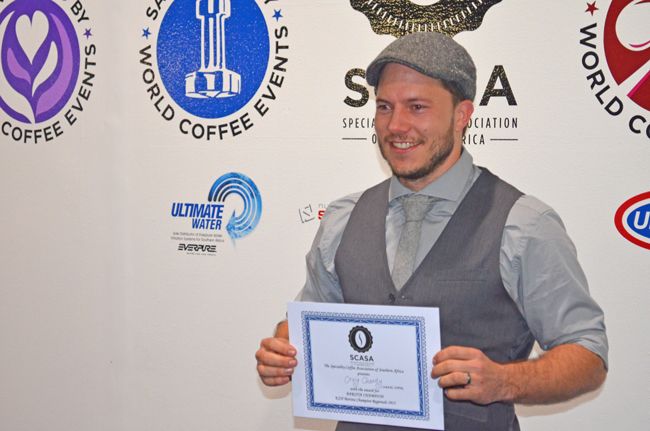 Craig Charity: KZN Barista Champion!
It was an emotional victory and Wendy (Craig's amazing, supportive wife) almost had us all in tears the way she was stressing out for Craig when he was on stage, but he came through and you could see how much it meant to him.
Here are the full results:
1. Craig Charity - Lineage Coffee
2. Nicodemus Nabakwe - Avanti Coffee
3. Wayne Oberholzer - Origin Coffee Roasting
4. Daniel Erasmus - Colombo Coffee and Tea
5. Arno Els - Colombo Coffee and Tea
6. Wency Masawi - Nino's
You can watch the announcement of all the winners here, it will give you goosebumps!
All of the Top 6 go through to the Nationals in September at the Joburg edition of The Good Food and Wine Show.
Cup Taster's Champion is Mr
Wayne Oberholzer.
He scored two perfect rounds (7/7 and 6/6), making him the undeniable champ. Those are some pretty incredible taste bud and olfactory skills.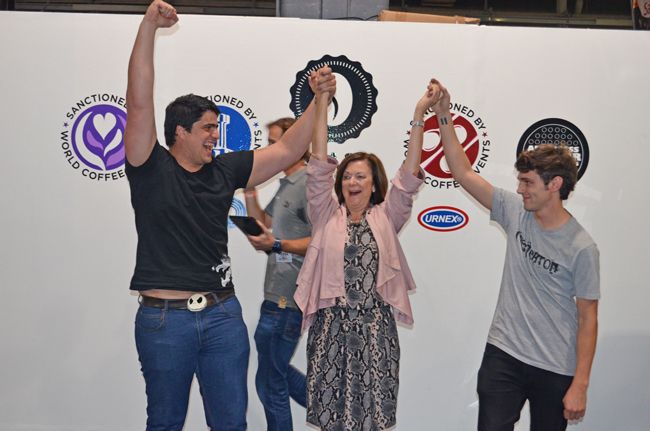 Wayne almost lifted Christine Cashmore off the ground in excitement!
Arno Els
of Colombo Coffee and Tea poured his way into pole position in the Latte Art Competition, after going head to head with his colleague,
Daniel Erasmus.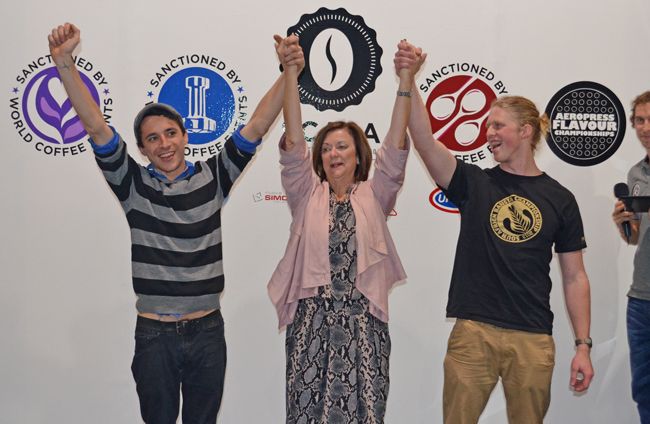 Dan, however did not go home empty handed as he plunged his way to Aeropress glory, becoming R1000 richer in the process.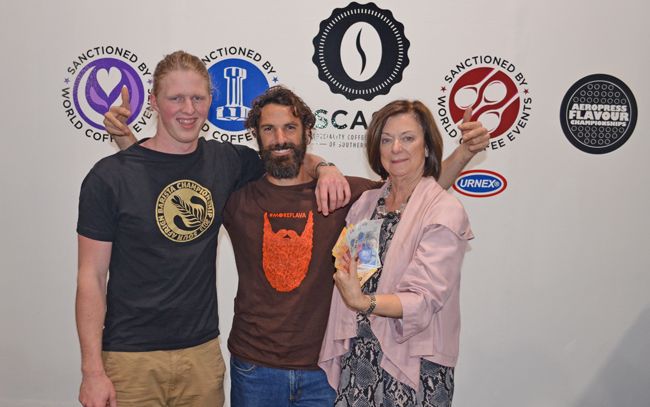 A stoked Daniel Erasmus, David Coleman of Aeropress and Christine Cashmore of The Good Food and Wine Show
Special mention must be made of Daniel Erasmus, he is definitely one to watch. He made amazing coffees in three seperate categories, getting through to the finals of Latte Art, Aeropress and Barista Champs. And this was only his first year competing!
Dan gave us some wicked performances this weekend. Here he is with his game face on.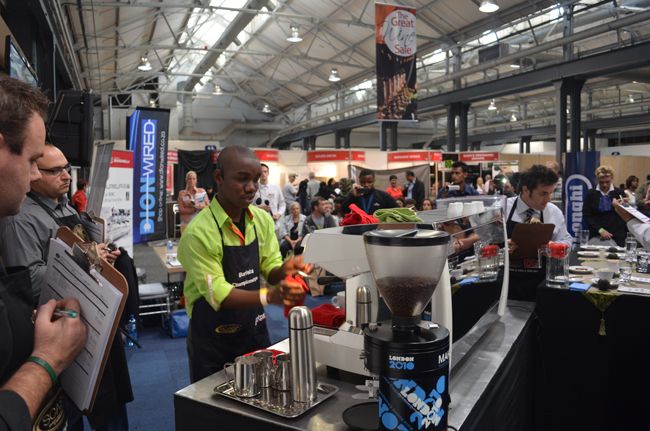 Wency Masawi of Nino's was charming and won the hearts of everyone at the competition. Only 20 years old, he is also one to watch!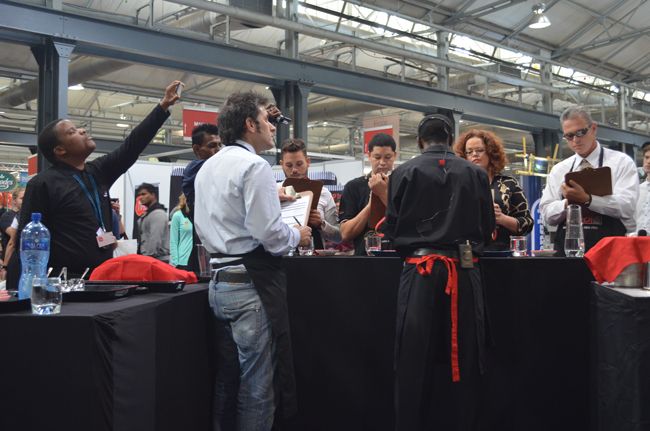 Nicodemus held the attention of the judges. He used a single origin coffee grown on the Beaver Creek Coffee Estate. Proudly South African!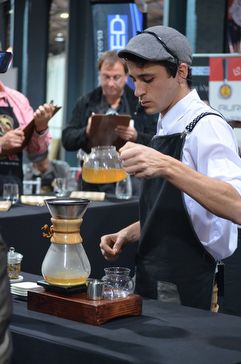 Here, Arno is filtering his herb melange. He was smooth and entertaining on stage. The man has style.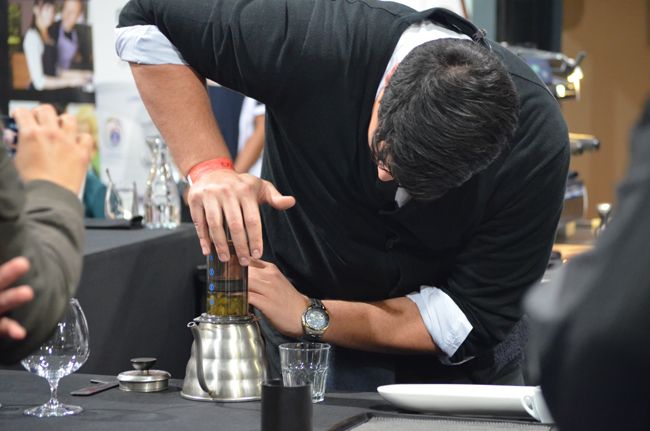 Using his Aeropress in an unconventional way, Wayne puts his back into it.

Congratulations to all those who competed and who put together this fantastic event, KZN maintained it's reputation as a region to watch, and we are so looking forward to the Nationals. We have travelled to all of the regionals and the standard of the competition this year is looking excellent.

A full gallery of pics taken over the four days will follow shortly.