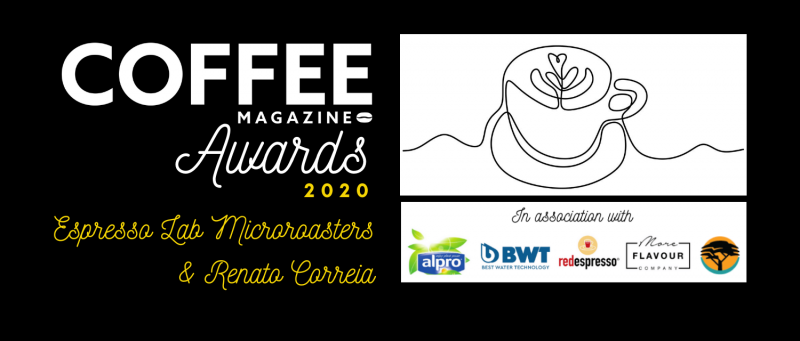 We always love chatting to the dynamic duo behind Espresso Lab Microroasters in The Old Biscuit Mill, Woodstock, Cape Town. Helene Vaerlien and Renato Correia always have a refreshing take on coffee and life in general. You will see what we mean in the interviews below. Enjoy!
All images used with permission from their delightful Instagram page.
Roastery of the Year Nominee: Espresso Lab Microroastery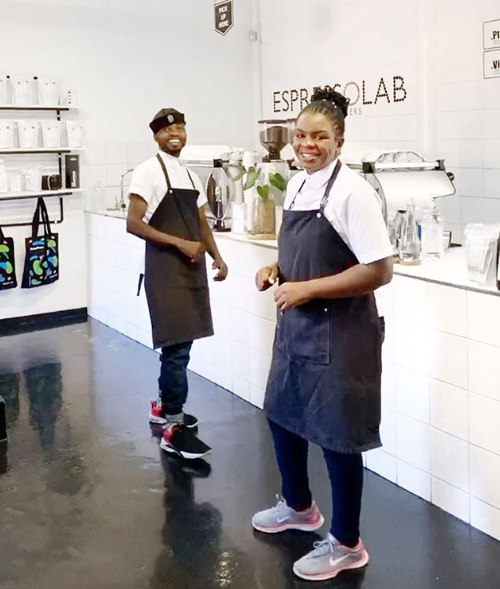 What is the ethos of the business?
In essence its offering value along the quality chain.
Supporting farmers and communities that produce and support specialty coffee, educating our customers to give them a better understanding of the value chain and highlighting the work that goes into a single cup of coffee. This may seem like a tireless endeavour, but one that we are committed to today as fervently as the day we started way back in 2009.
You are one of the oldest microroasteries in the country, when you started you were ahead of the curve here in SA, do you think that the culture has progressed during the time you've been going?
After we opened there was definitely a growing curiosity in specialty coffee, which lasted 5-6 years, however in the past few years we have sadly seen a regression or plateau of sorts.
Suppressed economies add an element of pressure to coffee companies, as consumers seek to budget on items that are perceived as luxury items, such as a cup of coffee at a cafe. Depreciation in currencies weigh heavy on purchasing better quality coffee and push prices up, hence leading to repressive decision making, which put pressure on the value chain and stifle entry into the coffee market. It just becomes harder each year to maintain a level based on the standards we set and follow.
However, despite the challenges we have seen an influx of small roaster's popping up all around the country, all serving their respective communities. This is a good thing, as these small coffee companies are being driven by passionate, desiccated coffee professionals.
Have you seen an increase in online sales over this period?
We have certainly seen an increase in online sales, as most companies have over the past 10 years, however it does not come close to matching our retail sales. There seems to be a consumer trepidation to purchase online for small consumables such as coffee, even if initiatives such as free shipping are offered.
In saying this, the support which we have received from all our customers over the COVID shutdown was humbling. Our large and loyal client base switched to purchasing online as it was their only way to access our coffee without visiting our normal retail supply chains. In the ensuing months post lockdown we have seen a return to normality and a reduction in online sales.
What has become popular for both us and our industry has been subscription services. In our attempt to further support the wider local coffee community, we started a monthly online subscription. Every month we team up with a local South African roaster, sending out 2 bags of coffee, one from our select portfolio and another from a selected partner. Its a small way we can try to support our community and fellow roasters, by highlighting the convenience of online shopping.
What is your favourite coffee available right now from the roastery?
The age old question, one I always relate to as which child is your preferred one. I love all our coffees as they come from producers we have met and found a special place in our hearts and minds for. However, if I were to select a favourite right now based on my choice of flavour profile, it would be the Honey processed Las Lajas from Oscar and Francisca Chacon, whom have some of the best naturals and honeys year-on-year from Costa Rica.
Do you have a beverage that is a uniquely Espresso Lab creation at your cafe?
We try to always be forward thinking and ahead of the game when it comes to our signature beverages.
When we first openened in 2009 our signature drink was the Cortado, a milk based beverage. It was of course not our invention, but we were the first to introduce it to the South African market, which is now a staple in most coffee shops. We have since moved on with many creations, such as Coffee Tonics, Yuzu Sour, Cascara Fizz, etc but the one that probably stands out the most notably is the Vitamin C. It's A small drink consisting of a single espresso poured over a mixture of coldpressed ginger, lemon and honey. It's our original idea, and we still have never seen anything like it around the world.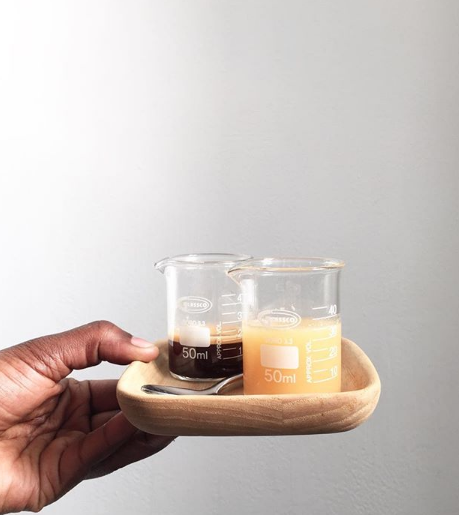 How have you navigated the COVID-19 shutdown, we see some exciting things have sprung forth in this time?
It has been as difficult for us as it has been for most small business owners.
Our first and foremost focus was and continues to be the wellbeing of our staff and the continued longevity of our roastery, whilst still looking ahead and navigating the unknown. We made an extraordinary commitment to also support our producers, some we had just visited a few weeks prior to lockdown.
The toughest moments during the lockdown has been to hear the desperate plight from producers and exporters alike. Most of the producers live in rural areas with little support from their governments and were found wanting with no ability to work and pick their harvests. We also experienced the loss of some of our producers, some heavy weight pioneers passing due to COVID-19. There are many people suffering greatly "behind the scenes" right now, and we see it as our obligation to not only keep our contracts and orders with them, but see how else we can support them thought this very difficult time, to ensure the future of specialty coffee. It's been heartbreaking to see how some areas are suffering through this pandemic.
Through this dark cloud, we took the opportunity to focus on growth and renewal, by opening a semi permanent coffee bar at The Neighbourgoods Market and also refreshing our packaging design. We also set in motion new producer relationships, many we met during our time in Central America and also recommitted to our existing producer relationships. We will soon share these great coffees in the coming months, hopefully adding a much needed breath of fresh air to our community.
Excellence in Coffee Nomination: Renato Correia, Owner and Roaster at Espresso Lab Microroasters
In fact he has roasted every bean ever roasted at this iconic Cape Town roastery. Quite a feat for 11 straight years!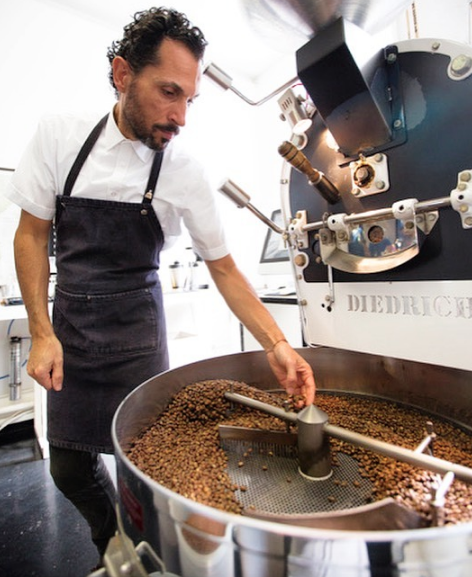 The feedback on your nomination was that you're always at the cutting edge of coffee on a global level, how do you stay inspired and motivated to keep striving for excellence?
I think there has always been a level of curiosity in what I do, and an ability to never settle on the status quo. Once you get too comfortable, you risk becoming stagnant. I am a very visual person and seek inspiration and motivation from the most unusual places. Never afraid to have an independent presence, not quick to follow trends and seek ways to pass on my curiosity to our customers.
You have built relationships with the producers of the coffees you stock, why is this important to your process in roasting the final product?
I think its super important to have the connection with your producers, and to have an opportunity to visit them at origin. I often say that visiting a coffee farm does not make you a better roaster, but it certainly makes your relationship that much more human.
Connecting the farm to the roastery you learn so much from the producers as they are so closely connected to the land and their harvests. It also gives you a greater understanding on how you can help the producers and their communities. In the coffee industry the attention is more often than not on the shop, the roaster, equipment, design etc. We believe the producers are the unsung heroes and we are mearly their humble ambassadors trying to showcase their hard work. That's why as a small gesture we put the names of our producers front and centre on our retail bags and on posters at the entrance of our shop, to further highlight, without them we cannot do what we do.
Without a doubt, some of our most treasured highlights of the last 11 years has been the privilege of visiting some of the producers we work with and sharing our journeys with our customers.
How do you define "Excellence" in your business and how do you convey this message to your team and to your customers?
It's pretty simple actually, dedication to quality and service, and leading by example.
Excellence in general is always a moving target. You can serve the most amazing drink in the world, source the most amazing coffee, but if the service is bad, it will not be appreciated. Same goes the other way around. No matter how hard you try, you will also have days where your product is not 100%, but if you have a service mindset and a humble approach, your customer may be willing to overlook that.
As a business before we are coffee professionals we are hospitality patrons, and offering warm greetings and excellence minded service together with a quality product is the recipe to longevity.
What are the areas of coffee that you are focusing on and are pushing to be the thought leader in?
With our experience during lockdown, we saw the need to have our customers enjoy our coffees at home, particularly our signature beverages. We therefore worked to bottle our coffee beverages and make them available for purchase. We are currently developing new recipes and techniques to fulfil the read-to-drink sector of the market. This will lead to exciting experiments, which we are hoping to launch in the summer. Stay tuned...
---
Thank you to our CMA 2020 Sponsors: