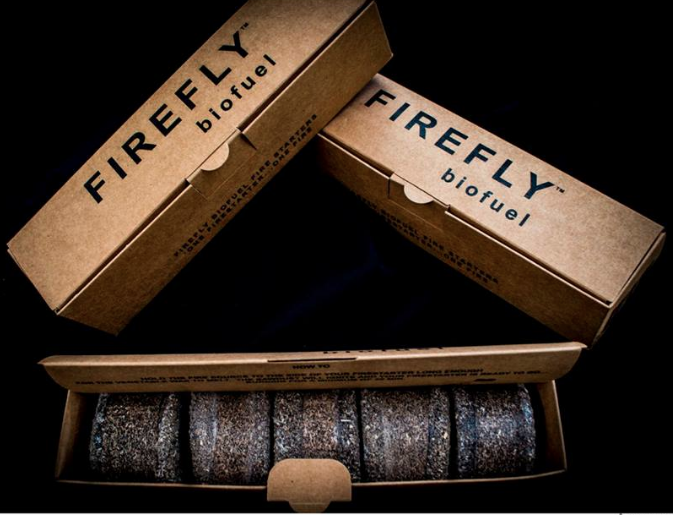 Say hello to FireFly Biofuel – the new kid on the environmentally friendly block, and the perfect Christmas gift for braai masters with an eco-friendly agenda! You might have spotted them as the official sponsors of DStv's Laat die Potte Prut (season 8), Kom ons Kamp (season 2), Kom ons Braai (season 12), and Kom ons Braai Familie & Vriende (season 6). We chatted to Mariska van der Heide of FireFly Biofuel to find out more…
How did Firefly Biofuel come to be?
"We'd love to say over a cup of coffee but alas...over a couple of drinks at a friend's house. Friends of ours have a furniture company and they were complaining about having to pay someone to remove their off-cut wood pieces and sawdust.
My husband, Kai, volunteered to design a press for them in order to utilise the sawdust and make wood logs to use in their fireplace for the house. They said that they didn't have time and asked Kai if he wanted to play with it. Since this was a labour of love, we set the standards ridiculously high – toxin-free, petroleum-free, smoke-free, odourless… From there, Kai started experimenting with different molds and ingredients.
Over the space of 18 months, and hundreds of failed formulae and designs, we felt that we had achieved our targets and started giving out the FireSparks to our family and friends. It was then that our friends and family insisted that we do something with this product and that was when FireFly was conceived!"
What was your background before FireFly?
"We both come from the oilfield. Kai has over 20 years' experience as a Liner Hanger Engineer and Operational Manager, and I have more than 10 working with Logistics and as a Supply Chain Supervisor."
Where did the idea for firelighters made from coffee waste come from?
"During the research phase, it was a natural evolution. We tried to find a resource that could replace petroleum as an accelerant and came across multiple articles relating to uses of waste coffee. The reason why coffee is so good for composting and worm farms is the high nitrogen content and calorie count (when decomposing and burnt), and from there the experiments began.
Coffee is an amazing resource that stretches from the morning cup of Java that kickstarts your day, through to fertilizsing the land where your fruits and vegetables are grown, along with mushroom farms all the way through to (now) the firelighter that starts your braai. Not to mention the fact that coffee is the world's second largest traded commodity besides oil so it was readily available, and the uses of coffee from the bean to the fire is almost limitless."
What is your vision for FireFly Biofuel?
"We are driving toward becoming a leader in utilising coffee waste in many of our products moving forward, thereby reducing the volume of methane, a major greenhouse gas, from decomposing coffee disposed in landfill. Our aim is to produce high quality recycled products that won't break the bank, create jobs, and educate the public that there's a better and more efficient way, at the same time reducing the strain on the environment and planet in general."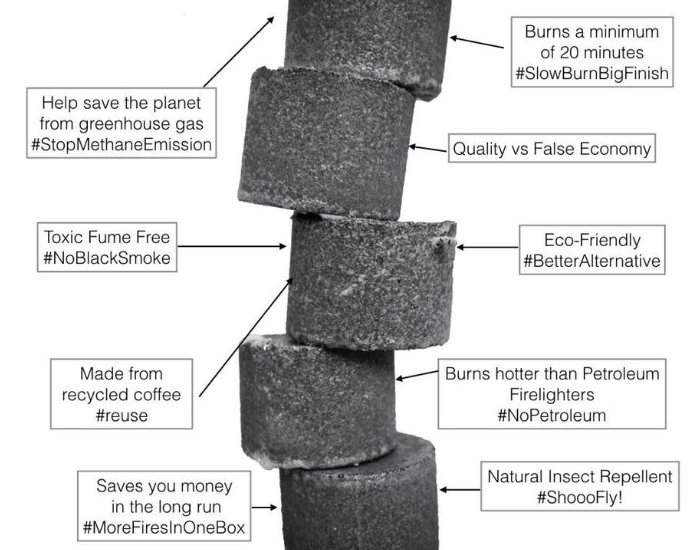 Those are some big goals! What made you want to create a product that's eco-friendly?
"I'm the resident Eco Warrior in the family and the company, and drive us all forward when it comes to recycling and saving the planet one plastic bag at a time. Although Kai may have designed the FireSpark, I set in place the standards and ridiculously high targets (sometimes much to Kai's frustration)! I've insisted that if we're going to do this, it will be done with the highest possible standards to incorporate everything that everyone has always complained about. We're all about family, the two legged and the four, so we made a product that is safe, green, recycled, and outperforms anything that is on the market to date."
Where do you get all of your coffee waste from?
"We collect our coffee from local coffee shops (independents and corporate) in an effort to assist in reducing their waste to zero and removing coffee from the methane cycle. We cover all levels of supplier from the one-person machine to large corporate entities. We supply a food grade container that is airtight and hygienic and replace them on a regular schedule as per the supplier needs."
And where can people find the Firefly FireSpark?
"We're available at 98 independent retailers that can be found on our website, including Faithful to Nature. We're also very proud to say that we're on all Pick n Pay (PnP) Hypermarket shelves and PnP franchise stores can order the product to be available at their outlets. Basically, we urge consumers to request for it by name if they don't see it on the shelves."