Words by Nick Dall
Originally published in Issue 21 of The Coffee Magazine
---
Because fuel is so strictly regulated in South Africa, petrol stations are looking for other ways to stand out. The battle for the forecourt is on, and coffee is at its very heart. We catch up with some of the key players.
Think back to your last road trip. How did you decide where to fill up? Chances are it had nothing to do with the quality of the fuel itself. Growing up, my family's red kombi suffered an almost magnetic pull towards the nation's Wimpy petrol stations, from Zeerus to Ceres. These days I don't get quite as excited about Wimpy (although my kids are partial to a strawberry milkshake), but I do care a lot about the coffee I drink.
Petrol station coffee used to be fairly similar to the stuff that comes out of the petrol pumps, but in recent years fuel companies and garage owners have really upped their game. With a bit of thought it's possible to get a damned fine cup of Joe every time you fill up – both in the urban jungle and on the Platteland.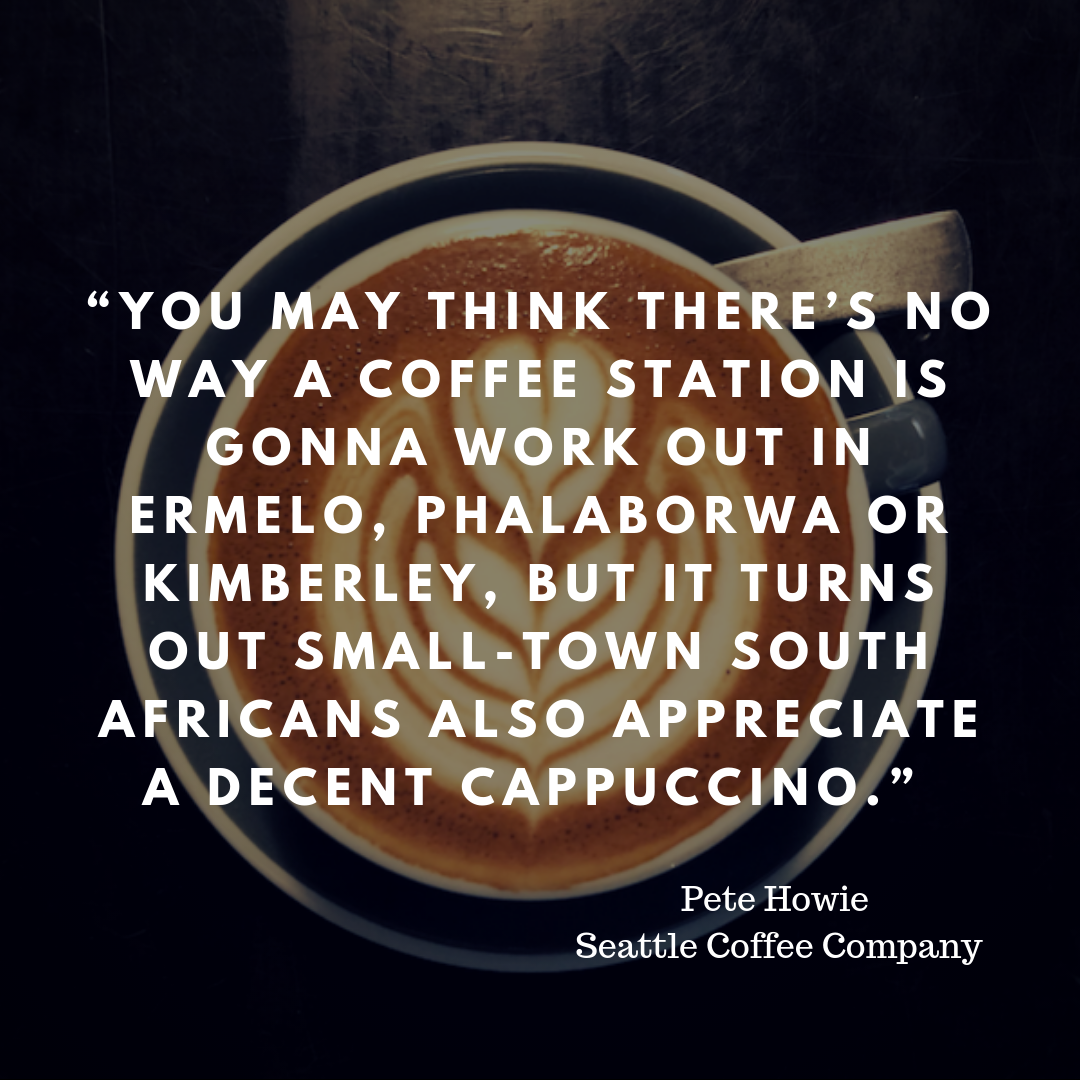 Where it all began
About 16 years ago, Caltex – after researching international trends in fuel retail – approached Seattle Coffee Company to open a 24-hour convenience bar at their V&A Waterfront filling station. To say the concept took off would be an understatement, says Seattle's CEO Pete Howie. Customers could suddenly get great coffee "24 hours a day, without having to fight the parking system." Fast forward to 2017 and Seattle has over 100 stores in Caltex Freshstops all over Mzansi.
Howie realised immediately that these tiny stores made excellent business sense. Capital setup was low and – especially in the early 2000s – rentals in bigger shopping centres were through the roof. Rents have come down a bit since then, but at one point "profits from a 9m² kiosk could rival those of a flagship branch in a big shopping centre."
From Day One, Seattle vowed to maintain their exacting quality standards in every single store. All of their forecourt branches, no matter how small, feature human baristas, La Marzocco FB80s and the signature Seattle blend. Deciding against automatic machines wasn't only about quality, says Howie, as customers "develop relationships with baristas which keep them coming back, time and again." Seattle's agreement with Caltex and Freshstop means that they're unable to serve food in their forecourt branches but the drinks menu features the same butterscotch lattes, berry freezes and chai steamers you'd get in a full outlet.
Only a handful of forecourt stores have performed poorly (generally those in industrial areas with no thoroughfare to high-LSM suburbs), says Howie, who is especially heartened by how well some of their Platteland branches have done. "You'd think there's no way it's gonna work out in Ermelo, Phalaborwa, Kimberley…" he laughs, "But it turns out small town South Africans also appreciate a decent cappuccino."
According to Howie one of the biggest factors in the success of their forecourt kiosks is that they're all operated as 50-50 joint ventures between Seattle and the individual fuel station franchisees. Under the agreement, Seattle provides the raw materials, maintains the equipment and staffs the stores. "Having so much to lose keeps us on our toes and ensures the quality never slips," says Howie. Evidently, it's also worked for Caltex, as plans are afoot to open about 15 more stores in 2017.
The competition hots up
Vida e Caffè entered the fray fairly late in the piece, but they've made up for lost time – and then some. Since entering into an agreement with Shell in 2012 they've opened a staggering 128 forecourt branches with a further 11 slated to start brewing before 2017 is out. At the moment many of the firm's forecourt outlets fall under the Torrador brand, but by the second half of 2018 these will all be rebranded as Vidas. "We've decided it's better to focus on one brand," says CEO Darren Levy.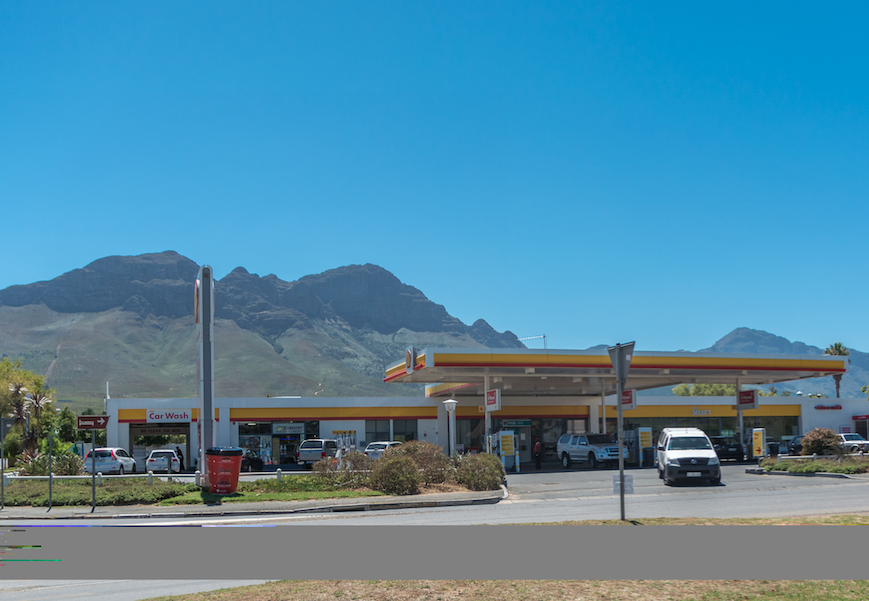 While both Seattle and Vida have seen incredible returns from their forays into the forecourt, it's fascinating to see – great coffee aside – how differently the brands have gone about their business. While Vida's forecourt branches are mostly 'takeaways only' establishments, they all offer full food menus. "Food is integral to our brand," says Levy, "And everything on our menu is designed to be portable, so it's a perfect fit." Featuring bircher muesli pots, banting-friendly protein snack boxes, and exotic paozinhos, it's also a step up from what you can find at your average garage. What's more all of the food is prepared on-site and – due to the distances involved – many of the more remote forecourt branches even bake their own pastries.
While all of the most popular outlets are staffed by Vida's vibey "passionistas", Levy is pragmatic about the need to have automatic coffee machines in some branches. Shell has over 600 forecourts, he says, some of which will never justify having a 24-hour barista on site. By opting for pricey, Swiss-made Thermoplan machines which feature fresh milk injectors they're able to spread the brand footprint without compromising on quality.
Unlike Seattle, Vida's agreement with Shell follows the classic franchise model, with the individual garage owners taking 100% ownership of each Vida franchise. Vida still does all the staffing, maintenance and training and the royalty structure incentivises Vida to deliver a quality experience. Not to mention Levy's commitment that "the Vida in Camps Bay should feel exactly the same as the one in Kroonstad."
Vida are committed to expanding the use of technology across their brand, but especially in the convenience sector. The Vida app, which works across the Shell network, allows customers to pay for coffee, earn loyalty points, send vouchers to friends, and order their fix in advance – especially handy if you're 10 kays from Three Sisters and going through a serious caffeine trough. What's more, Discovery Active Rewards (i.e. free coffee!) can also be redeemed at all forecourt branches.
Interestingly, the incredible growth in the forecourt stores has had no impact on sales at sit-down branches. In the vicinity of Century City (Cape Town) there are two forecourt stores and two sit-down Vidas and, Levy notes with a smile, "all four are doing extremely well."
Three's a crowd
Mugg & Bean started rolling out their On-The-Move cafes in partnership with Total at about the same time that Vida and Shell hooked up. Brand Manager Adam Deane says the popular café franchise opted for a menu that "maintains the feel and flavour of the core brand, but is geared towards convenience" and, as the name suggests, doesn't have an eat-in option.
While this may all sound very minimalist, all OTM cafes are manned by human baristas, top-notch Nuova Simonelli equipment and the Mugg & Bean menu was certainly the heartiest of three we surveyed. Drinks include plenty of coffee, tea and hot chocolate options as well as a few Freezos, Muggachinos and Power Smoothies and there's a veritable smorgasbord on the food front: choose from pot pies, baguettes, snack pots and desserts, to mention but a few.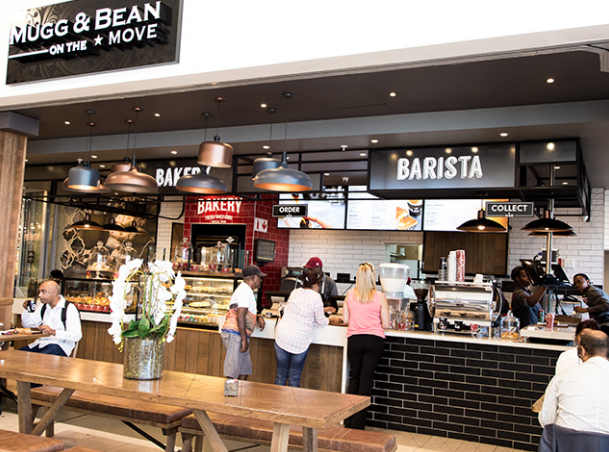 The OTM cafes have exceeded all expectations and, says Deane, the lower setup and running costs make them a major part of the brand's future focus. So far, they've opened around 50 forecourt stores (mainly in Gauteng and KZN) and a further 18 OTMs in airports and strip malls, but there's a real feeling that this is just the beginning for the OTM concept.
While all three coffee brands have approached the battle for the forecourt in a slightly different manner they're all united by a common belief that no one in our Rainbow Nation should ever have to put up with three-day-old moerkoffie and stale muffins. And with good reason.
---