102 Wale Street, Cape Town
---
I have waited far too long to visit this wonderful Bo-Kaap cafe in the Cape Town CBD so when Dr Zameer Brey, founder of the Cape Coffee Club and contributor to Issue 41, suggested we meet in person there, I was delighted!
The neighbourhood is brimming with culture and history. The entrance to the stairs that lead up to the cafe is wedged between local businesses and is a little tricky to spot which just adds to the charm. Walking up the stairs, you feel like you're uncovering a special secret!
The luscious green decor and high ceilings instantly energise and put one at ease. "Hey Salaam" greets you warmly in trendy neon and the team are very welcoming.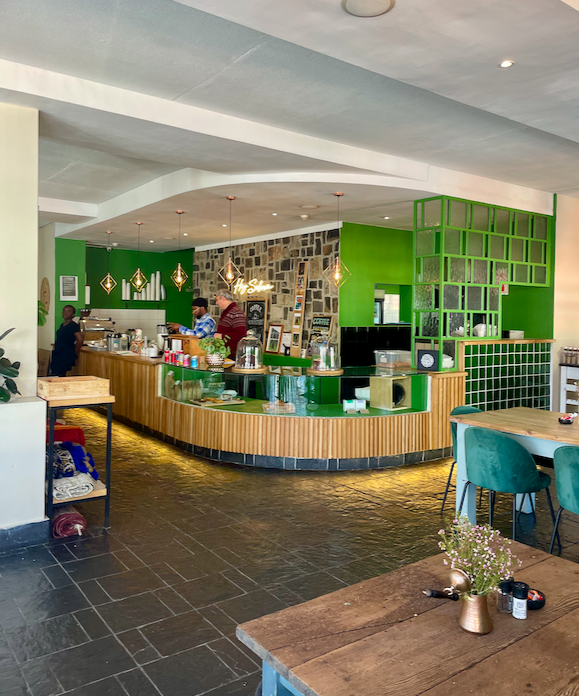 It was loadshedding upon arrival, so I was unable to sample the Tribe Coffee through their espresso machine, but there was a delicious batch brew on offer from Father Coffee and some incredible koeksisters that are the trademark of this unique cafe.
Coffee and koeksisters image courtesy of the wonderful Against the Grain instagram, give them a follow!
There are thoughtful and interesting touches from fresh blooms to tasteful art to a healthy plant game. Everything is considered and you can feel the intentionality in wanting every customer to have a good experience. And what an experience I had.
I was with great company too. Zameer and I have partnered on a few projects recently but never had the opportunity to connect face to face, so it was a treat to get to know him a bit better over coffee. We had both brought each other coffee gifts and in the shadow of Table Mountain we shared our journeys through life and how we found coffee. It was a special time! And I look forward to collaborating with him and the Cape Coffee Club in future.
There is apparently also a gorgeous rooftop area that I shall have to go back to visit! Highly recommended Cape Town coffee spot!