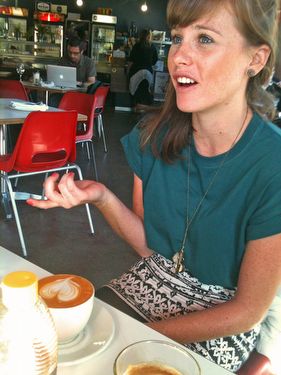 Interview by Megan Pilditch
---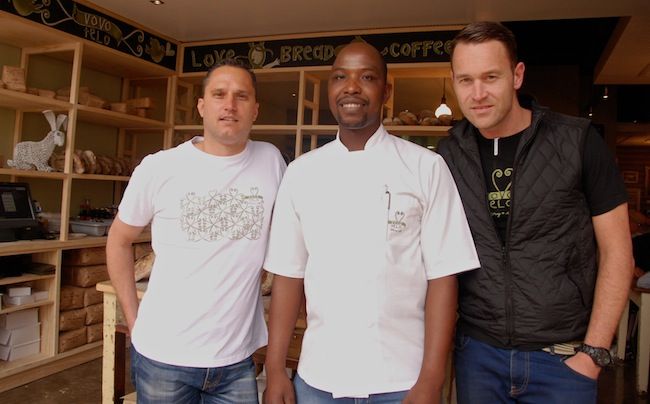 The devoted team driving Durban's Vovo Telo: Craig Goslin, Lloyd Mafukidze, Brett Hedderwick
What has the response to the café been like thus far?
We have had an overwhelming response from the Umhlanga public, some commenting that this is exactly what they have been waiting for, and what they feel the Umhlanga Village precinct needs
.

What makes you three such a great team?
Collectively, our team shares 21 years' worth of Famous Brands experience – comprising of various differing areas of franchising expertise, and which we are now able to pour back into the Vovo Telo business
.
What prompted the move/expansion to KZN?
Besides the will to expand our footprint, nothing in particular, but we knew that KZN was always going to be a region that we needed to break ground in, this especially seeing that we already had a presence in most other major South African cities.

What makes Umhlanga Vovo Telo unique to Durban?
Probably because we are an artisanal bakery, but yet still we also offer that unpretentious casual dining experience where people can sit and taste our creations
.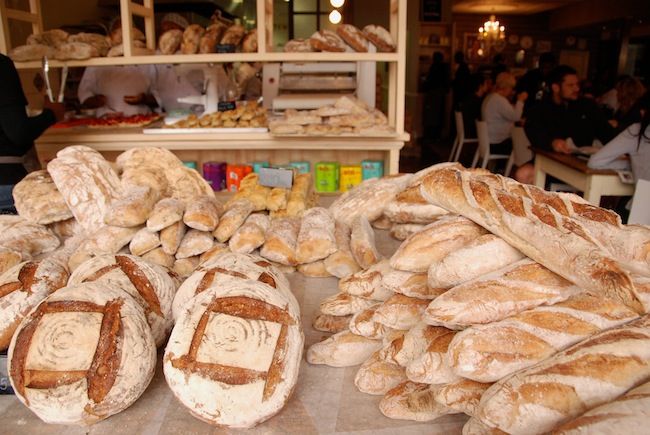 Vovo Telo is synonymous with beautiful artisan bread.
Can you just explain the different décor symbols to each of the cafes?
In each of our bakeries we try and integrate a bespoke store design, emphasized mainly in its décor by incorporating and celebrating special landmarks and historical topographies that surround the location of the store.
If people had to visit Vovo Telo, what would be the one thing you would want them to leave with?
The obvious answer would be the notion that our customers continue to take a bit of Vovo Telo away with them, this by enjoying our freshly baked artisanal bread at home. But perhaps more importantly… that our customers share the magical experience they had with us, with others
.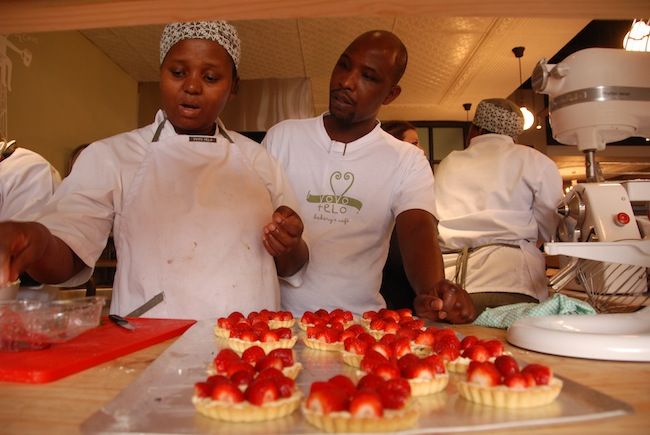 The talented team preparing the day's patisseries.


Your recommendation for first time customer, what should they order?
Without doubt, one of our amazing coffees as a start, then settle into one of our sumptuous freshly baked croissants, Panini sarmies or even our famous Pissaladiere offerings (thin crusted pizza bases made from Ciabatta dough). Perhaps even rounding off the experience with a pastry from our tempting selection. Or just take it home.
What coffee beans do you use?
With an affiliation to Famous Brands, we are fortunate enough to use the valuable resources at Famous Brands Coffee Company to roast our own unique coffee blend.
(We've tasted it and the blend is smooth and delicious, Brett says the blend is 60% arabica and 40% robusta)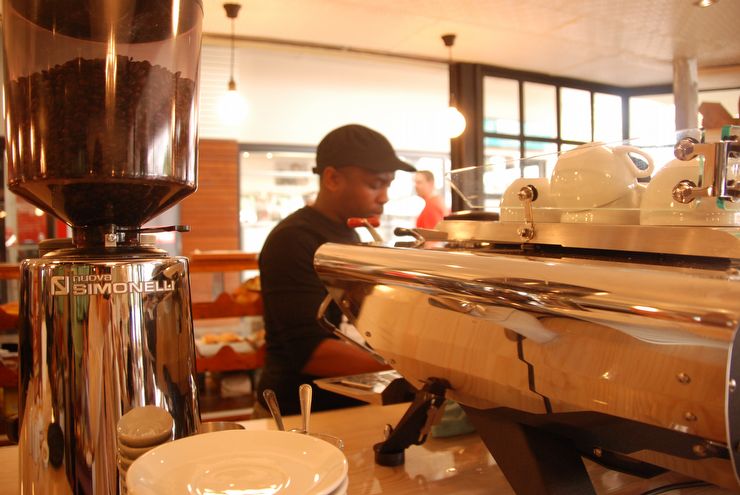 Just like their committed approach to bread, Vovo Telo take their coffee seriously. They have the first Kees van der Westen Spirit espresso machine and Simonelli grinders. Some of the best equipment in the business.
What effort do you put into the coffee at Vovo Telo?
Besides the creation of our own unique blend, a dedicated team of trainers and support staff provide our baristas with professional & skilled training, ensuring our customers receive that consistent coffee quality every time. We understand that this is imperative, and another key to the success of our business.
Umhlanga hasn't seen anything quite like this. And it seems they love it.