As the blazing sun set at the SCASA National Coffee Competitions 2019 held in steamy Ballito, KZN, I don't think anyone could say they weren't happy with the new SA Coffee Champions. The eventual winners after four long days of intense competition were Harry Mole of TriBeCa Coffee Company (Barista Champs), Christopher Abrahams (Latte Art) and Thabang Maluleka (Cup Tasters) both from Ciro Beverage Solutions.
They are all going to fly the SA flag high as you would be hard-pressed to find three more humble and hardworking individuals.
Congratulations to every single competitor, judge, volunteer and sponsor on pulling off another great event. We get into the details below.
You can watch our live video coverage of the event on the SCASA facebook page.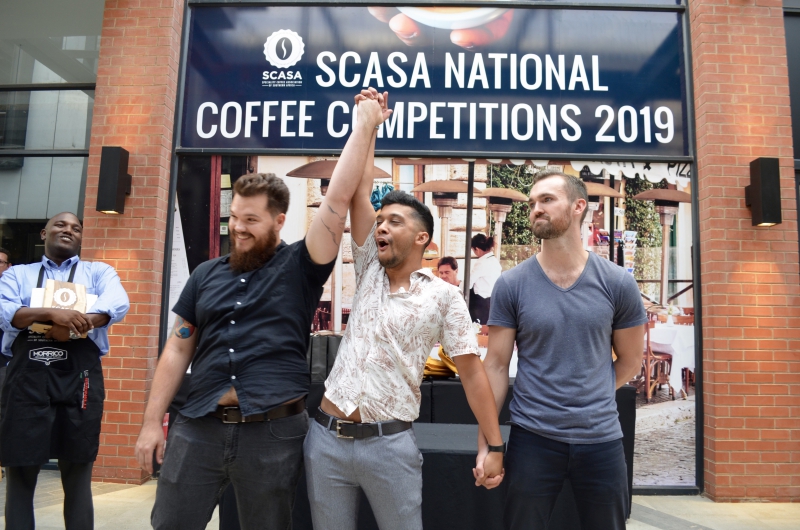 Harry Mole's hand is lifted in victory by Winston Thomas. Trevor Fitz, looks on as runner -up.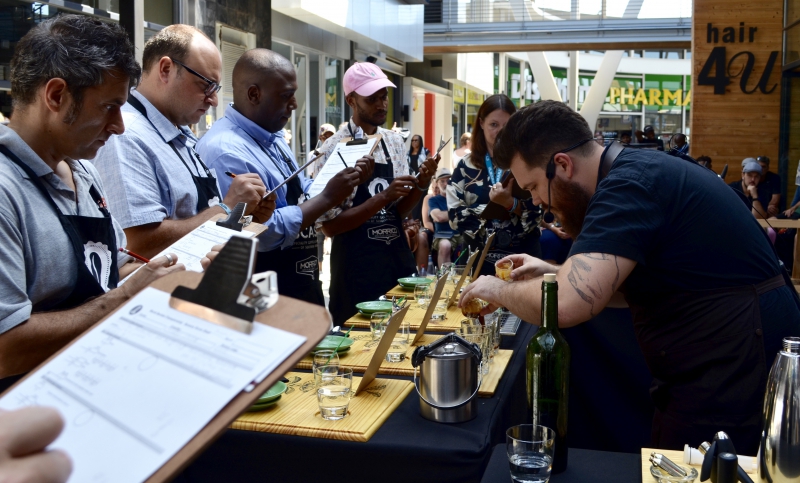 Harry prepares his signature drinks during his Finals set.
Going into Finals Day, it really was anyone's game. Word on the street was that the finalists were separated by only a few points in the semi-final round, so there was everything to play for. Ishan Natalie (Starbucks SA), three-time SA Champ, with his Ethiopian Guji carbonic maceration coffee, was obviously a hot favourite, but all six of the coffees presented were of a very high standard. In the end, Harry Mole, a long time competitor who has been in the Top 6 for the past three years, came out on top with his Tanzanian peaberry.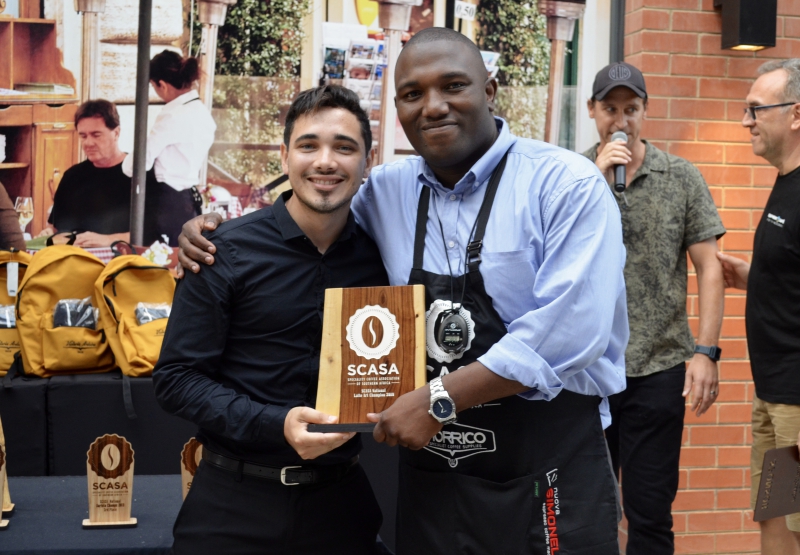 Chris, with new SCASA Chairperson, Bernard Muneri.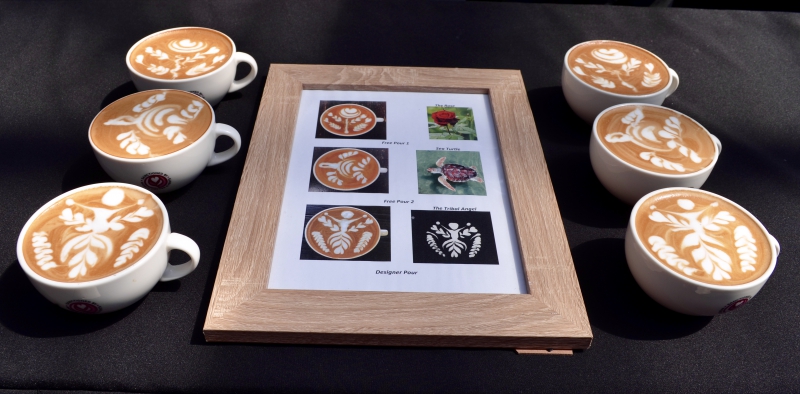 The winning Latte Art set by Chris Abrahams.
The Latte Art finals between defending SA Champ, Chris Abrahams (Ciro) and newcomer, Rodney Swartz (Champs Musical Coffee) was one of the tightest finals in years, with both competitors running excellent sets, both finishing within the 10 minute time frame and putting down four incredible free-pours and two Designer pours each. In the end it was Chris, with his Rose & Sea Turtle free-pours and Tribal Angel design pour that took the title. We are equally excited for runner-up Rodney, as he was such a great competitor and talemted latte-artists that we are certain to see him on the Finals stage again in the future!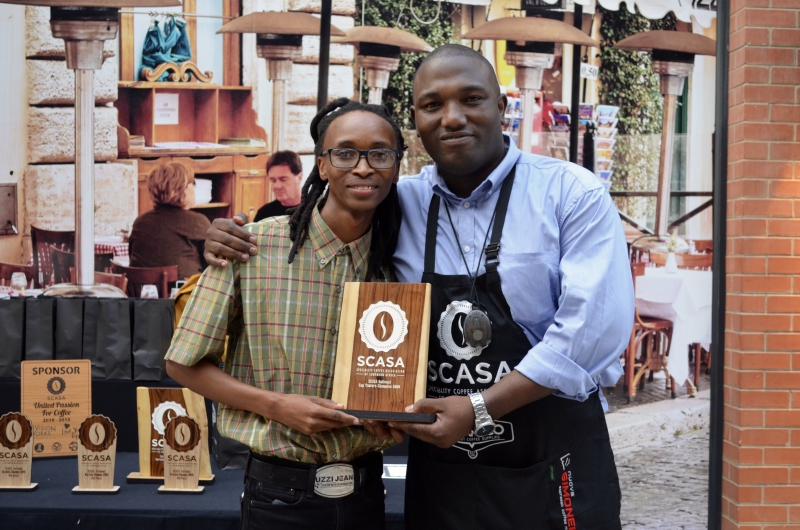 Thabang is crowned as the new SA Cup Tasters Champion.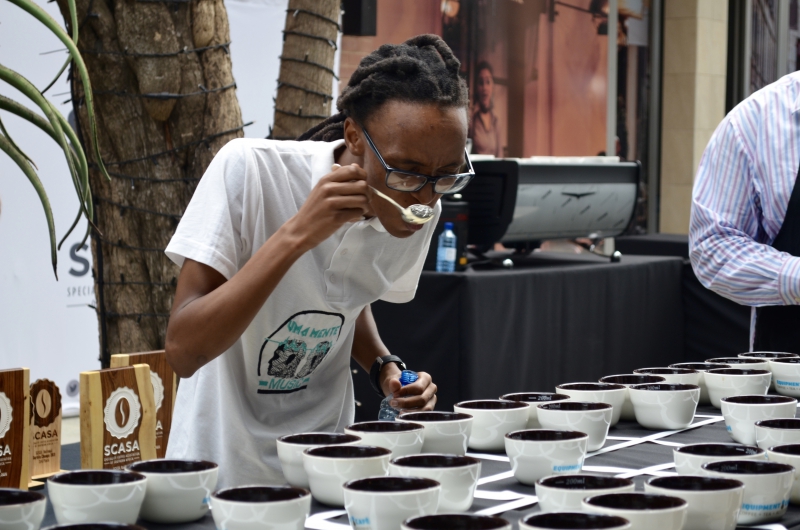 Cup Tasting like a Champion!
The Cup Tasters finals was a very tough final according to the four finalists, Maxine Thiart (Routed Roasters) Thabang Maluleka (Ciro), Chad Whitby (Colombo) and 4 times SA Champ Don McLagan (Urban Espress). The competitors moved slowly and carefully along the table and had repeat passes at the sets that they weren't sure of, which was a testament to the difficulty of the coffees on the table. In the end, with a score of 6/8 it was Thabang who eventually took the title away from Donovan.
Chris and Thabang will represent SA at World of Coffee in Berlin in June 2019, and Harry will represent at SCA Expo in Boston in April this year.