Words and interview by Ayanda Dlamini
---
For us creatives and lovers of coffee, the Home of the Bean experience is a must. I spent a long time trying to pinpoint the correct words to describe my experiences at HOB. I can compare my contemplation to that feeling I get when I'm struggling to remember the lyrics to a song that I like. The tune is there in my head, but the words aren't coming out.
Eventually the realization came to me. HOB makes you feel like a neo-soul soundtrack. The atmosphere and vibrations of the space resemble the soulful energy of neo soul culture. It's rich in art, it's colourful, smooth, calming and enchanting. It can compel you into the type of mood where you want to bounce your head side to side and move your shoulders, like you would to a Lauryn Hill or Erykah Badu song. HOB is cosy, a place where strangers greet each other when you arrive and have meaningful conversations. HOB feels comfortable and familiar. HOB feels like home.
I had the pleasure of interviewing the owners of this beautiful coffee sanctuary, Leroy Kgopa and his wife Itumelang Kgopa. Really it was more like a conversation over coffee. They've endured a lot of change over the past few years and have come out thriving.
Founders of HOB: Leroy and Itumeleng kgopa
What do you want people to know about HOB now vs a few years ago when you had just started ?
Leroy: So years back we were very focused on markets and doing those every now and then. But these days, we have sort of changed the gears a bit with beginning to roast and the food section as well, that's what we really are focusing on. We really want to utilize our bigger space.
What can people look forward to with regards to HOB's future ?
Leroy: I guess now we can say roasting. Roasting is still new, so it's not something that we want to put in people's faces yet. We really want to master it. We are working to get into that position where we are confident. Our main goal in roasting is to get to the point where our product is being compared with whoever is doing a good job in the industry. That's the main goal. We want to be amongst those that are doing good things in the coffee space.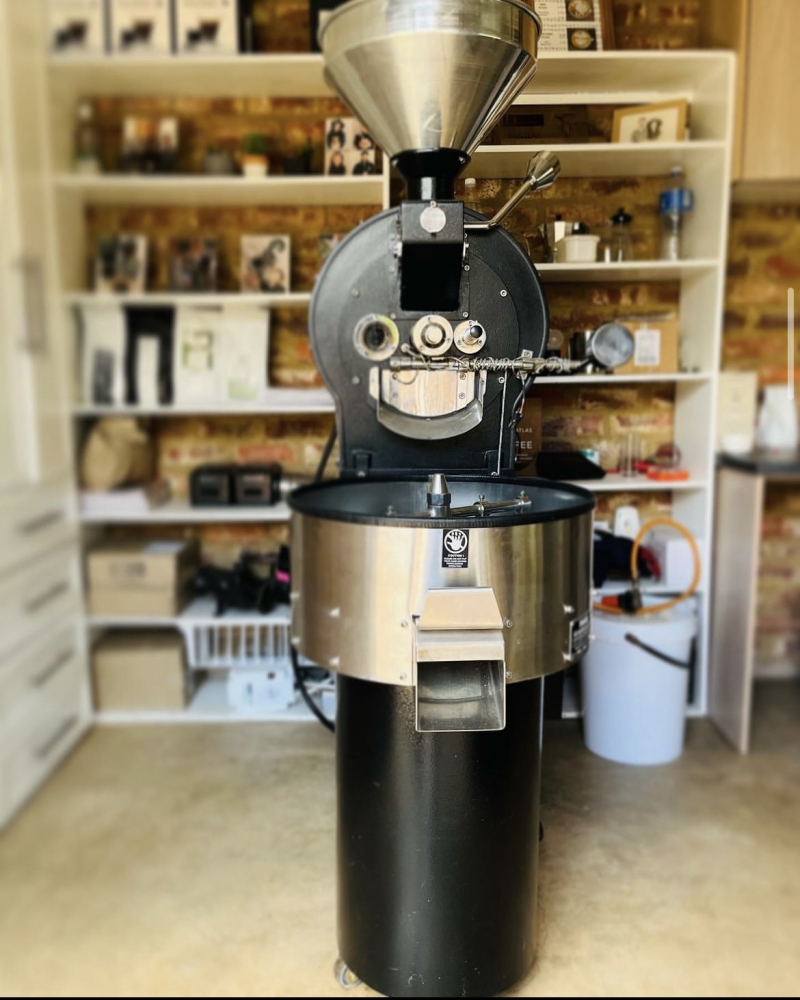 HoBs newly acquired Roaster
How did it feel to reach your coffee roaster milestone in your business journey ?
Leroy: I'm going to give you a bit of history. In 2017, in February I think, we bought the blue Kombi that you see often on social media, where this all really started. His name was France. Now some people think my name is France and I don't even argue with them. What people don't know is that we named the car after the guy we bought it from - his name was France. In the beginning coffee was really a side thing for us. Me and my wife would only really focus on markets and we would go on Sundays. At the time it wasn't a matter of us wanting to end up being big. So looking back and thinking where we are now, we see and feel a lot of progress. That feels good.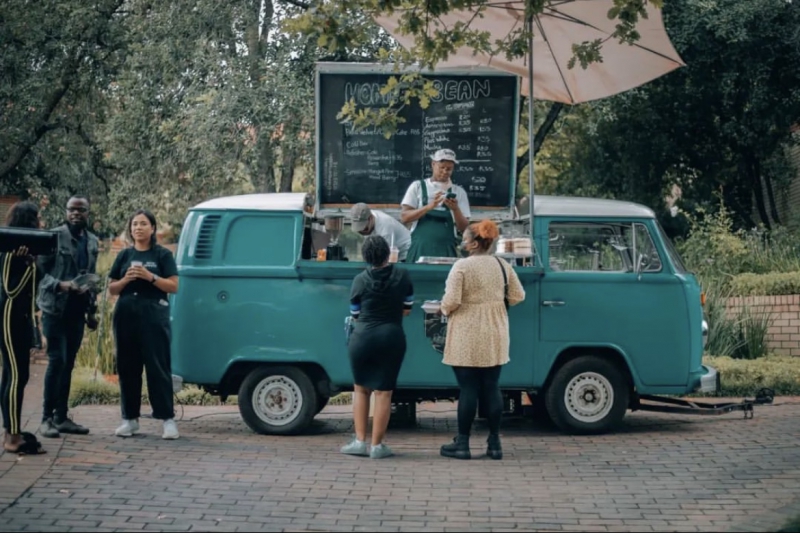 France, the iconic Kombi
How do you manage to keep going everyday considering all the challenges businesses are going through these days ?
Itumeleng: It's bigger than a passion for us now. Especially because we have grown a lot over the years. In the beginning there wasn't much involved compared to now, we were really just winging it. Everyday we have to make it work, especially with things like loadshedding now. For me, when I wake up the goal is to be better and work on getting things right. What we couldn't do yesterday, the goal is to wake up and work on that today.
Leroy: For me knowing that we have a business that actively has a family, which are our customers. Secondly, knowing that we have so many people that believe in the brand, are fans of the brand, and who also look up to the brand. Like the support that we get from family. It really became a community thing more than anything. That's what keeps us going.
What advice would you give to someone who wants to have a coffee shop one day ?
Itumeleng: Structure and paperwork is good but, don't make that be your excuse not to start if you lack that. Even finances, don't say you need money to start. If you know someone who can help you go to that person,start with the basics, learn as much as you can. If you can shadow someone, do that. We started with washing the dishes.
Leroy: Yes, start with what you have. We started with washing the dishes, volunteering, and going to different coffee shops. I would rather come to learn by volunteering and adding value to that company. With regards to finances you learn to make sacrifices. Like in order for us to get the roaster we had to sell one of our cars. A lot of people when they start out can get caught up in where they want to be, rather than where they are now. Don't allow that to set you back and prevent you from just starting. Also knowing that you don't always have to start with brand new stuff, it's okay to start with second hand equipment.
What are your best memories along the HOB journey?
Leroy: I don't really know hey, I can't pinpoint one. For me, what really stands out is the growth. So from having that kombi at markets and getting to the point where we now roasting. To me that's the highlight of this journey and this business. Another thing is being able to go have a business that my people look up too, particularly my black brothers and sisters. It brings joy to me to say Home of the Bean represents the diverse culture of the coffee.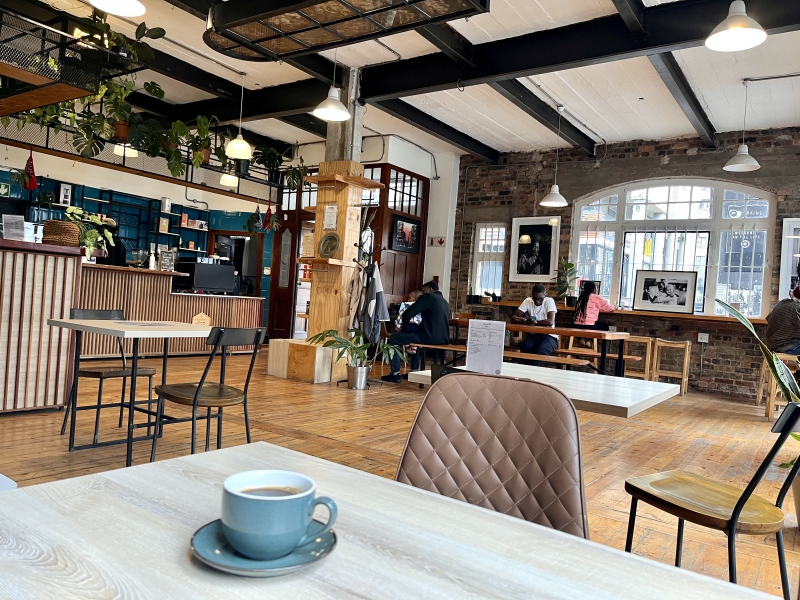 A look into Home of the Bean