Moving on Up
These mobile coffee gurus are bringing the coffee to you, wherever you are.
Words By Winston Thomas
Even as the weather makes us want to bundle up inside, the outdoors are calling and thanks to the ingenuity of coffee professionals, you can get your coffee fix wherever you are, whether it's the beach, the mountains or outdoor markets. Even at your own private event. As a barista trainer and entrepreneur, the current South African Barista Champion Winston Thomas, has the opportunity to discover new gems all the time. We asked him to highlight a few of his favourites from around the country.
---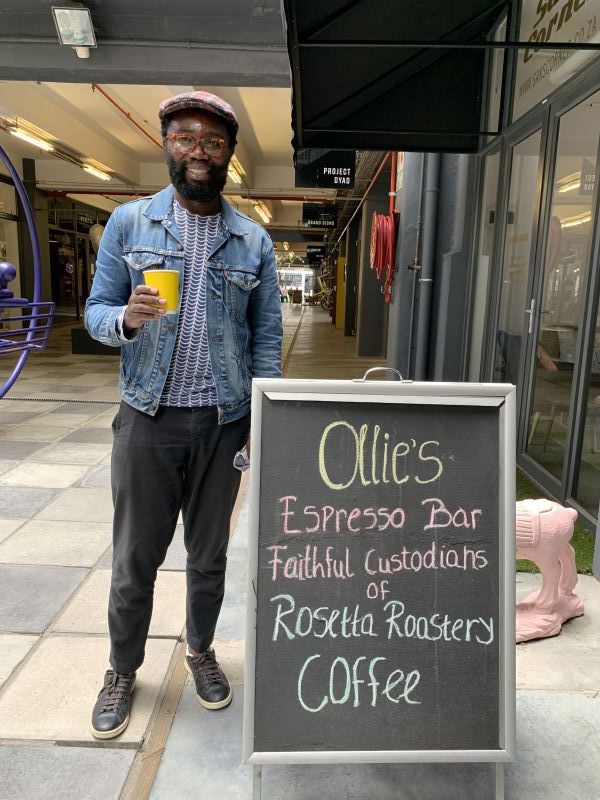 Ollies
Woodstock Exchange, Mobile / Events Cape Town
Slicker than your average. That's the best way to describe Ollie. He is one of the original Rosetta Roastery baristas and arguably the best dressed man in coffee in South Africa. Yes I said it! Ollie has a gentleness about him that is not often found with baristas and because he is a man of few words, when he speaks you need to make sure you're listening. After leaving Rosetta he started this mobile company called Ollies (using a rotation of Rosetta single origin coffees) and finds himself doing events all over Cape Town. He used to have a stand at the Neighbourgoods market at the Old Biscuit Mill between events but has more recently settled at the Redrum Culture Club in the Woodstock Exchange as a pop up.
---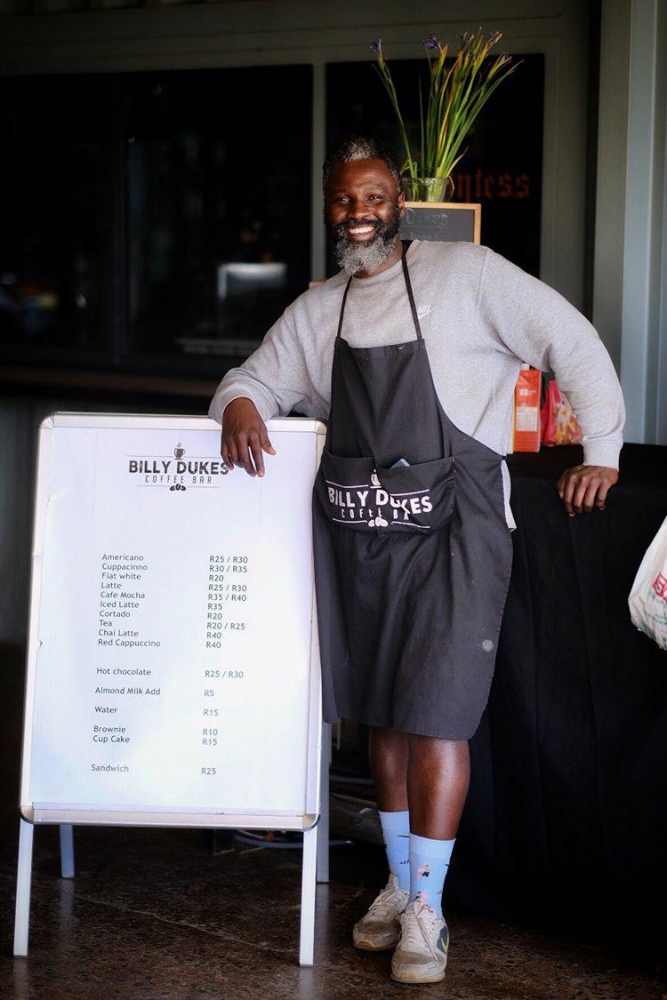 74 4th Avenue, Melville, JHB
@billy_dukes_pop_up
The Idris Alba of coffee :) I have not had the pleasure of tasting his coffee (YET) but the call I had with him is enough to tell me that he is a pretty smooth talker and definitely a peoples person. Siya popped up on my radar during lockdown and I have since been following his escapades with a keen interest. He has a background in hospitality and has set his sights on multiple locations but for now, you can find his Tuk Tuk parked out in Melville or at events throughout Joburg.
---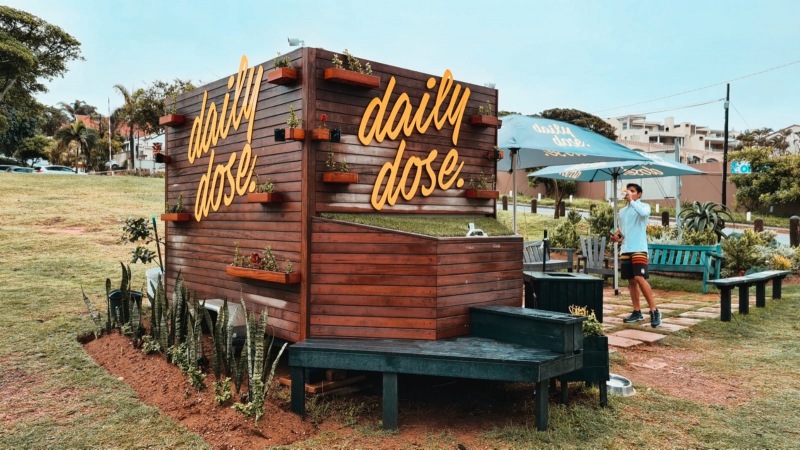 Daily Dose
Durban View Rd, Umhlanga Rocks, Umhlanga, 4319
I've been told that Dean is one of the friendliest people you'll ever meet. And after chatting to him he expressed that the second element that is of utmost importance to his business other than the coffee itself, is the PEOPLE. The baristas, the customers, the suppliers - the people full circle. With their light, bright and fresh branding the Daily Dose are every runner, beach goer and surfers dream conveniently based on the beachfront in Umhlanga. Slinging shots of a Bluebird Coffee Roastery blend they can be also be found in and around Durban doing different events. Dean's recommendation is an Oat Milk Cortado!
---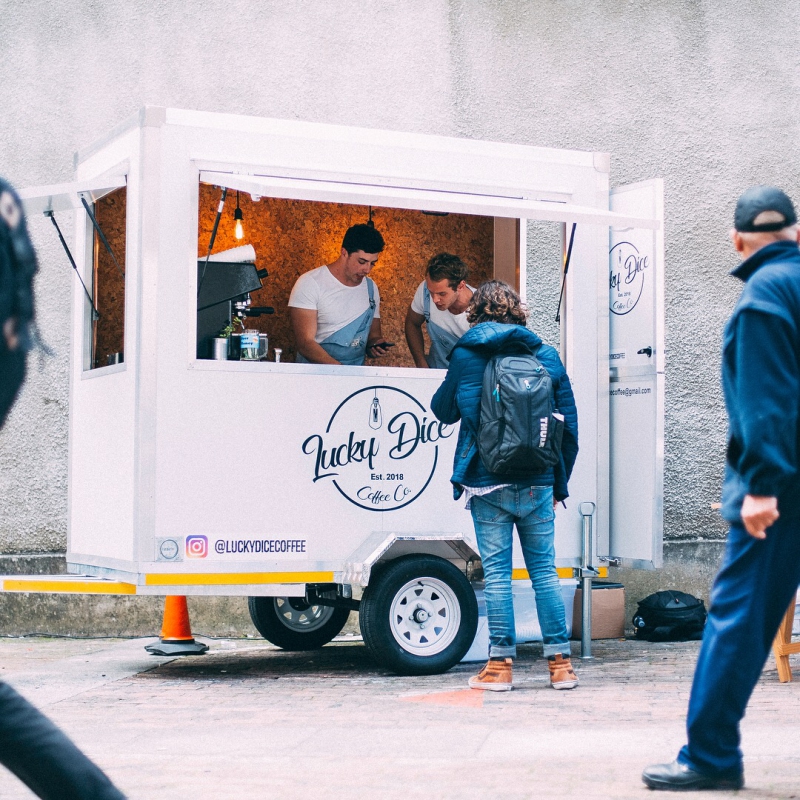 Lucky Dice Coffee
Mobile / Events CPT
Cool, light and Capetonian. Thats what comes to mind when taking a first glance at Lucky Dice Coffee. I met Chris at the Cape Town Coffee festival in 2019 and he kept me busy with plenty of questions. What started off as a mobile cart has continued as a mobile cart BUT they now own a roaster and will soon be roasting their own coffee. From sidewalks, to safe houses, to glamping sites and the more "common" mobile events the Lucky Dice trailer has a way of making its way around Cape Town and spreading smiles one cup at a time. Now all we need is a second trailer to have double the luck!
Photo Credits ©David Clifford-Holmes
---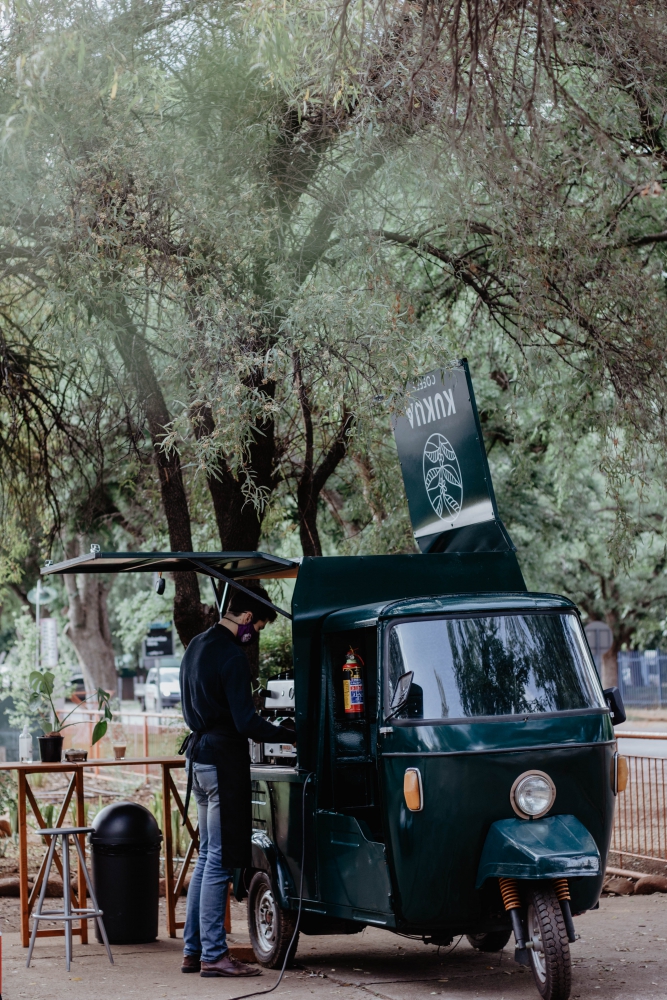 Kukua Coffee
9 Gerrit Dekker Street, Potchefstroom
At first look you would think Killian is a rugby player or the lead singer of a band however, once you get him talking it's pretty clear that there's a much bigger passion keeping him busy, coffee! His cool Tuk Tuk is nestled a stones throw away from the Pukke Campus which is the perfect spot to start a coffee conversation with naturally inquisitive and sleep deprived students. Not to mention the fact that Potchefstroom is currently a breeding ground for specialty coffee geeks. Kukua takes mobile coffee a step further by hosting coffee appreciation evenings and have recently just opened a small stand alone store, which maintains the consistent greenery and moody hues of the cart and contributes to their coffee service to the good people of the North West (roasted by Potch locals Faith Brew Coffee).
---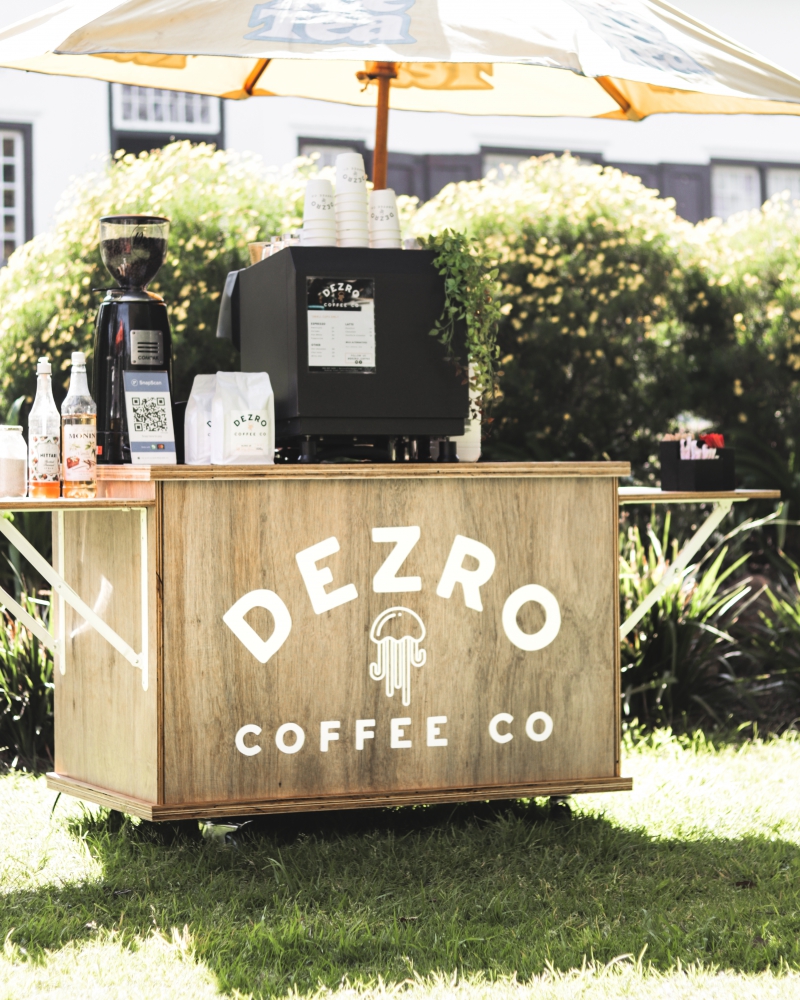 Dezro Coffee
Somerset West, Cape Town
The dynamic duo and one of my inspirations during lockdown. I really admire the tenacity of this small business operated by Dezi and Romero (thus DEZRO) and their drive to continue serving coffee in Somerset West despite the challenges that lockdown threw at them. Romero is a jack of all trades and, after lockdown shut down their cart operation within a local school, decided to make a plan and design a coffee bar that could fit into the back of their car! With their own blend roasted by Gourmet Coffee they soldiered through the elements and now continue to serve at the local school out of the back of their car, then move to a Somerset West bakery serving from their mobile stand AND do mobile events in-between. I'm really excited to see what the future has in store for Dezro and, if you happen to fund yourself in Somerset West, track them down give them a high 5 and order a Flat White.
---