Over the last few years, there has been more focus and support for females to consider a career in the coffee industry. The Neighborhood Barista spoke to Lizé Taljaard from Royal Roastery in Bloemfontein about Female Empowerment in the coffee industry.
---
Why did we choose to speak to Lizé you might ask? Well, if she isn't running the show behind the scenes at Royal Roastery as an administrative manager, she's behind the espresso bar pouring drinks and brewing coffee at competitions. She recently placed Third in the 1st Central South African Regional Barista Championships and also kicked coffee ass at the South African Aeropress Championships in Cape Town, placing Third among her competitors. So listen up, she might have some interesting things to say.
A couple of years ago, when coffee was only starting to make a voice for itself in Bloemfontein, Lizé found solace in a small coffee shop tucked between big name brands in a local shopping mall. For her it was never just coffee; "connecting with people over coffee and building relationships with them. Customers became friends. I knew there wouldn't be any other industry I would feel so passionate about. The coffee shop became my second home and my work became my lifestyle", Lizé says. We asked Lizé a couple of questions regarding Females and Female Empowerment in the coffee industry and this is what she had to say.
Why do you think there should there be more investment for baristas in South Africa, especially female baristas?
We should stop looking at being a barista as a "part-time" or "temp" job but rather a career in which you can grow. This industry isn't dominated by men anymore, there are so many talented female baristas out there. If we invest time and effort in female baristas, they might change their mind-set from thinking that they aren't "competitive enough". As the coffee industry is constantly changing and evolving, and if more baristas and of course female baristas are properly trained, the consumer will definitely profit from their skills and education. Good coffee doesn't necessarily mean that it only comes from specialty coffee cafés/shops.
Do you think there is currently more female involvement in the coffee industry? Why would do you think so?
Of course, it's 2018! We saw this year the amazing courage and competitiveness women in this industry have, there were more female baristas competing in World Coffee events, Agnieszka Rojewska from Poland became the first female barista to win the World Barista title, and that is absolutely amazing. Lest we shouldn't forget about all the hard-working women behind the scenes that work with harvesting, sorting and field work on the thousands of coffee farms around the world!
Coffee is about community, what's the most important role that females and female baristas can add to the coffee community?
This is a bit of a tricky question, but what I do feel and I have seen before is that females help inspire the coffee community, with better, creative and new ideas. They help push their own boundaries, but also their colleagues'. What the main idea here is, is that everyone wants to be recognized and appreciated for what their great at, females help add confidence to the community and the industry. Helping people see their true potential and give them the credit which they deserve.
What's the most difficult thing for you as a female in this industry, and also with the demographic of people you serve?
Coffee is still very young in Bloemfontein, and as it is still growing and finding its feet, I wouldn't necessarily say there is much of a gender gap between the baristas here. Working in this industry has taught me so many different skills and responsibilities. It might not always be an easy going career, but it's about the passion and craftsmanship you serve to your customers each day. So many of our customers love their coffee extremely hot and with loads of sugar, I cringe at the sight of it, but we should respect what the consumer wants. So the most difficult thing for me is probably educating people about my passion and letting them see why I love working for a coffee company.
Final question, do you think that the world of coffee will see even more growth that will involve more female input?
Definitely!! Coffee is such a massive commodity with still a lot of potential to grow even bigger and better! Look at where South Africa was 10 years ago considering coffee, we didn't think that this consumable will become so enriched, focused and scientific. Imagine where we will be in 10 years from now! More female baristas on the world stage, more female coffee producers and female farmers around the world! The 5th Wave will definitely change the way we regard the female input in this industry, and will help with the expansion thereof!
Coffee is a drink which is consumed by the world, a community connected by such a beautiful, yet simple thing. The coffee industry in the modern age has seen many changes and challenges, but we have learned from our past and made the wrongs right. Each day is a new day for us to face an incomprehensible challenge, or so we may think. For the females in this industry, you should never stop pushing and educating yourself, lets change the world, one equal cup of coffee at a time.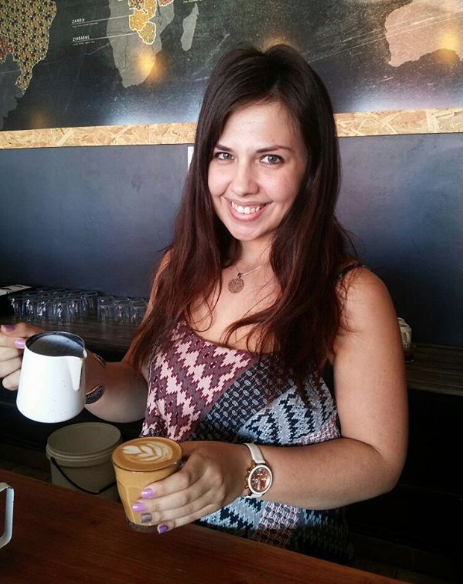 Photo from the awesome Royal Roastery instagram account, give them a follow!