If you were one of the first 10 000 people to join the coffee culture revolution in this country over the past 3 years, we thank you. We hope you've enjoyed getting your free copy from your local cafe and thank you for opting into our growing cafe culture in SA!
You may have noticed something strange on the last magazine cover:
"THE LAST FREE ISSUE EVER".
Well it is true - after 3 years of publishing The Coffee Magazine and distributing it for free, we are moving to a paid-for model. This may seem like a bummer but we hope that you can agree that the product we have lovingly created is worth the small fee of R35 an issue! We will continue to email and sms you when the latest edition hits the shelves so you don't miss out! And you will continue to receive our weekly newsletter.
A huge thanks to our loyal advertisers who have helped us create this beautiful publication for you, without them, we wouldn't have been able to publish TheCoffeeMag for free for the past 3 years.

Edition 13 (The September edition coming out now) comes with a

FREE 100g slab of Lindt Excellence Roasted Sesame Chocolate.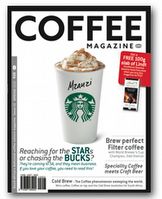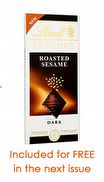 You have two options moving forward:
1, You can have the magazine delivered direct to your door 4 times a year for only R140, and receive a Free Lindt Chocolate, plus get entered into the draw to win!
2. Buy TheCoffeeMag from your local cafe, roastery or coffee shop for R35.
CLICK HERE TO BUY YOUR 4-ISSUE SUBSCRIPTION and ebter the Draw!

and go into the draw to win these amazing prizes!
20 Limited TheCoffeeMagazine T-shirts worth R250 each
1 x Handpresso coffee maker (R1600)
1 x Severin Electric Burr Grinder (R1400)
1 x Severin Manual Espresso Machine (R4500)
When you subscribe, you can increase your chances of winning by sharing this with your friends and increase your chances of winning - every share = another entry into the draw (You'll see the "share" option on the
subscription registration page
)