IMA Coffee at Ipack-Ima 2022 with the SR2 SMART, the latest-generation machine for coffee and soluble products capsules packaging.
From May 3rd to 6th, the IMA Group will join Ipack-ima 2022, the exhibition specialized in food and non-food processing and packaging solutions.
On show, IMA Coffee, Active, BFB, Ilapak, Eurosicma, Ciemme, Corazza and Fillshape will be presenting their latest technologies and developments.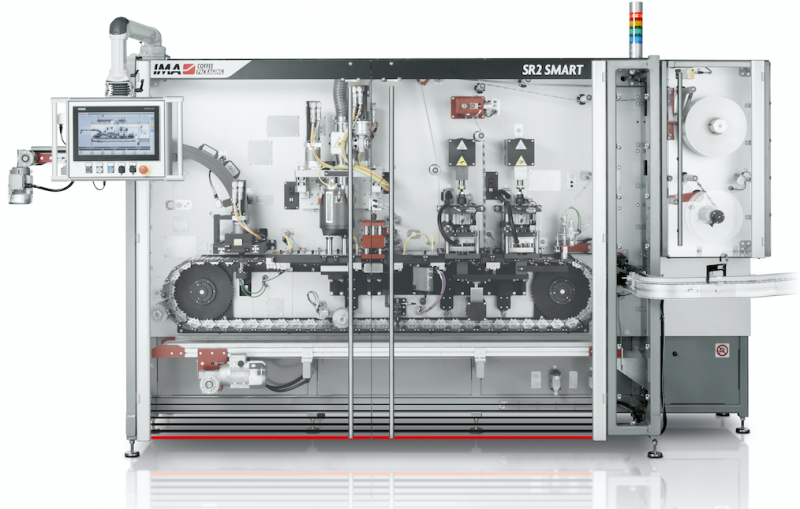 SR2 SMART capsule filling and sealing machine on show at Ipack-Ima
Do not miss the opportunity to stop by the Hall 5P stand B23 C24 and discover IMA Coffee latest technologies. On show the SR2 SMART, a versatile and flexible latest-generation capsule filling and sealing machines. The unique ergonomic cantilever design assures great accessibility for maintenance, service and easy cleaning; the pullout operating system and reels placed outside the machine significantly reduces line downtimes resulting in a great efficiency increase.
Thanks to a very fast size changeover and to an integrated double feeding system, for bulk and stacked capsules, the SR2 SMART can handle any type of capsule in plastic, aluminum and compostable material. Capsules can be closed at the top with aluminum film, micro perforated, filter paper, triplex coupled, PP and compostable lid. Filters and diaphragms can be inserted into capsules and on their bottom. According to the machine configuration, speed can reach up to 120 capsules per minute.
IMA Coffee Hub is the broadest technical and commercial organisation serving the coffee processing and packaging industry today
Able to ensure market-leading competences, industry experience and application-specific know-how encompassing all stages of coffee handling, processing and packaging, through its brands IMA Coffee Petroncini, IMA Coffee Packaging and IMA BFB, IMA has created the hub in an aim to leverage expertise at every step of coffee processing or packaging and be the one-stop answer to large and small coffee producers worldwide.
IMA Coffee Hub reaches every corner of the coffee handling, processing and packaging universe and can now address any issue facing coffee producers, offering competence and expertise with regard to coffee production.
The process you need.
With exactly 100 years in the industry, IMA Coffee Petroncini supplies complete coffee roasting plants for any capacity needs, starting from the green coffee handling and processing, up to roasters for all capacity requirements and next-generation degassing systems. When it comes to roasting, IMA Coffee Petroncini enables customers to envisage roasters featuring different systems to manage unlimited roasting profiles. The range includes traditional roasters handling batches from 5 to 400 kg as well as modular solutions with external heat generation units roasting up to 720 kg per cycle. Next comes grinding and along with a host of flexible degassing systems for large or small production volumes, ensuring consistently reproducible quality of ground coffee.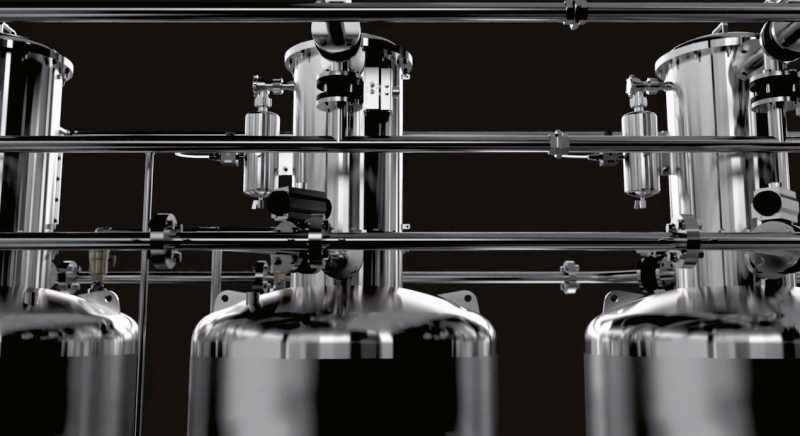 COTUBE Degassing system detail
The packaging you desired.
Once your coffee is ready for the next major step, there is no need to look further than IMA Coffee Packaging. Capsules, pods, cartons, vertical form-fill-seal, end-of-line packaging. Single serve capsule fillers are also at the core of IMA Coffee Packaging, with a full range of equipment, providing high, medium and low-speed solutions to answer 100% of market demands. Coffee capsules will benefit from cutting-edge secondary packaging solutions, for product integrity and top-rate protection right through to delivery. Machines for soft and hard pods are part of the line-up. IMA Coffee Packaging has a full array of machines handling dosed filling of flexible, sealed packages in all shapes and sizes. End-of-line packaging, to which IMA's BFB Division has dedicated its efforts for many years is literally the end of the line-up.
Capsules feeding detail of the C-900 Cartoner
The service you wish for.
The advantages of speaking to one single supplier are numerous. Synergies come into play, timing issues are easier to coordinate, everyone you speak to is focused on your key objectives, and consistent quality and shared knowledge are guaranteed. IMA Coffee Hub is the ideal starting point from where you will reach your destination. This is precisely the benefit the coffee industry obtains from IMA: just one supplier, already coordinated from within.
Visit their website www.ima.it/coffee