By David Coleman (Current Western Cape Barista Champ)
---
Young up and coming coffee fiend Rodrick Nzirainengwe (Union Hand Roasted Coffee) took top honours at the Cape AeroPress Flavour Championships hosted by Truth Coffee and More Flavour (distributors of the famous AeroPress).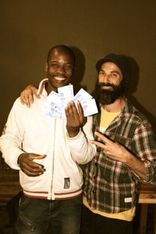 Rodrick pipped finalists Wayne Oberholzer (SA 2012 Barista Champ) and Khanyiso Dunisana (Bean There Cape Town roaster) to claim the R1000 jackpot prize.
Gerald Charles (head judge and roaster): "Roddy's recipe delivered all the flavour characteristics we look for in my Ethiopian Yergacheffe. Caramelized sugar, lemon and lime acidity, and a balanced ginger and bergamot bitterness. And very important, a clean cup is what you expect from an AeroPress. The winning coffee had all of these and deserved the jackpot."

Roddy's Wining recipe:
Dosage: 20g coffee
Water: 225g
Grind: Filter if you are using a ditting grinder but a little bit finer,
Temp: 90 degrees
Brew Time: 1min30
Notes: Because we were using a very sweet ginger, lemon and citrus coffee, I wanted to brew very gently and calm so i first poured 150g of water, and stir right from the bottom going up to the middle until I get a shiny glassy golden yellowish creamer on top. Then pour another 75g of water to top it up. Stirring will help u get that very clean end cup.
The Aeropress Flavour Championship tour now moves to PE, 28th July, KZN mid August and finally Gauteng in September. To enter any of these events email
please@moreflavour.co.za