Meet A Shot in the Dark 2021 Champion Roaster, Frederik Dreyer (he's on the left in the pic below), of Gegrond. With a focus on flavour in all aspects of his life and a passion for the outdoors, it's no wonder that aiming for great heights is all part of the plan...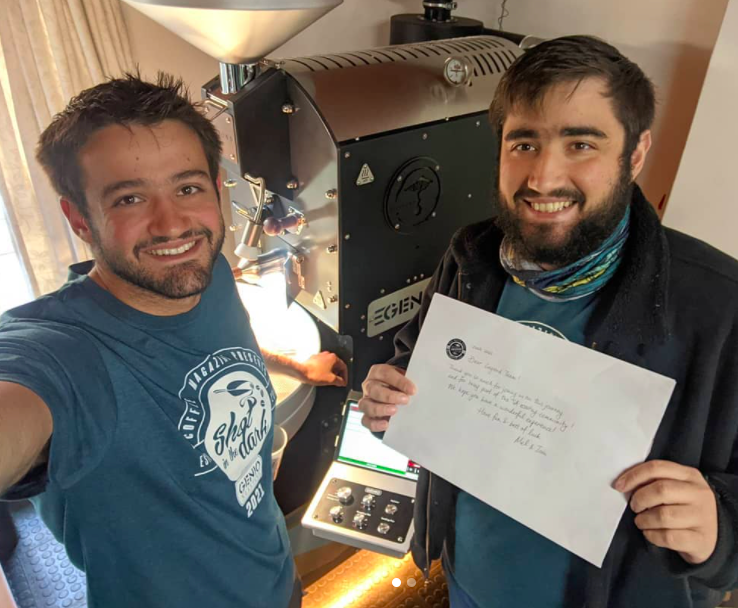 Firstly, when did you start roasting coffee and how did you get into it?
My business partner, Pieter Conradie, had a passion for coffee long before I knew the difference between a cappuccino and a flat white. He was the one who introduced me to specialty coffee back in 2018.
I can still remember the coffee he made me: it was one of Winston Thomas's SA Barista Championships coffees. It exploded with flavour, specifically strawberry yoghurt, and that started this exciting journey of ours.
We decided to go into business together, starting Gegrond in 2019. We initially contract roasted our coffee with Francois Dreyer of Heavenly Coffees (no, we are not related, haha) and by September 2019 we had saved up enough to purchase our own small roaster, an "Asuka" 2kg drum roaster.
What was your background before coffee roasting?
I studied Supply Chain Management at University of Pretoria, graduated in 2012 and went straight into corporate, doing stock controlling and a bit of marketing management at Safilo, an Italian eyewear company. I enjoyed the work, but constantly found myself looking for ways to make it on my own and took a leap of faith in 2017. I quit my corporate job, travelled New Zealand for 3 months and then came back to South Africa with no idea what to do next. A friend introduced me to my current full-time employer, Marius, at Hazeldean Brewing Company, and I started working for him, initially as a barman, and soon after as operations manager.
Tell us about the Brewery and your connection with it?
Hazeldean Brewing Company (HBC) is a craft beer brewery, based on an old dairy farm in Pretoria East.
I work there full time, doing anything and everything: from filling barrels to aftersales client care, deliveries to designing art work for labels, events planning, planting trees, meetings with prospective clients, servicing draught machines, training barmen.
Marius, the owner of HBC and a good friend of mine, is blessed with a very refined palate. HBC has won many golds and silvers at the South African National Beer Trophy and Africa Beer Cup competitions with our Barrel Aged Beers. Throughout the years he has taught me how to accurately describe flavours in beverages and detect off flavours or defects. His lessons and his help have been so valuable throughout my journey in the coffee industry. HBC taught me that everything in life, as simple as it sometimes might seem, has an element of complexity that needs to be appreciated.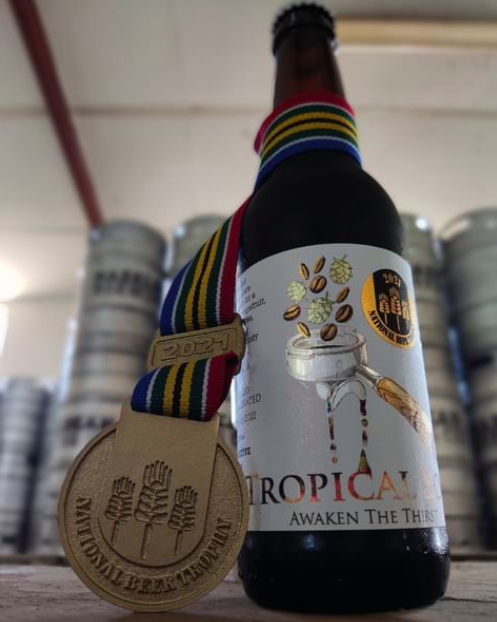 What inspires you?
People who challenge and push the boundaries, rather than accept a fixed way of doing something, inspire me. I call them the ones who live unrestricted.
Marius Botha (HBC), pushing the boundaries of barrel aged beer in South Africa, experimenting with interesting bacterial fermentations and ending up with award winning beers, is one of those people.
Sebastian Ramirez, a coffee farmer from Columbia, who experiments with weird and wonderful fermentation methods, who produces incredible coffees like the Gesha Natural CM LM, is another one of them.
Where does the name Gegrond come from?
We knew we wanted an Afrikaans name, but we wanted our name to represent our language, values, and way of living life. Also, we felt that if people could pronounce "La Marzocco", then why not Gegrond?
Gegrond directly translates to 'grounded'. We believe that, when you are grounded in your beliefs and/or faith, you can live unrestricted and genuinely free. This also ties in with our slogan: "coffee for the unrestricted", which has a second meaning to us. We stand for living unrestricted in our natural surroundings. We live for everything outdoors: trail running, mountain biking, hiking, scuba diving; time spent outdoors is time well spent.
What did you want to be growing up? What was your school life like and after school what did you do?
Growing up, I had no idea what I wanted to do. It was intimidating to imagine that you need to choose a career you want to do for the rest of your life. I attended Dirk Postma, a small private school in Waverley, Pretoria. School was mundane to me, but being the youngest of three brothers and one of very many cousins, I lived for the holiday adventures with them, which included trips to the Drakensberg and around Southern Africa under the wings of my grandfather.
Coming from a household of entrepreneurs, I decided to also become an entrepreneur. I chose to study Supply Chain Management, as previously mentioned. It was only later in life, in my first few years of being employed, that I realised how exciting I can make my own life, if I choose to. I started exploring new places by myself. I found myself spending more and more time outdoors and fell in love with nature and adventure.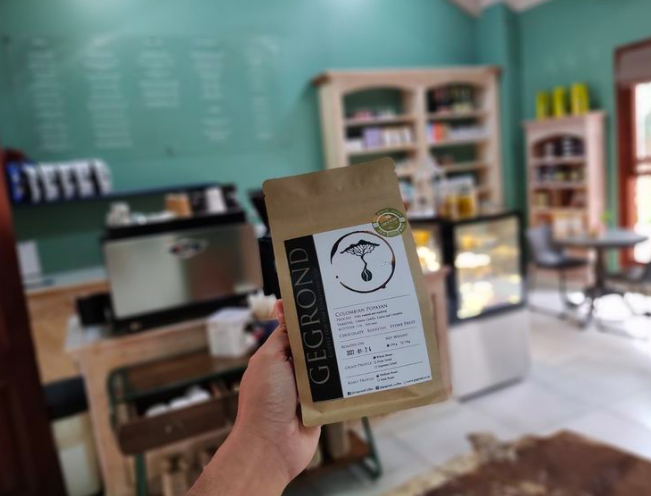 Who do you look up to in the industry?
Matt Carter: his humble way of living coffee and sharing knowledge is inspirational.
Nicodemus Nambakwe: the man is a legend. He has played a bigger part in shaping what Gegrond is today, than he can imagine.
Winston Thomas: we first met him at a Johannesburg Coffee & Chocolate Expo in 2018 and immediately looked up to him. He inspires us to pursue greatness, always pushing for quality.
Why did you enter ASITD?
Well, let's just say that we had pretty good negotiation skills when we bought our Genio 6kg coffee roaster last year! Also, I knew we would learn a lot and I wanted to prove to myself and the coffee industry that Gegrond can punch with the heavyweights.
We were extremely humbled by this experience and are better coffee roasters because of it. The challenges were greater and learning curve steeper than expected and the competition was top class. I have met some pretty awesome people along the way and it is a privilege to be part of a community with so much passion for the purpose.
What was your process in terms of approaching your first round coffee?
I started by reading up… a lot. I learned how to calculate the density of the different coffees by calculating the displacement of water when adding a measured weight of coffee. I did this and then compared the competition coffee beans with our own beans and used our roasting profile of similarly dense coffees, because I thought that it would theoretically react the same way when roasted. This was a good starting point, but we needed to polish the results, and that took a lot of cupping sessions, debate and time.
I tried something new with the very first roast: a concept known as soaking. Soaking improved the flavour of the cup, but decreased the body, so I decided to shorten the soaking time.
The one we submitted had a short soak in the beginning, with a gradually tapered down gas. We kept an eye on the environmental Rate of Rise (ROR) to ensure that we drop the gas ahead of first crack (FC), and shortly into FC we increased the fan speed to get rid of the moisture and extra smoke.
Ed's Note: Scott Rao, author of The Coffee Roaster's Companion has this to say on what 'Soaking' is, though, if you're not a coffee roaster, it will likely remain mysterious even after this description:
"The soak is a roasting method in which one charges a batch with low-to-no gas and increases the gas to a high setting sometime in the first two minutes after charging. Just to avoid the inevitable question, no, the soak does not involve adding water to coffee beans :).The soak is not necessary to produce stellar coffee. But I have found the soak makes good development and clean flavors easier to produce in most situations, with most machines."
What did you do differently in the Finals regarding your cupping roast?
Since the coffee was a natural coffee, we decided to roast a bit less aggressive and thus a bit longer. The main thing I did differently, was to use the fan speed to control more of the heat transfer closer to FC.
I started with a slower fan speed and also started dropping the gas earlier than in the first round. With some of the gas drops, I increased the fan speed to ensure that the heat transfer (ROR) would not drop out. Closer to the first crack, I increased the fan to ensure that the smoke and burning silver skin gets sucked away quicker, as to limit the influence on the flavour profile.
How did you decide on your blend ratios and your blend development of each bean?
I decided to roast all of the coffees in a manner that would represent themselves best when on their own. In round two, I could get quite a bit of body from the Burundi without roasting it too dark. I took the stance that, roasting darker to add body to the coffee, is not the only way. I played around with other variables but kept the development time pretty much the same.
Towards the end of August, I was able to convince my travelling cousin to replace some of her biltong with bags of sample coffee on her trip back to Ireland, where Pieter now lives. He was able to give his opinion on the blending ratios.
Before this competition, we had never done a blend before and we also do not own an espresso machine, so we went to Marius Botha with his Lelit home espresso machine.
On Monday, the day before submitting the coffee, we were making espressos non-stop. Marius and I were on a proper caffeine high, trying different blending ratios with different recipes.
At the end, when we were properly buzzing and unable to taste the difference between A and B anymore, we decided to go with the one that stood out the most.
What was your experience at CCW?
Creative Coffee Week was an incredible event. I especially loved the fact that it is entirely focused on pushing the boundaries of the coffee industry in South Africa and making it sustainable.
The amount of knowledge shared is just out of this world. Thanks to CCW, I am now even more motivated and ready to change the way we influence the world around us. Meeting so many people in the industry, getting to know them and becoming part of the community, is priceless.
Where do you want to go with Gegrond? Is there a Big Plan?
We have many plans, but I think one of the most noteworthy is that we want to change the coffee culture in Pretoria. Pretoria, we want to show you what real good coffee tastes like and get the passion for coffee fired up in all of you! We want to teach you that great coffee can be made anywhere.
Also, we work with so many start-up companies who - just like us - want to make a living by working less restricted but who ultimately want to make a difference in people's lives: getting them outdoors, healthy, motivated, and fit. Working with these companies and individuals is one of our biggest success stories, and we want to continue to build these relationships and form new ones.
As a company we want to grow, so that we can offer sustainable job opportunities to people with our shared passion for good coffee, adventure and life in general. We want Gegrond to be a company that people want to work for and where people, coffee and nature are at the centre of what we do.