A Shot in the Dark 2021 - The Coffee
We have some very exciting news people! The official Shot in the Dark competition coffee is.....(drum roll please......!)
BURUNDI - GATUKUZA
Varietal- Bourbon.
Processing- Fully Washed and Sundried.
Altitude- 1600- 1800 masl.
Producer- 600 smallholder farmers families, processed at Gatukuza washing station.
Region- Gatukuza, Ngozi, Burundi.
Harvest period- March- July.

When Long Miles Coffee Project lost much of its 2019 harvest to spotty rain and a hailstorm that walloped cherry from coffee trees, it looked to local producers to elevate distinctive microlots. This is one of those gems. The all-Bourbon coffee was grown by farmers in northern Ngozi Province and processed at Gatukuza Washing Station, which is owned by Therence Nduwayezu. Normally, it would have gone into a larger blend, but Therence isolated the coffee based on quality. Winner of Burundi's Cup of Excellence award in 2019, this unlikely prizewinner is crisp, juicy, and winsome with its lingering herbal finish.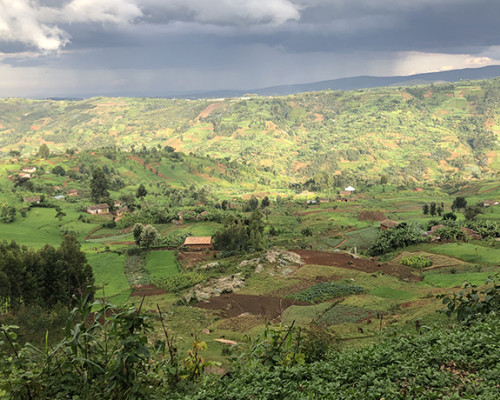 Gatukuza washing station won the Cup Of Excellence in 2020.

Gatukuza washing station is named after the hill it's built on. The word 'Gatukuza' comes from Kirundi, the local language spoken in Burundi, but has no distinct meaning or translation. For as long as people can remember, that's what the hill has been called. The CWS was built just three months before its first harvest season in 2008. The same people who helped to clear the land and build the washing station now delivering their coffee cherries to it.

Gatukuza is nestled in the Gashikanwa commune, in the northern province of Ngozi. The people who call Gatukuza home grow almost everything they eat- bananas, potatoes, beans, maize, sweet potatoes, peas- wrapping the hill in every imaginable shade of green.

600 farmers from 8 neighbouring hills deliver the cherries to Gatukuza CWS. Therence, the owner of the washing station, and his team mapped out the regions that are far from the washing station or don't have access to a nearby washing station. From the maps they picked 112 spots to set up cherry collection points in the coffee hills. The collection points shorten the distance farmers have to travel to deliver their coffee cherries.

While women make up only 20% of the producers who contributed to this coffee, they are without question the thread that holds coffee farming communities together in Burundi. They work incredibly hard- hand tilling the soil, growing, harvesting, sorting and hauling multiple crops- not just coffee. They often do it with a baby on their back or a child at their hip.
__________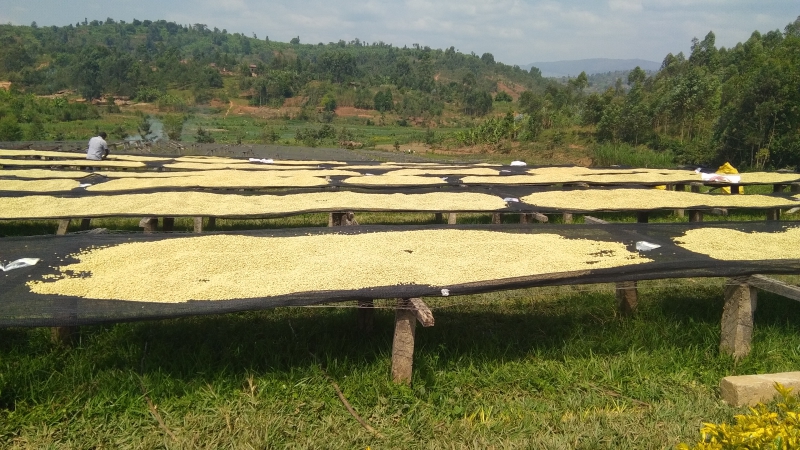 Gatukuza Coffee Washing Station is a branch of Ets NDUWAYEZU Therence, a self owner enterprise operating in Burundi with head office at Ngozi Cen- tral Market in commune and province Ngozi, exactly in SHIKIRO Quarter, Mubuga Street, Plot MA02.
The big branch of the group is Gatuku- za Coffee Washing Station which is located at Gatukuza village, in Gashi- kanwa commune , Ngozi Province. Its altitude is 1750m.
Since the opening of Gatukuza Coffee Washing Station in 2008, Ets NDUWAYEZU Therence is exporting common commercial coffee grades such : FWAA, FWA, FWB,FWTT, FWT and FW Triage ( FW= Fully Washed ) from a good coffee parchment depulped by Gatukuza Coffee Washing Station.
Gatukuza Coffee Washing Station is a big unit with a high coffee parchment production capacity due to its double system in every thing such double coffee depulper machines with eight discs each one, much drying tables etc…….
From the season 2013-2014,Gatukuza Coffee Washing Station has started producing specialty coffee FW 15+ Grade 1 and its aim is to produce more specialty coffee according to customers needs.
Total capability 96,000KGS of specialty green coffee and more according customers needs.
Other capability 384,000 KGS of ordinary commercial grades (FWAA,FWA,FWB,FWTT,FWT,FWTRIAGE)
Notes BURUNDI specialty coffee is of medium body. The taste is sometimes chocolaty ,other times cara- melly, sweety ,floral or of lemon or apple aroma
Description GATUKUZA COFFEE WASHING STATION is located at GATUKUZA Village, GASHIKANWA Municipality ( commune), NGOZI Province in north of BURUNDI. Most of the coffee depulped at GATUKUZA Coffee Washing Station come from villages which are near the station such GATUKUZA first and others like : KABAMBA,RUTANGA,RUHENGERI,MARURI ,GASHIKANWA and others.
All these villages are on an altitude of between 1750 meters and 1800meters above sea level. Around 1500 farmers sell their coffee cherries to GATUKUZA Coffee Washing Station and above 50% of these farmers are grouped in associations which at their turn are grouped in one confedera- tion named NKORERA NZOGUHEMBA.
On average, every one of these farmers owns about 300 coffee trees. In way to increase the production and with the help of BURUNDI coffee authorities and GATUKUZA Coffee Washing Station leader ,the farmers are improving their plantations by planting new coffee plants.
The Farmers who grew this year's A Shot in the Dark Coffee are:
BIKORIMANA MATHIEU
NIBIZI JANVIER
NZIKOBANYANKA EMMANUEL
NGABONZIZA JEREMIE
NTAKIMAZI DEO
NDIKURYAYO JEREMIE
UWIZEYIMANA JONAS
TWAGIRAYEZU EMMANUEL
NDIKUMANA INNOCENT
RUKUNDO NOEL
NKIRAVYIKIZA HELENE
NITONDE THERENCE
BIZIZIMANA ISMAIL
NDAYIZEYE NECELATE
NDIKUMANA GABRIEL
NAHIIMMANA VENERANDE
GASANINKIMANA AGNES
HATUNGIMANA STANY
HAGANZIMANA FELIX
NAHINKAMIE FRANCOISE
GAHURI MATHIEU
NTASONI GABRIEL
NTAKIMAZI OMER
KABWA ANTOINE
NDORERAHO JANVIER
NYANDWI LIBERATE
MANIRANGEZA FELICITE
NZAMBIMANA VIATOR
NTAHOMVKIYE JEAN
MPAWENIMANA RICHARD
BANSUBIJEKO ABEL
MBAHIRAYO FELIX
NKURIYABAHIZI ERIC
TWAGIRAYEZU ELIAS
SURWAVUBA MICHEL
NDAGIJIMANA ETIENNE
NTIRAMPEBA JEANNNE
NIYONKURU PASCAL
NKUNDABASHAKA ANASTASE
NIREEE AIME
NTAWUYANKIRA GASPARD
MIBURO THARCISSE
CMPAYE VIOLETTE
NDIKUMANA ZACHARIIE
GAHUNGU SALVATOR
NKINAHAMIRA GLORIOSE
NIZIGIYIMNA ODA
NTAKIMAZI NESTOR
NTIBARUFATA DEO
KARIMUNCUTI SIMON
NDIKURYAYO SAMUEL
NIBIGIRA FREDERIC
MBOJEJE ANGELIQUE
NIYONZIMA REMY
NDARUHEKEYE ANGEL
BIMENYIMANA DANIEL
NININAHAZWE EMELYNE
NDARUZANIYE ANGELE
NKUNZIMANA JEAN
NZEYIMANA JOSEPHINE
NKUNZIMANA HENRY
CIZA ODILE
NDAYISHIMIYE FREDERIC
MUNEZERO CHARLES
NDIKUMANA ABEL
MPEBERANE PONTIEN
NGENDAKUMANA ROSINE
NDUWIMANA BOSCO
RURIBIKIYE JOSEPH
KAMWENUBUSAA JOSEPH
NYAMBUGA PASCASIE
HARERIMANA GODELIEVE
NDIKUMANA MELCHIADE
NSABIMANA DANIEL
MUJERI ZACHARIIE
NDUWAYEZU PROSPER
NAGUYE GILBERT
NDAYIRAGIJE GILBERT
BUCUMI ANTOINE
MVUYEKURE CLAVER
KABIRORI DEVOTTE
IRADUKUNDA ERIC
NZOBONIMPA LAZAR
NSAGUYE CLAVER
NDAYIRUKIYE VERONIQUE
NIIYONGABIIRE
CIMPAYE JUSTE
NYAKAMWE EMMANUEL
GAHUNGU ERNEST
KAMARIZA APPOLINE
NAHAYOO MOISE
NYANDWI CYRILLE
BUYARA PHILIPPE
NDARIBWIRINDA MICHELINE
NDAGIWENAYO LAURENT
KAYOBERA EMMANUEL
NIYONSABA EVELYNE
NIYONKURU PASCAL
HARERIMANA EMILE
MIBURO BENOIT
RWASA FABIEN
PROJECT AGROPASTORAL MULTILOCALITE (PAPM)
NDIKUMANA CELESTIN
NZISABIRA JOSEPH
NIYONGABO EGIDE
NDAHATOWENAYO ANITHA
NYANDWI PATRICIE
NSENGIYUMVA ERNEST
MIBURO GODELIEVE
RWASA BENOIT
MIBURO GUSTAVE
TUYISENGE CALINE
NDAYIZIGA OSWALD
GAHUNGU LEOPORD
MINANI LAZARE
NKOREIMANA LEONIDAS
NDIKUMANA FRANCOIS
BARENGAABO AGRIPPINE
CIMPAYE PRIVAT
NTUKAMAZINA REMY
NDUWIMANA JACQUELINE
HABONIMANA PIERRE
BANKUWUNGUKA VIATEUR
NDABARUSHIMANA PRUDENT
MINANI PRUDENT
MINANI JEROME
NTIGAHERA CHRISTINE
NTAHOMPAGAZE EMILE
NAHIMANA IMELDE
RWASA THARCISSE
BIZIMANA SALVATOR
MANARIYO DOLINE
GAKOBWA ANATOLIE
MVUNAMABOKO CELESTIN
NDIKUMANA ALICE
NDAYIKEZE MARIANE
NDIMUBASI ELIAS
NYABENDA MELANIE
NSHIMIRIMANA NIICELATTE
NZEYIMANA HILAIRE
NDUWAYEZU PASCASIE
NIKOBAMYE XAVIER
NIKOBAMYE MARIANE
NCAHORURI CLAVER
BIZIMANA DANIEL
BAZIRUTWABO CYRIAQUE
KARENZO FABIEN
MINANI FIRMIN
CITERETSE ANSELME
NYANDWI DIOMEDE
MIBURO CASSIEN
BATAKANWA SIMEON
IRAKOZE J MARIE
HABOGORIMANA BOSCO
BAGUNGUKO PATRICIE
NDIZEYE MOISE
HASAAMAGARA MATHIEU
NDIKUMANA LONGIN
GAHUNGU ANSELME
NYANDWI EDWARD
HABARUGIRA FLORIEN
RIRENZUMUNWA ANDRE
NYABENDA ADELIN
NTETURUYE PIERRE
NDARUGIRIRE FERDINAND
INDEPENDANCE M ROSE
MINANI NESTOR
HABIMANA SYLVESTRE
SEMATORE GABRIEL
BIGIRIIMANA INNOCENT
HABIMANA JOSEPH
HABARUGIRA OMER
NSENGIYUMVA FREDERIC
NDIKUMANA LIBERE
MASABO DAMIEN
VYAJEMBONA BONAVENTURE
NSAGUYE CELESTIN
NTIBARUHISHA SALVATOR
SERUFYIRI PIERRE
BOOYABO MATHIEU
NSAGUYE ROSETTE
BWIMANA DISMAS
CONGERA GABRIEL
BISEKERE EGIDE
NDIKUMANA ANDRE
NSABIMANA BENOIT
NYANDWI AUDACE
GAHUNGU LAURENT
HAKIZIMANA JEROME
HABIYAMBERE GODELIEVE
NZEYIMANA DEO
NYABENDA AUDACE
CIZA OSCAR
BANYANKIYE FRANCINE
NIYIMUBONA ETIENNE
BAPFAMUKANWA GASPARD
RUZOAVAKO LEONIDAS
NTAMAVUKIRO CLAVER
NDABARUSHIMANA CELEUS
NYAHWIMA LONGIN
MINANI GERVAIS
BARYANA BARTHAZAR
GIRUKWISHAKA ROGER
NDUWIMANA ELIE
NZAYOMAZE MALINE
MUSOONI SALVATOR
NZEYIMANA THARCISSE
NKURIIKIYE VIANNE
UWIINEZA PATRICK
NIBITANGA JEANNINE
MAKAMBIRA FLORIEN
CIMPAYE JULIETTE
MIBURO ROSALIE
MINANI JOSEPHINE
HAVYARIMANA CHRISTIAN
NKUNDUWUNKUNDIYE DOMITHILE
NKURUNZIZA J MARIE
MIBURO JEAN
HAKIZIMANA CAPDIOSE
NYANDWI JOSEPH
NGENDAHOORURI PRIME
CITEGETSE ETIENNE
NGENDABANKA CELESTIN
CIZA BOSCO
BUYOYA SERAPHINE
BIVUGIRE LIBERE
TWAGIRAMUNGU MICHEL
NTAWEMPARIRA MICHELINE
BARANYIKWA GERARD
HATUNGIMANA BERNADETTE
NIYONSABA BENIGNE
NZYIMANA FERDINAND
MUNEZERO ERIC
NZEYIMANA PRIVAT
MUHIRWE AORON
NYABENDA ROSE
NYIRABIKARI GENEROSE
MIBURO JOSEPH
NZOBONANKIRA RICHARD
NIKONABANZE EVELYNE
NIYOKWIZERA CHANCELINE
NTAKIRUTIMANA M ROSE
CIZA YVES
BUCUMI MARIE
NYABENDA VERONIQUE
NDUWAYEZU DESIRE
CIZA DAMIEN
NDABARUSHIMANA GABRIEL
MIBURO CHRISTIAN
MINANI LEOPORD
HATUNGIMANA DAMIEN
NGENDABANKA DAMIEN
NIYONZIMA EVARISTE
BARAKAMFITIE SERAPHINE
NZISABIRA GRACIEN
NSABAKKAYIRA AGATHE
NTETURUYE GODELIEVE
GAHUNGU ANATHOLE
MISAGO OSCAR
NIYONIZIYE ROSE
MWAMARAKIZA MARIE
NTAHOMVUKIYE JULIENNE
NAHIIMMANA JOSEPH
MIBURO JEREMIE
BAVUMIRAGIYE BERCHMAS
KWIZERIMANA CONSOLATE
NCAHORURI SERGES
NDAYIZEYE MOISE
This coffee is proudly presented by Sevenoaks Trading.