The Coffee Magazine Awards 2022 is a very special occasion for so many reasons. The 2022 event marks the 5th edition of the Coffee Magazine Awards and first time holding it in Cape Town. It is also Coffee Magazine's 10 year anniversary this year – with our 42nd issue of the magazine on shelves this week! So there is lots to celebrate!
Thank you to everyone who travelled – at significant costs and time, to be at the CTICC together. We appreciate you.
We would also like to thank our guest of honour, Nora Smahelova, for attending. She is the Coffee Education Leader at Accademia del Caffè Espresso in Tuscany
2022 has been a difficult year, on the back of a difficult 2021 – on the back of a pandemic, tough economic markets, global shipping crisis, energy shortages…yet despite these challenges – South Africans are resilient, adaptive and resourceful.
In this context, it is more important than ever to celebrate the amazing people in our industry. To highlight the incredible leadership of coffee companies and their staff, to shine a light on excellence and achievement in our wonderful coffee community in 2022.
To our incredible Sponsors, Advertisers and Event Partners who continue to support this event, to support our publication and to see the value in our media and the events that we run, thank you!
We will be releasing a bit more about the winners and each of the nominees in the next week so look out for that!
And now without further ado...
---
Excellence in Coffee presented by Electrical Industries
This Coffee Professional strives for and achieves excellence in their chosen area of the Coffee Production Chain. They are innovative, are recognized as a leadership figure in their field and are constantly inspiring others around them.
WINNER : David Walstra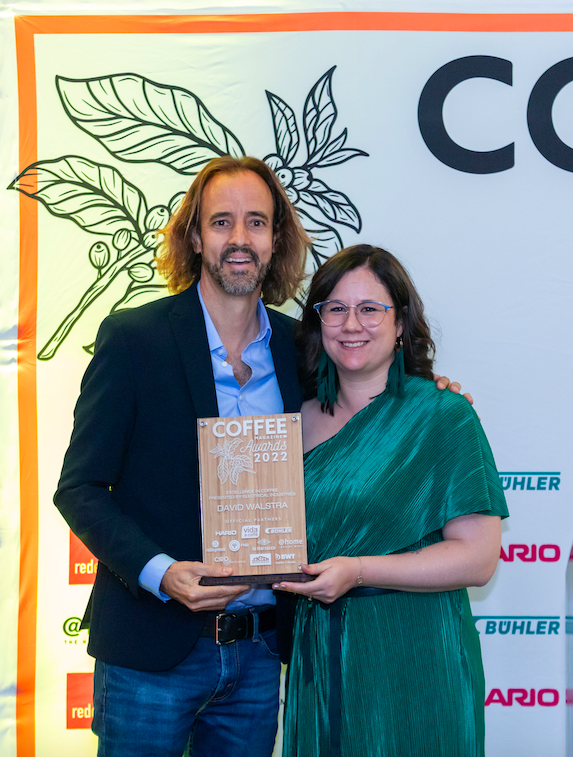 David Walstra with Monique Swanepoel (Electrical Industries)
---
Dedication to Education presented by Ciro Coffee Academy
This award is handed out to the person or company who has dedicated their time and passion to coffee education, over and above what is required from their 9-5 responsibilities. Always willing to share knowledge with those who want to learn.
WINNER: Shaun Aupiais & Ryan le Roux, Red Band Barista Academy, Port Elizabeth.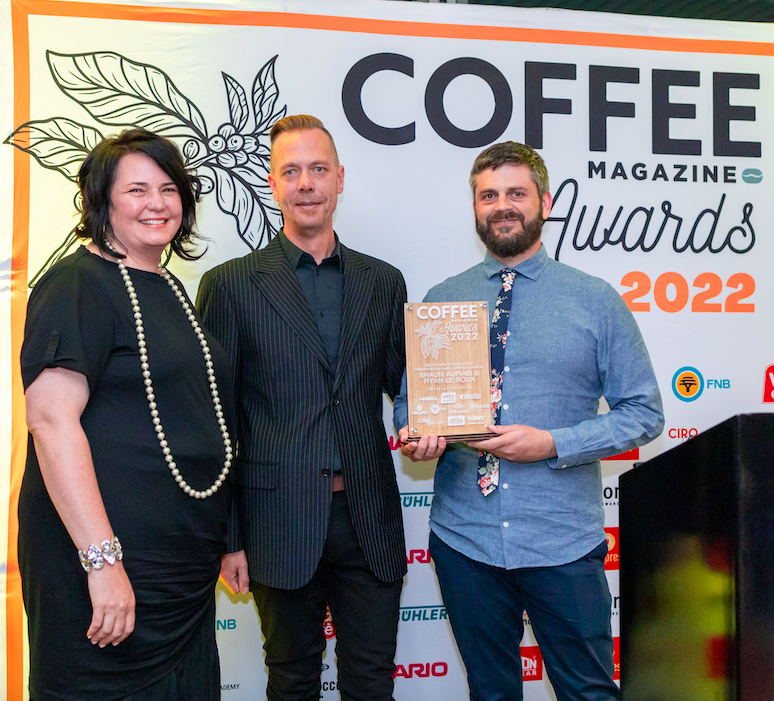 Lani Snyman and Rudi van Jaarsveld (Ciro Coffee Academy) with Imile de Villiers (accepting on behalf of Red Band Barista Academy)
---
Best Café Design presented by FAEMA / Culinary Equipment
The spaces created for coffee add equally to the experience of enjoying that coffee. This is awarded to the cafe that creates the perfect atmosphere for enjoying a delicious cup, from their choice of seating to the way they serve their beverages, aesthetics make their coffee better!
WINNER : Sofia Eatery, Stellenbosch.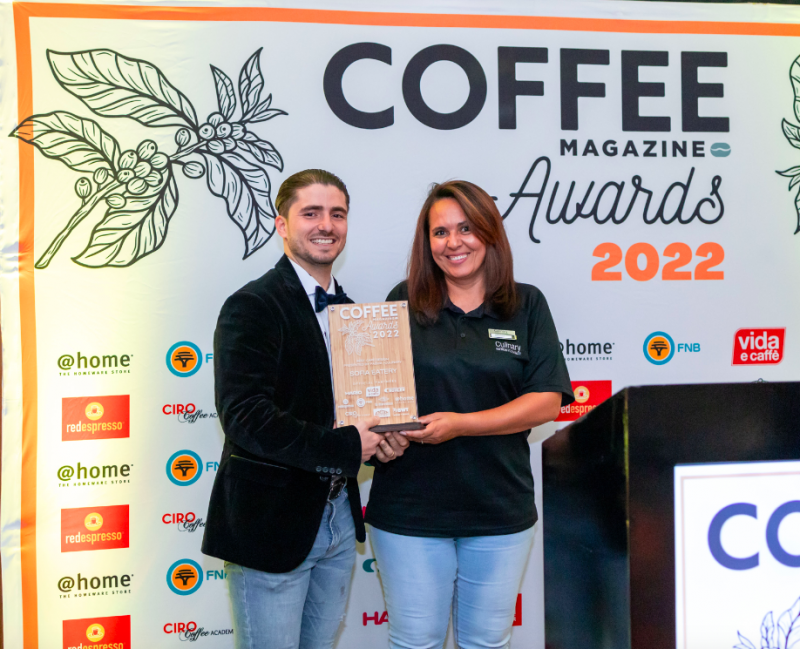 Gerado from Sophia (Stellenbosch) with Johanna Losper from Culinary Equipment Co / FAEMA, Western Cape.
---
Best Health Café presented by Red Espresso
A category to celebrate health and wellness in the café space. Cafes that embrace alternative flavours and ingredients and have a focus on health and well-being. Think creative ingredients, beautiful colours and all in the name of feeling good!
WINNER: Shoots and Leaves , Umhlanga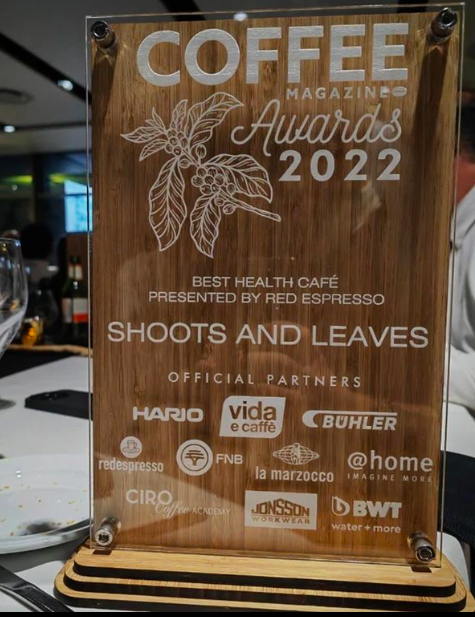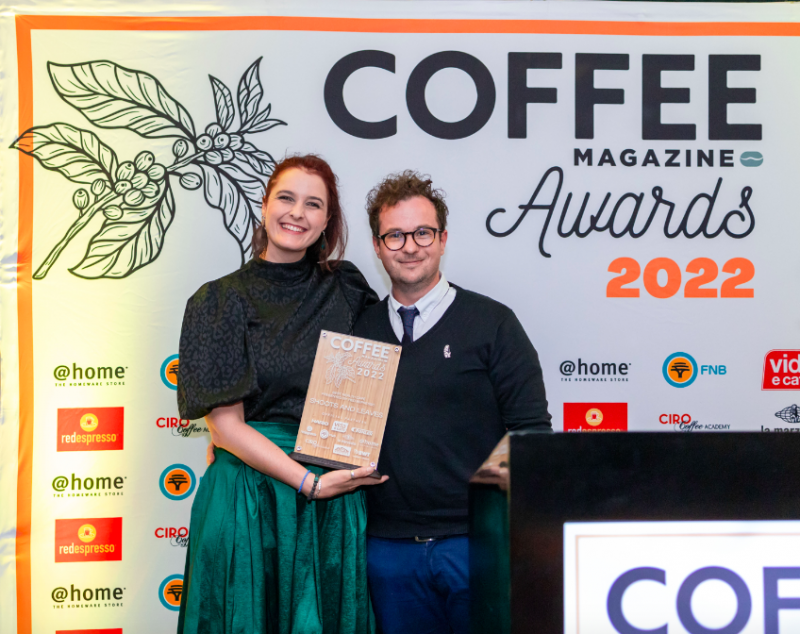 ---
Kirsty Reid (Red Espresso) with Sinjon Wicks (La Marzocco SA) accepting on behalf of Shoots and Leaves.
---
Barista Trainer of the Year presented by Hostex
These nominees are the very best Barista Trainers in the land. They teach and inspire, they train and they serve. They impart wisdom learned from thousands of hours behind the espresso machine and their subject matter is technique, science, aesthetic and service. Without the encouragement of skilled trainers, baristas don't know their value. We are grateful to all of them.
Winner: Winston Thomas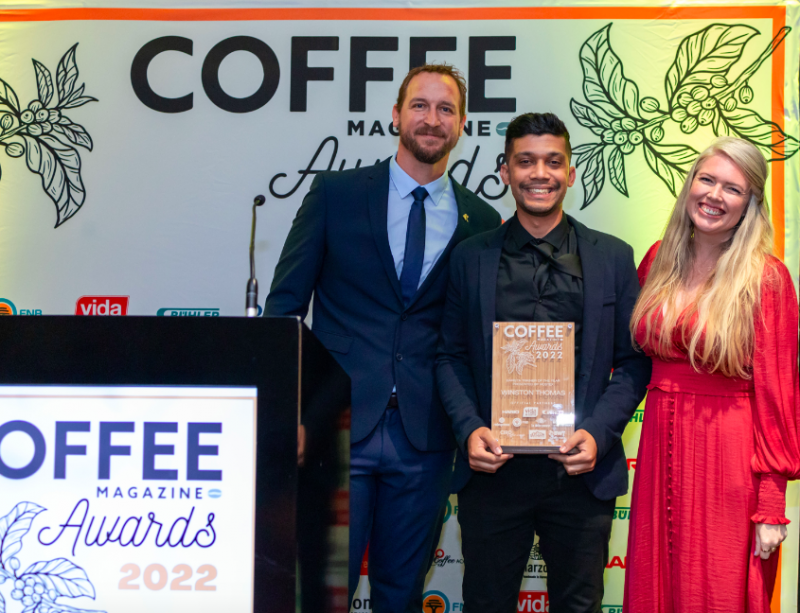 Iain (Coffee Magazine) with Winston Thomas and Mel (Coffee Magazine)
---
Best New Café presented by Red Espresso
Cafés are meeting places, they are spaces of community, business meetings, collaborations and first dates. We see new Café's opening every month and the standard is increasing year on year – from better equipment, higher quality beverages, better service, to choice of design and outfitting, to creative seating, flow and ambience. Great toilets and bathrooms (everything counts!), and a fitting menu. Most of all though the criteria for this is based on the Café that opened in the last 18 months that has created something special where before it there was nothing.
WINNER: Simple Bru Coffee Co (Harrington St)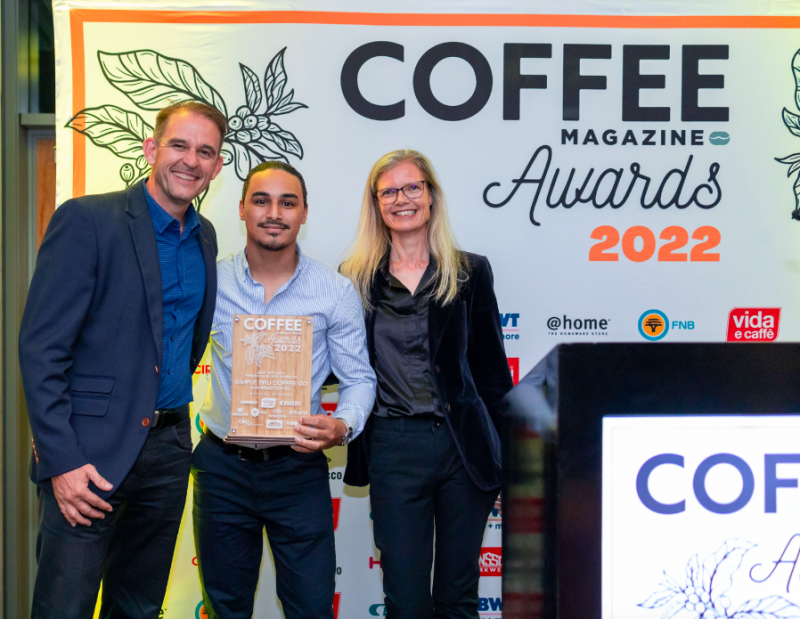 Pete Ethelston (Red Espresso) with Grant Vraagom from Simple Bru Harrington Street and Monique Ethelston (Red Espresso)
---
Best New Roastery presented by Jonsson Workwear
This category seeks to recognize Roasteries that have opened in the last year (up to 18months) and are gaining reputations as up and coming in the South African scene. They bring new flavours to the industry in more ways than one!
WINNER: Cedar Coffee Roastery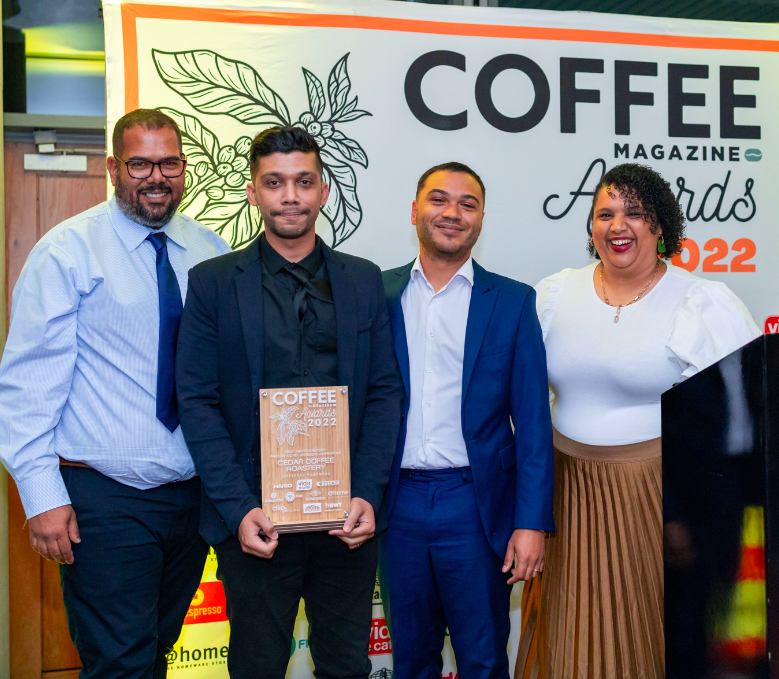 Nadeem Badat (Jonsson Workwear) with Winston Thomas and Leigh Wentzel (Cedar Coffee Roasters) with Elvira Henry (Jonsson Workwear)
---
Best Supplier to the Industry presented by vida e caffè
These are the behind the scenes companies that make life easier for the cafes and roasteries that keep you happy on a day to day basis. Think espresso machines and maintenance, packaging, take-away cups, green beans. This list is representative of the struggles that the industry has faced this past year specifically with green coffee supply and delays of imports. These companies have handled these obstacles with grace and optimism.
WINNER: La Marzocco South Africa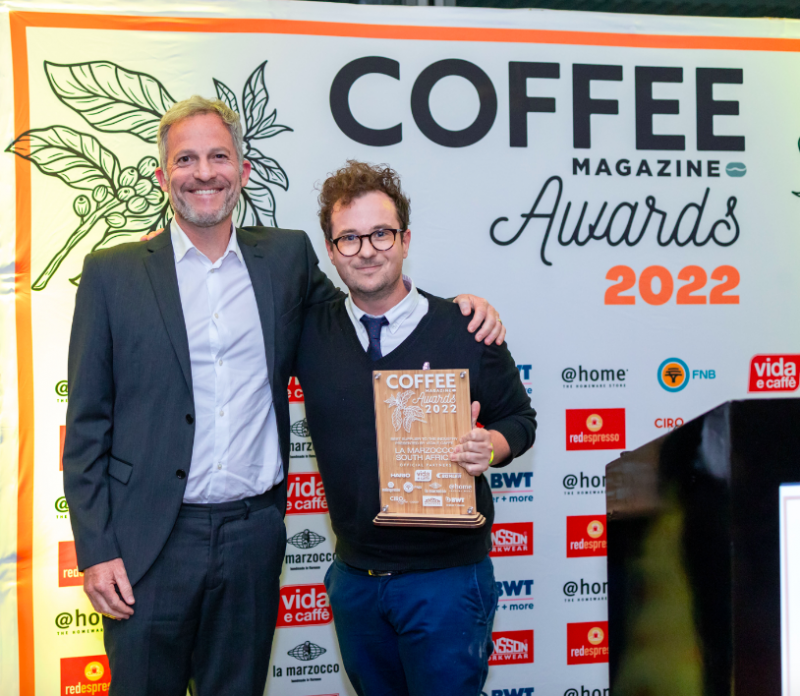 Darren Levy (vida e caffè) with Sinjon Wicks (La Marzocco SA)
---
Best Franchise Award presented by Dartpac
Employing the bulk of the barista work force and satisfying tens of thousands of coffee lovers everyday, the Franchise coffee companies are an integral part of the coffee landscape and because it is such a competitive market, they are pushing the boundaries of innovation at scale.
WINNER: Motherland Coffee Co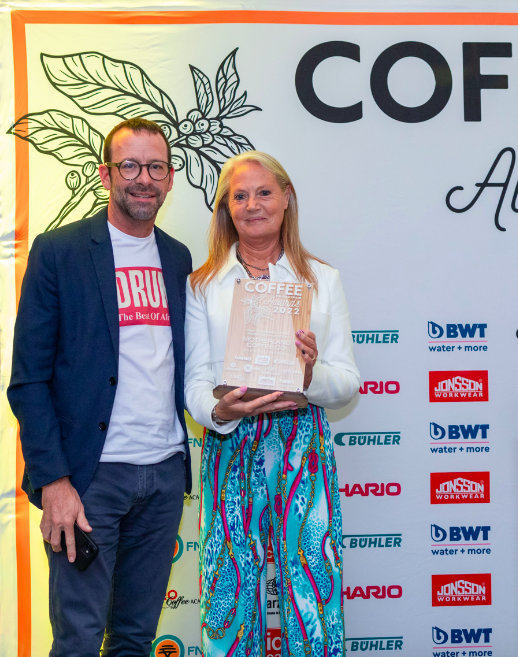 Jonothan Robinson (Bean There) accepts on behalf of Motherland from Erna Hand (Datrpac)
---
Outstanding Woman in Coffee presented by vida e caffè
In a male dominated industry, we want these nominations to shine a specific light on women doing the most to make spaces more inclusive, uplift other women and challenge stereotypes. We wish this award wasn't necessary, but the nominations speak volumes on what it's like out there for women in coffee. We've got work to do ladies!
WINNER: Fikile Kuzwayo
"These Two Nominations means the world to Me and to my Journey. Because this is who I am and I love what I'm doing and my promise is keep pouring a good cup of coffee made with love and to keep adding one more brick in the Building of woman out there who participate in the coffee industry."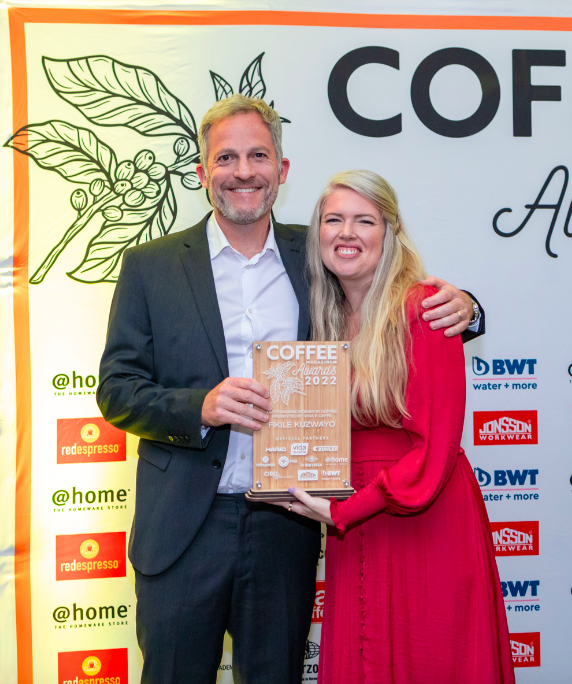 Darren from vida e caffè presents the award to Mel, who accepts on behalf of Fiks.
---
Emerging Entrepreneur of the Year presented by FNB
Starting and running a business is really, really difficult, for anyone who attempts it. This particular category is dedicated to those entrepreneurs who have, against all the odds, despite challenges like a pandemic, tricky locations and lack of seed funding or access to loans have come out swinging and we salute them. This Award is for coffee businesses dedicated to growing coffee culture where once there was none. The mavericks out there building community from the ground up, bootstrapping and making dreams come true.
WINNER: Sikelela Dibela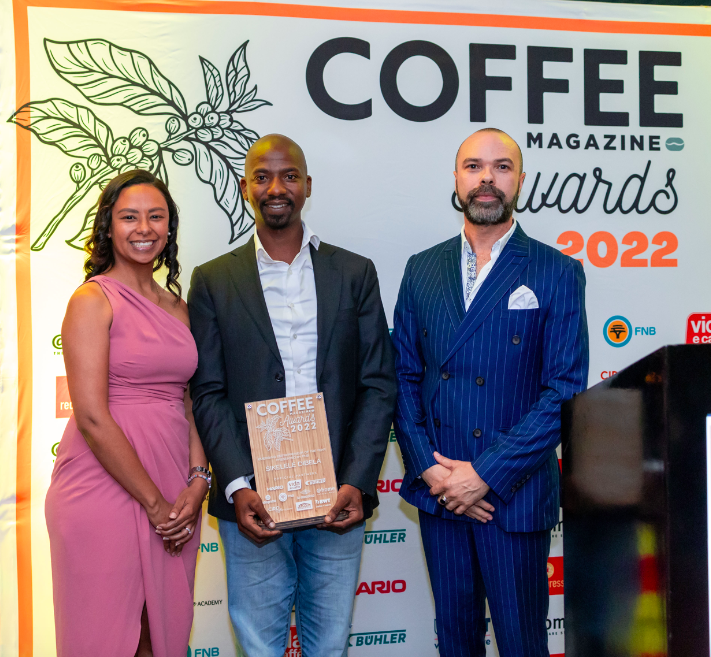 Ardella De Ross (FNB) with Sikelela Dibela (Siki's) and Bradley Thomas (FNB)
---
Best Coffee Packaging
Have you seen a bag of coffee on the supermarket shelves or at your local roastery that made you go, oooooh! Roasters put a lot of thought and effort into representing their coffees in the best possible way and packaging design has become more and more important over the years.
WINNER: Monarch Coffee Cartel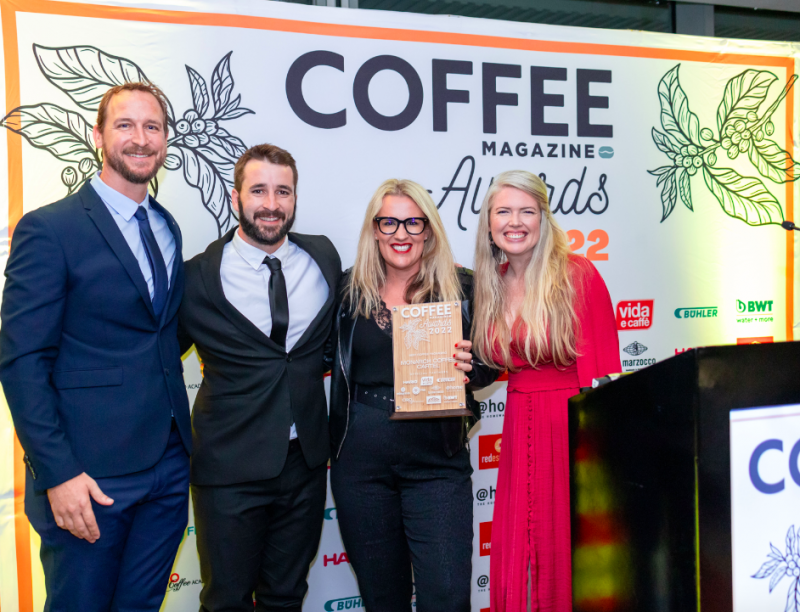 Iain (Coffee Magazine) with SJ Engelbrecht and Anelma le Roux (Monarch Coffee Cartel) and Mel (Coffee Magazine)
---
Best Manual Brewing Experience presented by Hario
AeroPress, Chemex, Batch, Siphon or V60 pour-over to name a few! Who makes a black coffee seem like an adventure into a far-off land and creates a flavour explosion like no other? Who champions cupping and tasting coffee in its pure form in their cafe? Well this year, the team that took top spot was...
WINNER: Bean There Coffee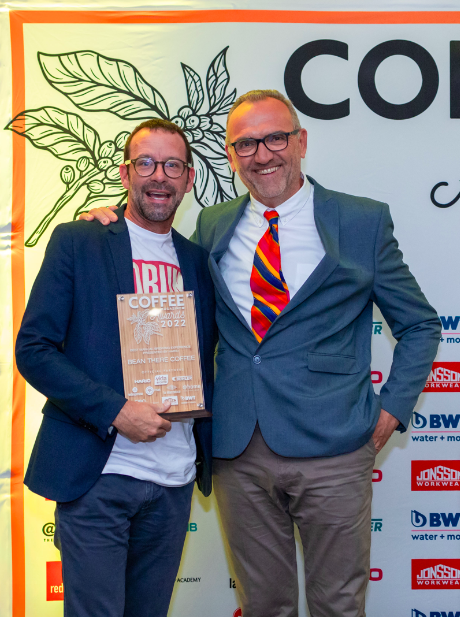 Jonothan Robinson (Bean There) with George Karatzas (Equipment Cafe)
---
Best Café Community Award presented by @home
This Award is to the teams who have created a loyal base of regulars who would ride-or-die for their favourite cafe. We decided to introduce this award, although it was not a category in the nominations, as through the over 1200 people who took the time to fill in the Nominee form, it is clear to see that some cafes have people that just absolutely love their work, and we LOVE that.
WINNER: Bottomless Blessings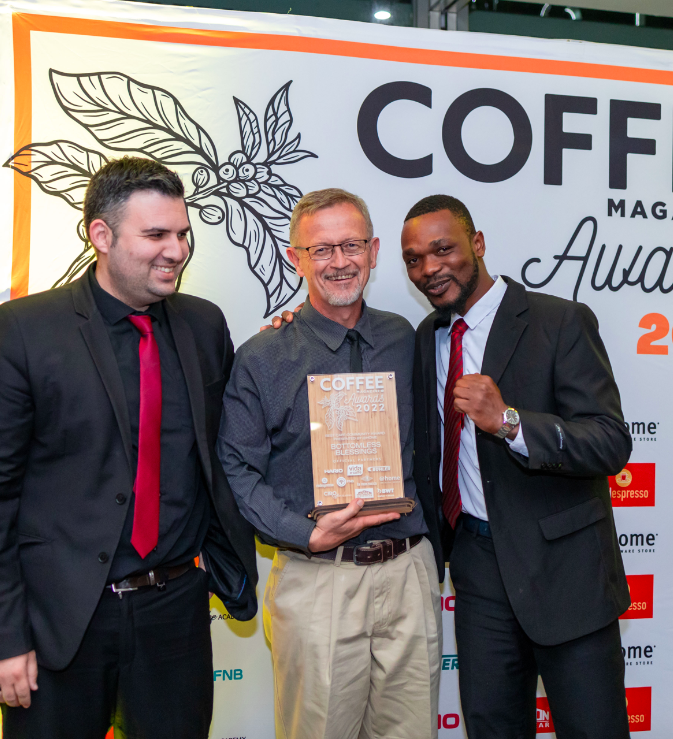 David Dekkle (@home) with André Vermeulen and Steve Kalubi (Bottomless Blessings)
---
Coffee Team of the Year presented by BWT water+more
One of the most coveted awards in the industry! The Coffee Team of the Year Award recognizes that it is people that make a coffee company great – From the Owners who create a happy, respectful and creative ethos, to the staff who live the brand daily. A successful team is one in which all the people in the space uphold the same values and consistently serve with excellence and are rewarded well for doing so, creating a diverse and healthy team culture.
WINNER: Plato Coffee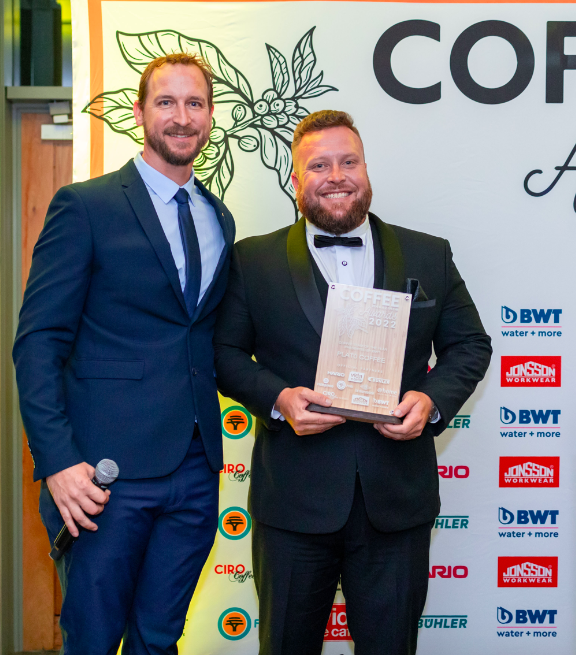 Iain with Carl Barnard from BWT Africa.
---
Café of the Year presented by Morrico Specialist Coffee Supplies
This award goes to the establishment that has consistently created an amazing cafe experience for its patrons, serves great coffee along with exceptional food, excellent service, great ambience, design and most importantly, a loyal community of patrons. This is a bustling cafe that can take the pressure of being consistently packed and still producing the same sterling quality of food and coffee.
WINNER: Origin Coffee Roasting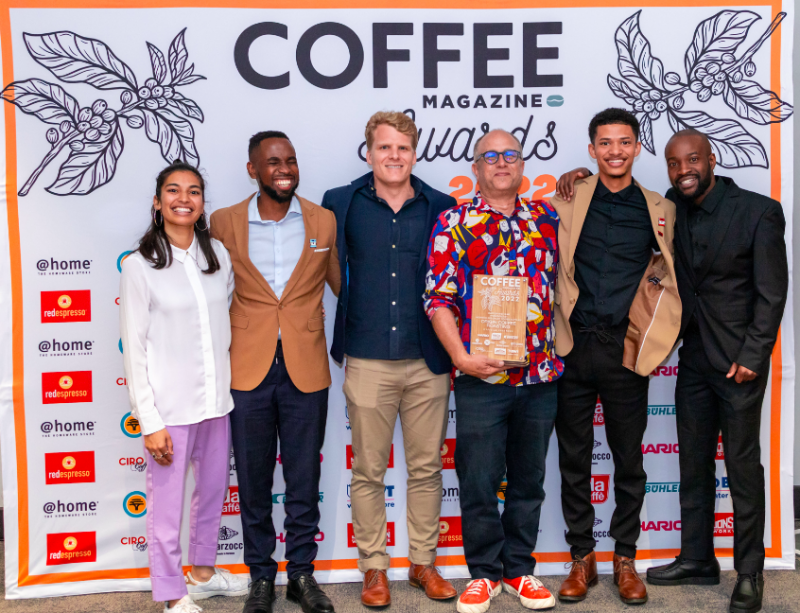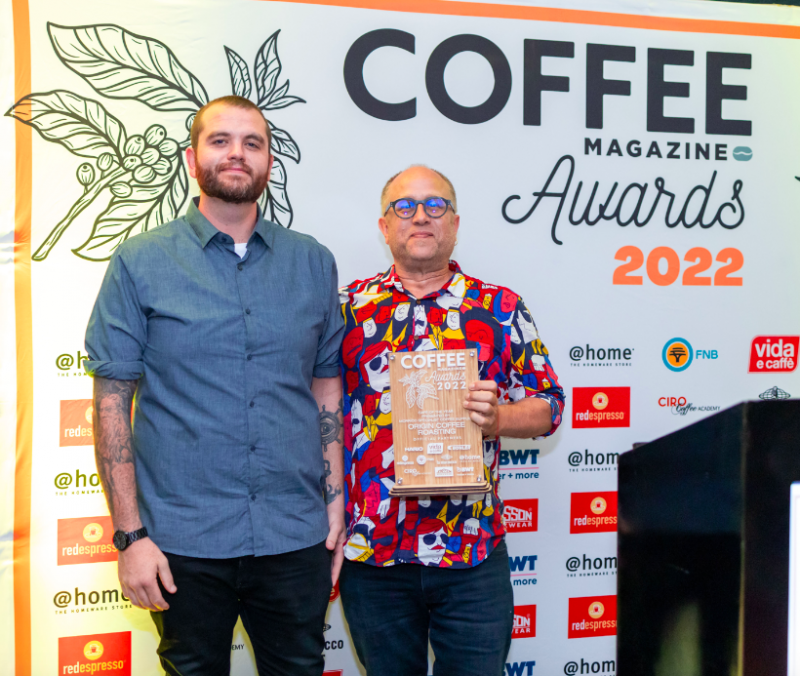 Shannon Schmidt (Moricco) with Joel Singer (Origin Coffee)
---
Roastery of the Year presented by Bühler
The nominees in this category are the Roasteries in South Africa that have forged the path for speciality coffee in SA. They continue to push the boundaries of coffee roasting by sourcing the best coffees, investing in the latest technology, by collaborating, sharing and engaging with the global roasting community, by educating, informing and inspiring their customers – wholesale and retail and finally, by putting the highest quality coffee into the market that can make South Africa stand amongst the best coffee roasters in the world.
WINNER: SEAM Coffee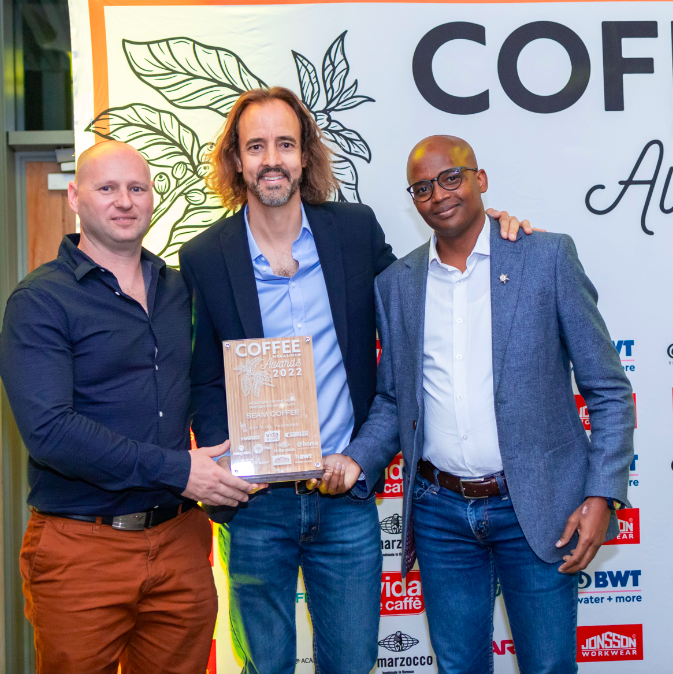 Martin Greyvenstein (Bühler) with David Walstra and Aubrey Pharatlhatlhe (Bühler)
---
Barista of Year presented by La Marzocco
Barista of the Year is not limited to competitive coffee competitions but is rather the barista all-rounder. They are the barista who epitomizes what it means to understand, to respect and to serve up amazing coffee experiences. They are masters of extraction, technique and technical understanding, but most of all they cherish that it's not just about the coffee served, but in the serving. This category is specifically for baristas who work behind the bar everyday and always make their customers feel like they're special, we salute you!
WINNER: Cyprian Mkhize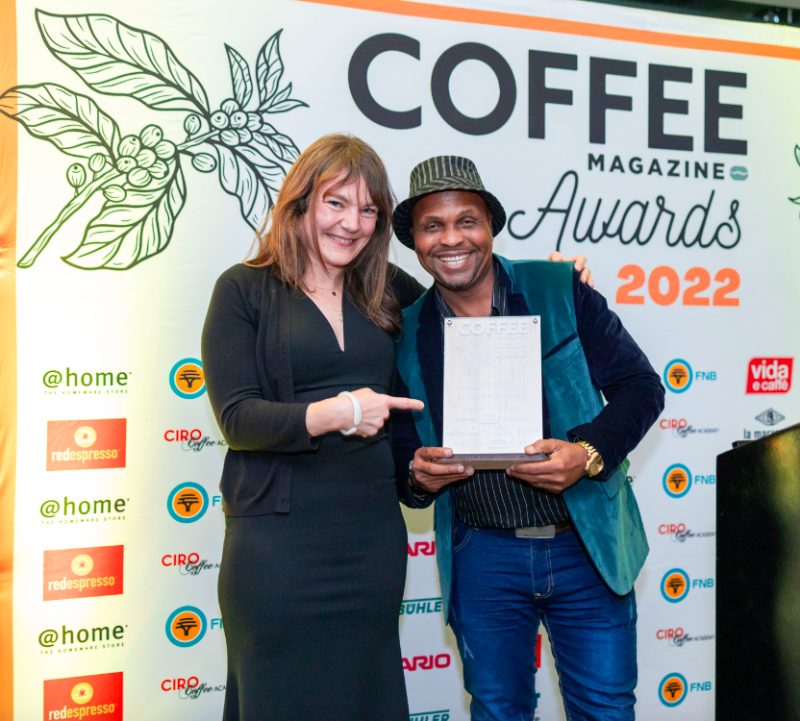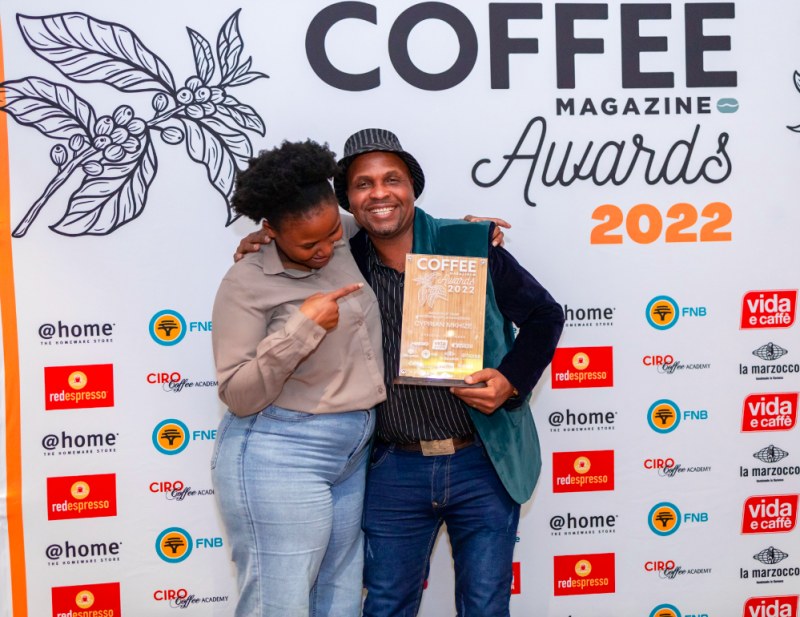 Above: Nora Smehlova (La Marzocco Academia del Caffè) with Cyprian Mkhize (Lineage Westville)
Below: Simnikiwe Mkhize (Rosetta Roastery) a previous recipient of this award in 2019, with Cyrpian.