Empowering Women in Specialty Coffee
Until it doesn't need to be said, we'll keep saying it: women are undervalued in the coffee space and it needs to change. Nicole Battefeld-Montgomery, German Barista Champion and World Coffee in Good Spirits Top 6 Finalist, current German Brewers Cup Champion (honestly her list of accolades is amazing!) explores how it has and continues to affect her journey and how we can all make choices to change for the better.
Words by Nicole Battefeld-Montgomery
Originally published here and re-published and shared with permission
---
Photo by @collectionsfromhim
The coffee industry is one of the most modern, open minded and future driven industries we know – or at least, it wants to appear like that. We are trying to leave a mark, set a statement and improve the coffee quality around the globe by sharing information on varietals, processes and direct traded coffee beans whilst our shops are getting cleaner, more edgy and our equipment is getting more and more advanced.
Despite our advancements and progression to create a world of better coffee, many people are being left behind. Across the world from coffee farms to cafes, women are treated as unequal, lesser or other to their male counterparts. I wanted to explore why it's important to acknowledge and empower women in the coffee industry, share some of my experiences as a woman in this space.
Last year, I had the honour to be part of a Specialty Coffee Association (SCA) course, sponsored by Urnex Brands and taught by Erika Koss, world renowned coffee writer. In this sustainability course we learned and discussed the topics of gender equality and this opened a whole new dimension on the topic to me. Erika introduced this class with a brief history of coffee, talking about colonisation and slavery. I very quickly realised that while I had a vague idea about this terrible history, I nearly never think about how it affects the way coffee is traded, how work is valued and how it still plays a role in pricing coffee at origin.
One of the facts we learned was incredibly eye-opening for me: up to 80% of the work on coffee farms is done by women. They pick, sort, wash, carry and process the coffee – however, the thing they all have in common is that, on average, they earn less money than their male counterparts. A lot of the time, men are responsible for the finances of the households, and in several coffee-producing countries, women aren't even legally allowed to have their own bank accounts.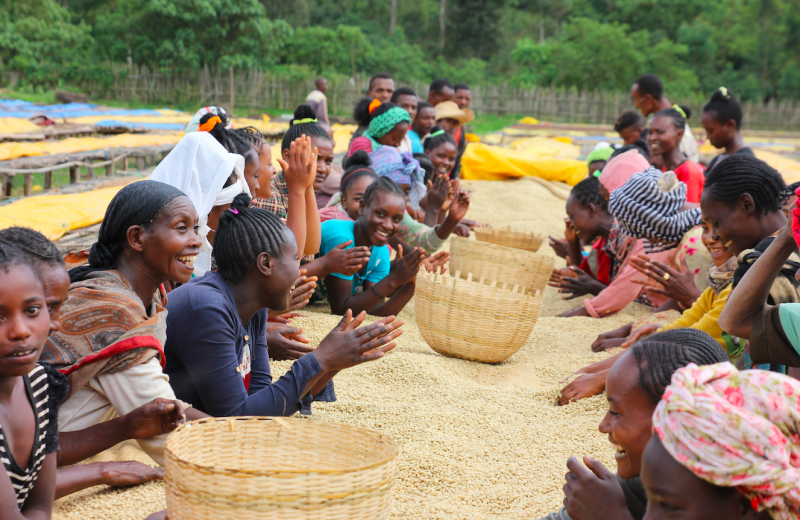 Studies have shown that women are more creative, have more level-headed judgement and most of their decision making is highly communal, prioritising the well-being of the community and the future generations over immediate profit or personal gain. For example, coffee farming in Colombia is dominated by women and their respect for nature has helped to create a wild forest farming landscape. Rather than mono-cultivating the land by exclusively growing coffee, they plant a range of flora and embrace diverse growing practices in order to support local ecosystems and lessen impact on the environment.
In this course, we were also told that on average, women are also more interested in long term investments for their community. They do this by trying to raise the standard of coffee quality by investing in better drying and storing facilities, usually pay their workers a better wage and are highly interested in programmes that will help them learn new skills.
I wanted to start this article talking about female coffee farmers as this is the origin of our entire coffee world and it just reflects how women do so much work in this industry, but fail to be properly acknowledged or rewarded.
Now, travelling from the origin of coffee all the way to me as the one of the last pieces of the coffee chain, a female barista, I live in totally different conditions. I have freedom of speech, political equality and I can make autonomous decisions - I cannot complain at all!
However, it is not about complaining but improving the world we live in if we realise that there are unequal things happening.
During my recent years working in the coffee industry, I have worked hard and shown that I am just as passionate and smart and talented as my male colleagues. I have made it to the world stage and placed in the finals and year after year, even if I didn't win, I went back and tried to always improve and never give up. So, I would say I have just as much drive as other male baristas. But even if I have proven all of this, I still find myself in situations that are unequal to the point of total frustration to me.
There are so many opportunities to evolve in a career in coffee, from being behind the counter to perhaps working as a roaster, technician or salesperson for machines. However, in my experience I have found that this evolution in a career is either not expected from women, or not acknowledged.
As someone who has extensively trained in the development, use and repair of coffee machines and grinders, I have visited many exhibitions and explained so many machines to customers - despite my work and knowledge, I was very rarely recognised as a person who was highly skilled and informed when it comes to technical issues and scientific research. Most of the time, I would be mistaken for a hostess and asked if I could please "Get the salesMAN a sparkling water, not too cold".
This is not the only time I have been treated differently or poorly for being a woman in the coffee industry. In 2017, I attended a large coffee convention in Italy and was sexually harassed by the booth manager whilst sharing a taxi on the way to the hotel – I had no way to leave the vehicle and it was the worst situation I have ever been in. Multiple times, I have been asked to be the face of, or ambassador for a business and when I asked for an official contract or agreement, told "You should be happy that you have this opportunity." So as a woman, apparently I should just be happy to have work, but not be treated as a professional.
It is hard to not get bitter and give up, as sometimes it seems impossible to get ahead or have equal opportunities in an industry dominated by men. But then, there are also the developments that make me believe in a better future.
As a competitor, I am incredibly inspired by all the great women that have completely changed the face of the world coffee competitions. Women such as Agnieszka Rojewska, Emi Fukahori, Wendelien van Bunnik, Joo Yeon, Du Jianing, Manuela Fensore and many more are my biggest motivation and they give me the drive to compete until I win. These women have helped to guide a new era in coffee, where women show their skills, show that they are amazing and carry the title with pride and grace.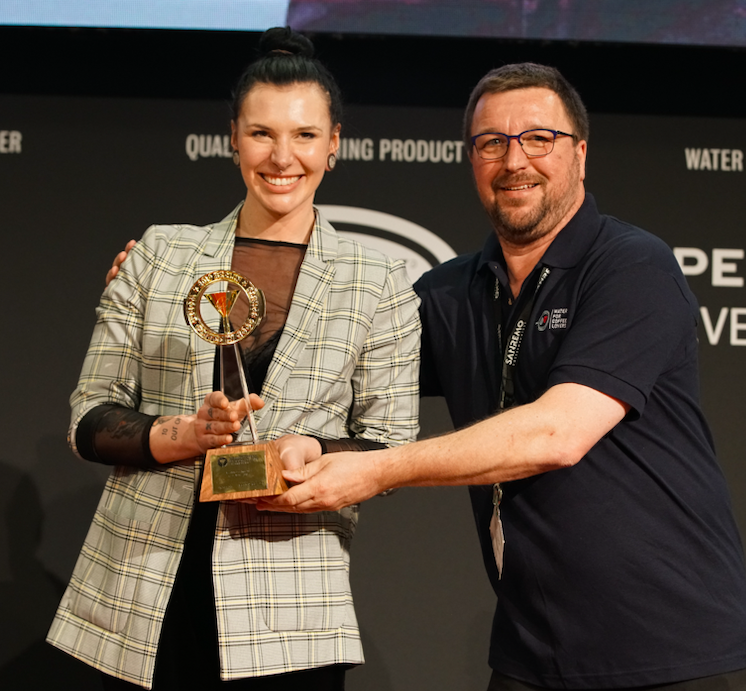 I am also so inspired by the amazing women that work behind the scenes at coffee events, such as Amy Ball, Estelle Bright and many, many others that show me how strong, organised and skilful they are. They handle this incredible responsibility so well, and I just worship their passion and dedication.
Finally, I am seeing more and more women learning technical and theoretical skills in coffee, particularly in engineering, machine development, extraction theory and quality control. More than ever, I receive messages from women all over the world sharing their work, their goals and their experiences - the future is looking brighter, but we have a long way to go.
As we seek to make the world of coffee a more inclusive and diverse place, it can be challenging to know exactly what each of us can do to work towards this. No one has all the answers, and each part of the global coffee industry, from farm to consumers, has different needs and areas that need to be addressed.
Despite this, I thought I would provide my thoughts on ways we can empower women in the coffee industry:
Be an ally
In one of my previous workplaces, there was a man who was continually making sexual comments towards the women who were working there. None of the women wanted to kick this man out of the cafe or 'cause a fuss', but my male colleague took this man outside and told him he wasn't welcome any more.
Stand up and support women when you see them being mistreated, spoken down to or not acknowledged. Standing up and saying "Don't talk to her like that", "Can you please not speak over her" or making sure that women are being treated fairly is the first step towards equality in our workplaces.
Know your worth and don't accept inequality
This is by far the hardest lesson, and I think I am just learning it now. In my case, the lesson I am learning is to say "No, I am worth more than that". I will not settle for empty promises or accept simply being mentioned as payment anymore. My male colleagues are making a living of their coffee career, that allows them to reinvest and start amazing projects - if they can do it, I can do it too.
It is hard to say no without 'feeling like a bitch'. But I am not being a 'bitch' or a 'drama queen' when I disagree with a contract, a conversation or any kind of business decision. Instead, I am being driven, focused and worth it. Know your worth, and know that you don't have to accept inequality or lesser treatment.
Support companies and projects run by women
There are so many incredible companies, initiatives and projects across the entire global coffee industry that are founded by, owned and run by women. By supporting them, you support a generation of women who are seeking to create a more inclusive industry.
Last year I had the pleasure to interview the girls from 'Girls Who Grind Coffee' in the UK.
Talking about their business model, which includes supporting women throughout the whole supply chain of coffee, isn't just inspiring but also proof of a very well-working female support system. Both of them have realised that they can do anything they want, if they work hard for it and still manage to raise kids. Think about your daily coffee practices, can you think of a strong female-led coffee space in your city? If not, with a little Instagram search you're sure to find one near you. Try it!
Keep learning and sharing
When I first began working as a barista, I had no one who helped me, no source of information and even when I went to the competition stage there was a sense of keeping secrets, so I hardly got any help from my peers. I didn't have the money to afford an expensive trainer, and there were very little online resources to help build knowledge.
These days, there is a wealth of knowledge shared on the internet, brewing recipes and videos everywhere and many online courses and programs you can undertake in order to improve your understanding of the industry and how women contribute to it. It doesn't matter if you are a man or a woman, you now have the opportunity (and the time) to learn more than ever, which improves the skills of the next generation baristas and it will change the face of the industry.
If women keep learning and advancing their skills in the industry, slowly we will ensure that gender will have nothing to do with your knowledge of coffee. As a woman in coffee, I am very lucky to have had many amazing experiences and opportunities; however, there have also been as many missed opportunities and poor experiences due to my gender. By working together, supporting one another and educating ourselves, we can work towards a future of better coffee not only for women, but for the entire world.