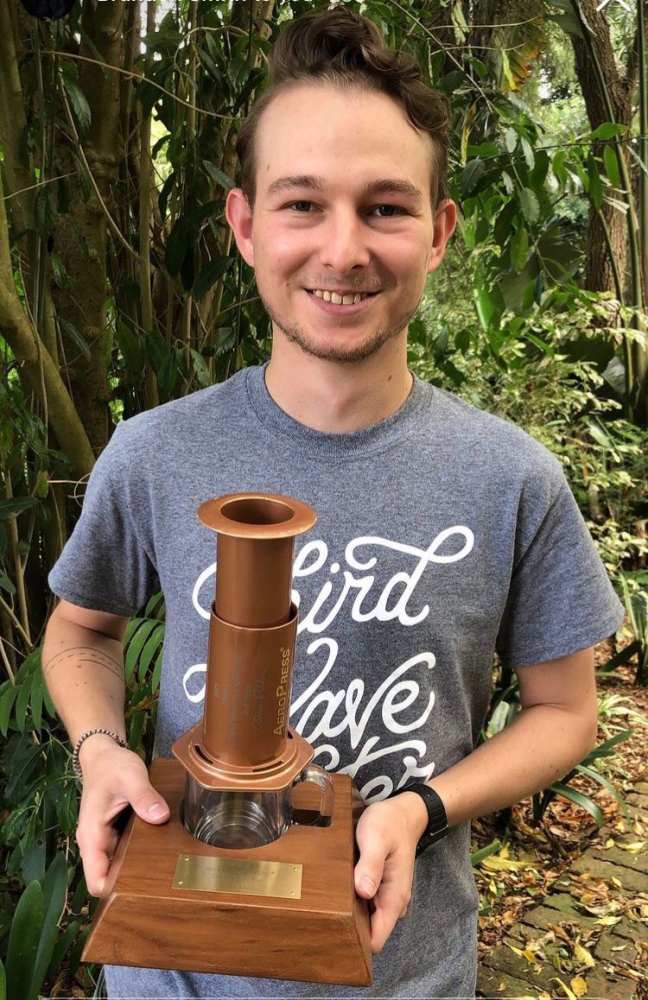 We chatted to Brandon Smith who placed 3rd in the World AeroPress Champs earlier this month! Bringing the bronze back to South Africa!
Congratulations Brandon! He went up against 44 other recipes from around the world and made it all the way to the Final Round! Brandon has only officially been in coffee for about two years, but the bug has bitten hard and competition is definitely on the priority list for Brandon moving forward. You can find him at Millwick's Cafe on the Garden Route and we'll keep you posted as he plans to do a little roadshow with the competition coffee and his recipe!
Thanks to the team from World AeroPress Championships for putting on a great event as always with the help of all their partners! We look forward to the next in-person party! You can view his recipe below if you'd like to try it out and the only two recipes in the world that beat him can be found on the WAC website.
And thank you to the South African Community that made SA AeroPress Champs possible: MoreFlavour, Ultimate Water, Bluebird Coffee Roastery, Red Espresso
Cover 📸 by @_robinne_20
How did it all go down?
The 2021 World AeroPress Championship looked a little bit different than usual. In the first virtual W.A.C., National Champions submitted their recipes and the team of surrogate baristas executed them in Melbourne, Australia at Bureaux Coffee and W.A.C. HQ.

The competition began when the official coffee was roasted and shipped to the AeroPress HQ in Palo Alto California. From there it was packed up alongside our world final kits and shipped off to 45 national champions in three wildcard competition winners in 45 countries. The champions had less than two weeks to come up with the winning recipe using 14 different water formulations, a grind size chart to dial in on the official grinder, two bags of coffee and their trusty plastic brewers.
As the competition day began on March 5th, surrogate brewers began brewing the recipes they had been studying over the last 24 hours. Viewers from all corners of the world tuned in to our Instagram for fast-paced coverage of the preliminary rounds and the beginning of the Quarters marked the kickoff of our official livestream. Over the course of the next 3.5 hours, competitors had their recipes duke it out in head to head battle while they anxiously watched through their screens. Over 6,000 audience members on every continent were present to cheer on their national champions, adding to the intensity of the afternoon.
By 5:30 pm, the 2021 champion had been crowned and the golden AeroPress raised aloft by their surrogate brewer. Tuomas Merikanto, a first time competitor, took the title of 2021 World AeroPress Champion, while Maru Mallee of the Netherlands placed second, followed by Brandon Smith of South Africa taking the third place position.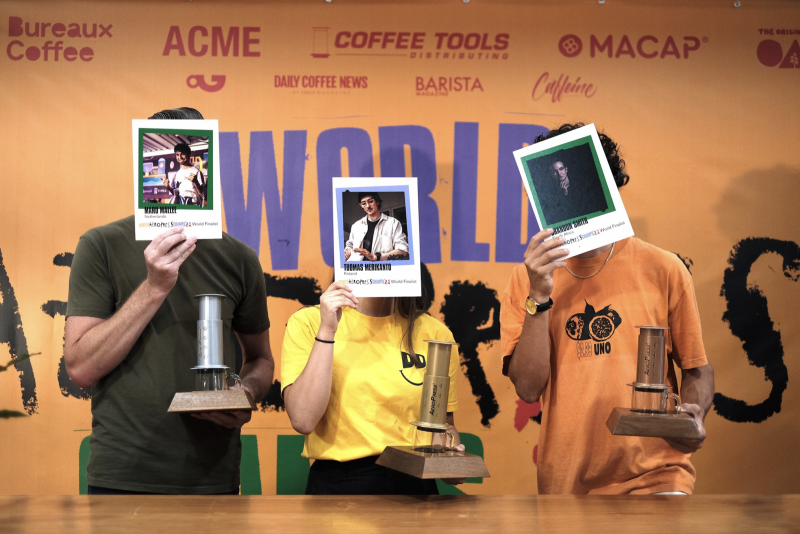 Brandon's Bronze AeroPress Recipe!
Coffee:
Roaster: Bureaux Coffee
Importer: Cafe Imports
Origin: Aldea Poj, Sipacapa, San Marcos, Huehuetenango, Guatemala
Producer: Pablo Bamaca
Variety: Bourbon, Caturra
Process: Washed
Altitude: 2,261 m.a.s.l.â
Set Up:
Brewer Set Up: Inverted
# of Filters: One
Rinsed? Yes, rinse it
Dose: 18.0
Third Wave Water Formula: Formula 4: 50% Classic, 50% Espresso
Grind Setting: 3.3 on the Macap Labo 70D
Water Temp: 88

Method:
1 Add coffee: Add 18g coffee to inverted aeropress
2 Pour water: Start timer and pour 140g water within 10 seconds
3 Stir: Stir back to front gently 5 times
4 Allow to brew: Remove lid from kettle and leave kettle off the base
5 Attach filter cap: Attach Filter cap and press out air
6 Flip brewer: At 1:25 flip brewer and give one gentle swirl
7 Press: Press from 1:30 to 2:00, through the hiss
8 Dilute: Dilute with 80g water from open kettle
9 Swirl to cool: Swirl and let stand for 1 minute (till 3:30)
10 Serve: Serve to judges