The Ultimate Cold Brew?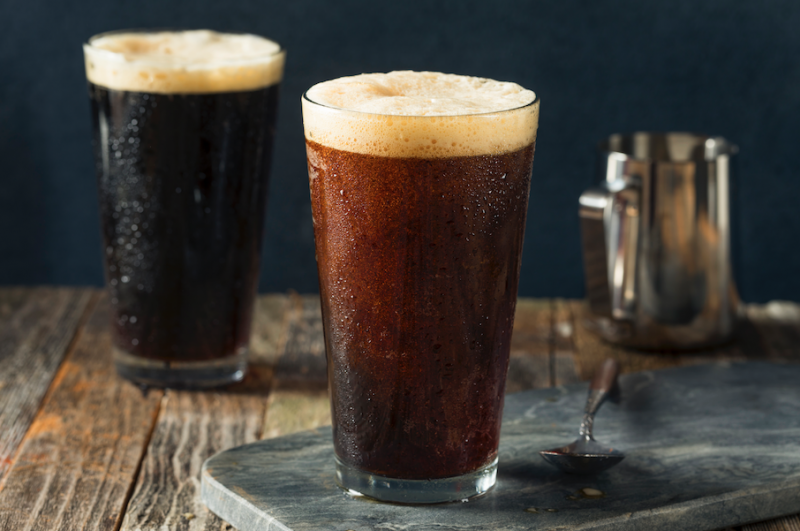 Words by Lucy Corne
They're not quite siblings, but they're certainly pretty close cousins – you know, cousins in one of those families who see each other every weekend and get along really well. They've grown up together in South Africa, their respective revolutions having happened at the same time. They both have their ardent, often geeky, followers. They're both drunk for flavour and the extra kick they bring to the table, whether it's in the form of caffeine or alcohol. So it makes sense that coffee and beer should exist not only on the same menu, but sometimes in the same glass.
Now this isn't the sort of thing you should do at the table – mix your espresso with your pint – but it is something that craft brewers in South Africa are working hard to perfect, and marrying coffee and beer is not always an easy task. First, there is the matter of when to add the coffee. "The first time I tried a coffee beer I was still a homebrewer," says Cameron Doubell of Atlantic Storm Brewing Company, based in Kommetjie. "I originally added the beans to the boil kettle, right at the end, but I found it gives way too much astringency." It was a chance meeting with Tribe Coffee founder Jake Easton that changed the way Cameron brewed his coffee beer. "I got chatting to him one day as we were having a post-surf flat white and he suggested cold-steeping the beans," explains Cameron.
He still uses this method today in his Black Tempest Coffee Milk Stout, a popular beer that's won a few local awards. "We only use Tribe beans," he says. "We soak them in vodka to sanitise them, then pour them into a stocking and add them to the fermenter once fermentation is complete. They steep for about five days, then the beer is bottled or kegged."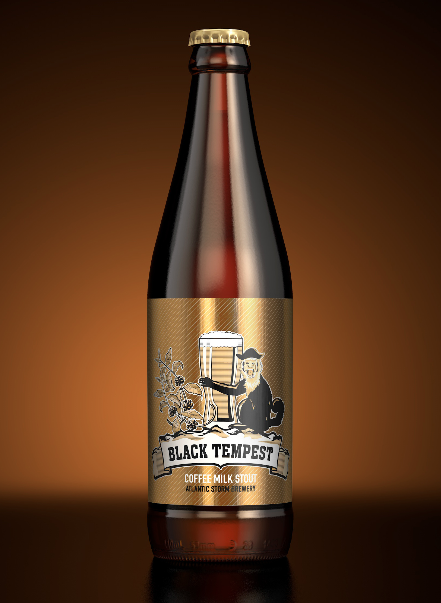 Beyond porters and stouts
It's not unusual to use a stout or porter as the base for a coffee-infused beer. Notes of coffee and chocolate are naturally found in the roasted malt used in dark beers and adding actual coffee works in harmony with the natural flavours from the malt. But you don't have to stick to dark, roasty ales if you want to bring coffee into your beers. Bruce Collins, owner-brewer at Stellenbosch Brewing Company has worked for more than a year to conceptualise his latest beer, a nut brown ale by the name of Squirrel Nut Juice. "We have been working with Terbodore Coffee to create our own almond roast," Bruce explains. "We're bringing in almond oil from the States and the oil is poured over the beans as they're roasted."
Co-owner of the family-run brewery – and Bruce's wife – Karen, is a former barista and took the lead when it came to choosing the coffee. Each batch of beer uses 5kg of cold-pressed coffee, half of which was added at "flame-out" – right at the end of the boil when the heat is turned off – so as not to extract too much astringency. The rest will be added once fermentation is complete.
Perhaps one of the most interesting ways to use coffee in beer is the so-called golden stout. In fact the beer is not a stout at all – it's usually a pale ale, but one that seeks to deceive the senses. The brewer attempts to replicate the taste profile of a stout by using ingredients whose flavours are found naturally in roasted malt – namely chocolate and coffee. When you look at the beer, you see a clear, golden brew topped with white foam but when you sniff and sip, you're met with notes of coffee and dark chocolate, just as you would find in a normal, unflavoured stout.
Dewald Goosen, head brewer at Tuk Tuk Microbrewery in Franschhoek, recently released a golden stout and was amazed by its popularity. "We used 1kg of Blue Crane beans in a 250-litre batch, adding 250g of whole beans at flame-out. The rest were blitzed in a food processor and added after fermentation along with a kilo of cocoa nibs," he explains. "It's kind of a weird beer and I didn't really know how well it would go down so I was shocked by how quickly it sold." He plans to produce another batch later this year and urges other craft and homebrewers to step outside the box and explore new beer styles.
One beer that certainly celebrates innovation is Dark Continent, a milk stout with condensed milk flavouring, inspired by a pot of moerkoffie. Brewed as a collaboration between Fraser's Folly brewery near Elim in the Overberg, and the duo from beer-and-braai TV show Beer Country, Dark Continent won a gold medal at the 2017 National Beer Trophy. "Apart from being both local and lekka, moerkoffie is a national treasure and we wanted the beer to be more than just a coffee stout," explains Greg Gilowey of Beer Country. The recipe process was trial and error. "We tried everything from instant coffee to whole beans and cold brew, We eventually decided on a blend from Beaver Creek Estate called Transkei Gold. It's a blend of three African coffees as well as locally grown coffee from the estate. It has a rich body with caramel and toffee flavours to complement the roasted malt in the beer. Our last ingredient was condensed milk extract to give it the vanilla and caramel nose." says Greg. "Some advice from our coffee suppliers went a long way here, and so good quality, filter-ground coffee, added at flame-out seems to do the trick for us."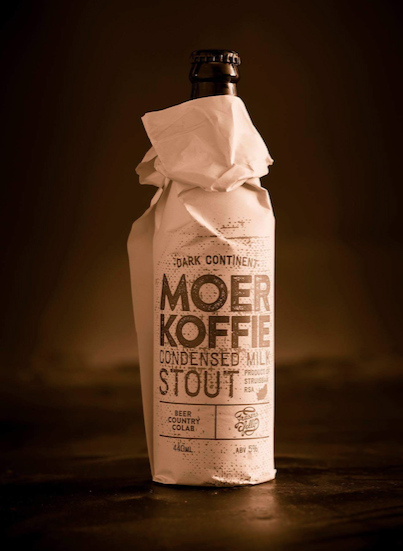 Whether the beans are ground or whole, steeped or tossed straight into the brew, it's clear that two of South Africa's finest foodie – or rather, drinkie – passions have come together to create one seriously good, seriously cold brew.
---
Beer menu
Atlantic Storm Black Tempest Coffee Milk Stout (6%)
With additions of lactose and Tribe coffee beans, Black Tempest is one of the most coffee-forward beers currently available in South Africa. The lactose adds a slight sweetness to balance out all the roasted malt.
Beer Country /Fraser's Folly Dark Continent Moerkoffie Condensed Milk Stout (5%)
Using Beaver Creek coffee and a condensed milk extract, Dark Continent is inspired by the traditional pot-on-the-fire coffee. Expect caramel and coffee on the nose and a prominent dark roast flavour, backed up by sweetness from added lactose.
Boston Breweries Black River Coffee Stout (5%)
The most subtle of the bunch, Boston's recently revamped stout uses Ethiopian yirgacheffe beans from Deluxe Coffee in this easy-drinking, light bodied stout with the merest suggestion of coffee.
Nottingham Road Pickled Pig Cappuccino Porter (4.5%)
Launched in 2016 to sit alongside the brewery's flagship porter, the cappuccino version has quickly won a flock of fans. Coffee from local roaster Terbodore is added to the keg, post fermentation, along with a touch of vanilla essence.
Stellies Squirrel Nut Juice (6%)
This experimental brown ale uses almond-roasted coffee from Terbodore and has been aged with Amaretto-soaked oak chips.