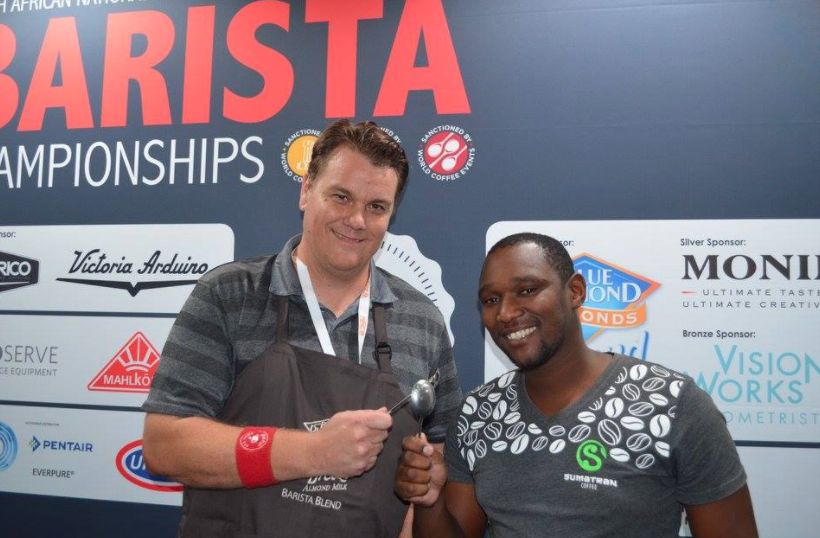 Simphiwe 'Bobby' Adams has long been a competitive barista, but over the last few years his interest has shifted into the Cup Tasting Competition, so much so that he scored 8 out of 8 at the National Champs to win a ticket to the World of Coffee in Budapest Hungary in just a few weeks!
WHAT SPARKED YOUR INTEREST IN THE CUP TASTERS COMPETITION?
When I started working in the coffee industry back in 2007, I was more focused on learning how to make a great cup of coffee. Initially I either liked or didn't like the cup of coffee but as my palate developed, I started tasting the subtle differences in each cup. I started tasting different coffees and making notes of what I liked from each one. I also started meeting with other baristas so taste and discuss these differences.
WHAT WAS YOUR TRAINING REGIME LIKE? TELL US ABOUT YOUR SUPPORT TEAM AND THE COMPANY YOU WORK FOR, SUMATRAN COFFEE.
For both Regional and National Competitions, my team at Sumatran Coffee prepared daily tasting sets for me. Either Shaun Aupiais and/or Matt Allen did the sets with me to provide a bit of competition. We mimic the layout of the actual competition format so that it is as familiar as possible on the day of competition. Each set is timed and the scores recorded. After every 3 complete sets, the combinations I got wrong are included in the following set.
Because I am roasting now, I roast the same bean at different temperatures to really test myself. We regularly do the
Le Nez Du Cafe
smell tests leading up to a competition, as well as fruity palate developments.
The Sumatran Team prepare the coffee combinations for each set. Shaun and Matt train with me and the loser of each set has to do the dishes. And yes...I have had to do my fair share of dishes.
I have been working at Sumatran Coffee for almost 2 years now. The amount I have learned about coffee is incredible. I started roasting coffee over the past year and this has helped me so much in understanding the taste profiles of coffee. I look forward to learning as much as I can about coffee.
WHAT WOULD YOU SAY IS YOUR BIGGEST STRENGTH WHEN IT COMES TO THIS COMPETITION. DO YOU HAVE AN AMAZING SENSE OF SMELL?
My strength is a combination of taste and smell abilities, but I continually work on improving them. As I mentioned before, I work of improving my smell by using the Le Nez Du Cafe as well as improving my palate development by tasting different fruits and spices on a regular basis.
WHO HAS INSPIRED YOU IN THE COFFEE INDUSTRY?
I cannot say that any one person has inspired me. I have had so many people inspire me over the years. If I had to mention a few, I would like to mention Pauline Leschinsky and Kirsten Oosthuizen - who helped train me as a Barista; Ishan Natalie - who helped motivate me in my earlier competitions; Donovan Mc Lagan - who offered help and guidance at the Nationals; Shaun Aupiais - who supported and trained with me and Mathew Allen - for his support and motivational chats when my nerves started playing up, as well as having strict pre-competition support/rules/regime.
YOU ALSO QUALIFIED TO COMPETE IN THE BARISTA CHAMP NATIONALS, WHAT MOTIVATED YOUR DECISION TO PULL OUT AND FOCUS ON CUP TASTERS?

Proper training for a competition takes many hours of hard work, so I made the decision to concentrate on just one discipline and the obvious choice was Cup Tasters, which is also where my passion lies. The decision was also driven by the premature passing of my close friend and mentee - Sivuyile Jacobs - who always believed that I would go on to become the SA Cup Tasters Champion.
My plans for Budapest are coming along slowly as there is so much paperwork involved and so little time before I am due to leave. Having said that, I am so ready for Budapest, Hungary. BRING IT ON!
We're so proud of you Bobby! All the best for Worlds!!!