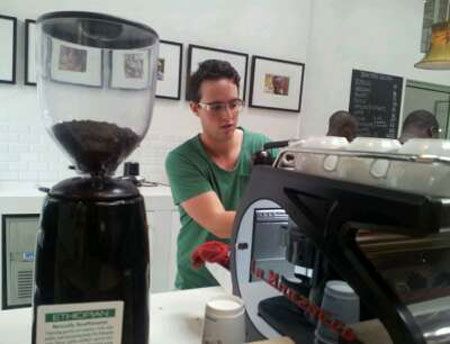 Ori in action on the beautiful LaMarzocco Strada machine, probably using his favoured Ethiopian beans.
Do you remember your first shot of espresso, or first real coffee experience? And was it love at first taste or did you take some time to warm up to it?

Truthfully, I don't remember my first ever real coffee so it can't have been much to write home about. However, I very clearly remember my first experience with specialty coffee and that really was memorable. In that moment of euphoria, I knew immediately that what I was drinking was something truly special.


Some people think we're crazy for our dedication to the bean, especially the likes of you, a barista competing at Nationals, how would you convince them we're the sane ones?

Well, they may just be right! I think that in any field or subject matter, you'll find only a minority of people who obsess over the finer details; and I think everyone feels that way about something or another, even mildly (and if not, they totally should!) If you feel passionate about something and don't give it your all, you are doing a disservice to yourself and everyone else. Small niches can only turn into something greater when they are filled with crazy people who are constantly looking for ways to improve.


I like that, crazy and loving it! What has your training schedule been like leading up to the Champs? Are you feeling strong?

In all honesty, it has been somewhat non-existent until last week. I am a full-time student at Vega in Jo'burg and completing my degree is my priority - the sooner I finish studying, the sooner I can enter the coffee industry full-time. But I have just begun my training for the championships and I'm really devoting a lot of time to that now. Also, the people I have the privilege of training with have such a great wealth of knowledge, expertise and experience, so I feel well-equipped.


What is your top tip for pulling a perfect espresso?

Coffee is an art so my advice would be: don't use your first shot - watch it, time it, measure it, taste it. Then adjust your grinder or dose and repeat all of that, until you have found the sweet-spot in your espresso - in terms of look, taste and feel.


If you could live in any country of origin in the world, where would it be and why?
I'd have to say Ethiopia. That's where it all started and the vast scope of flavour profiles that come out of its beans is remarkable. Also I have a bias towards Sidamo-grown coffee - it was my first cup of speciality coffee. One Sidamo bean was the one that made me fall in love with great coffee, another Sidamo was my competition bean at Regionals and now another is the bean I'll be using at nationals. And the best part is that they have all taste so distinctly different!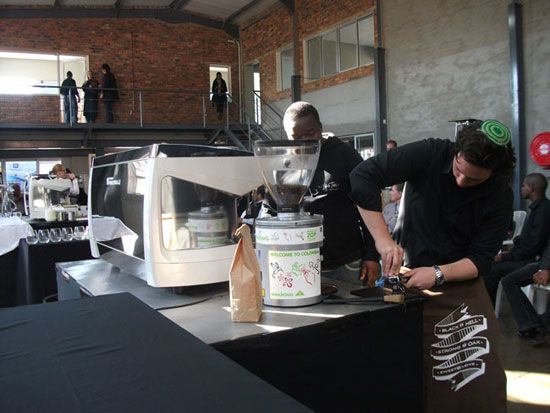 Giving it his all at the Gauteng Regionals! Good Luck at Nationals Ori, we'll be watching!