National Barista Champs Day 2 of Semi-Finals: 23/09/2012
Watch the highlights package here: https://www.youtube.com/watch?v=qgr-kvgAKdM&feature=youtu.be
This was not your average Sunday. Normally a time for slow mornings and lazy brunches, the first barista of the day Azhar Khan was scheduled to begin at 9.30am. Good thing there was great coffee around. The National Coffee Championships arena was definitely the first part of The Good Food and Wine Show to get underway, no surprises there.
There was an air of anticipation following a successful first day of semi-finals. There was a lot to live up to for the baristas of Day 2, but they came prepared. Prepared to knock our sensory socks off.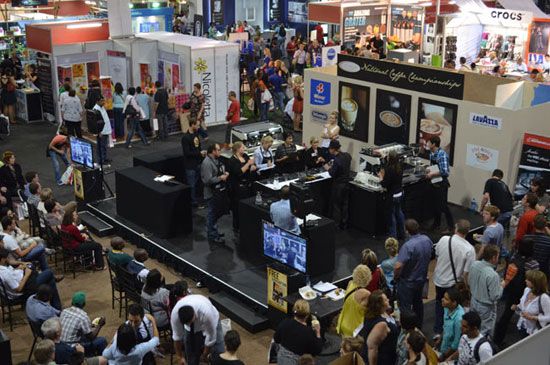 First up Azhar Khan (KZN) woke the judges up with a dry ice display that had the judges table covered with a seductive mist.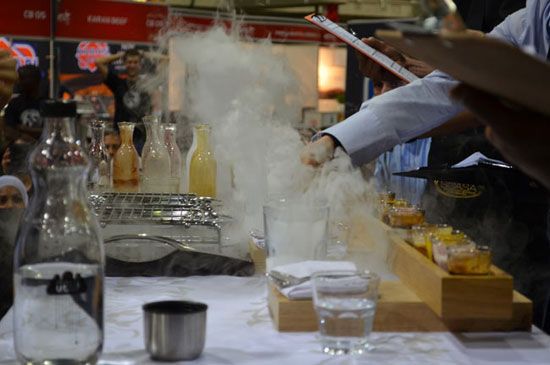 Samantha Moodley, another KZN contestant, delivered her signature polished and professional performance, as smooth as her gorgeous microtextured cappuccinos.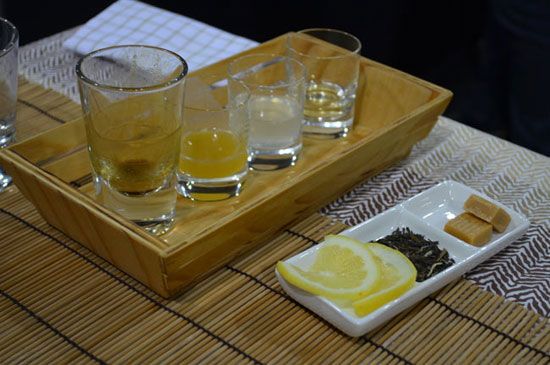 The Deconstructed Espresso-Sam's signature drink

Ori Cohen (Gauteng) produced not one but two reductions for his signature drink (this is all in 15 minutes!), one strawberry and the other black pepper, interesting combination!
Khanyisa Fica (KZN) delivered the judges a little something for the morning with her Breakfast Bliss creation.
Danny Spence (Gauteng) gave up professional cycling for a career in coffee and this passion was evident for this 1st time competitor.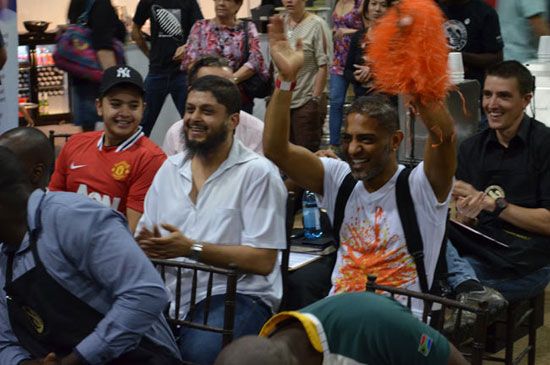 And the crowd went wild!

Martin Ten Krooden came out in style! Training to be head roaster at Tribeca, he showed off his supreme knowledge of his chosen bean.
Lovejoy Chirambasukwa (WC), trained by current SA Barista Champ Wayne Oberholzer, was technically superb.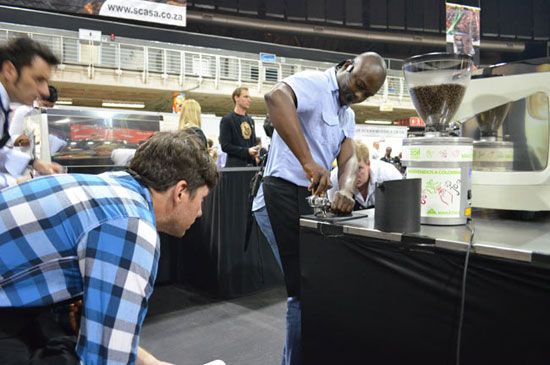 And we all bend together. Everyone watching Lovejoy tamping like a champ.

Sisa Mapetu (EC) in his first time competing, inspired by the way coffee brings people together, came to have fun and learn and will definitely be back.
The last section of the semi-finals was all the Regional Champions one after the other, what a way to end the day!
Charles Ngwarai (EC) showing that the Eastern Cape after a very short time of being part of the Nationals, are worthy contenders. He has a real shot at being EC's first champion!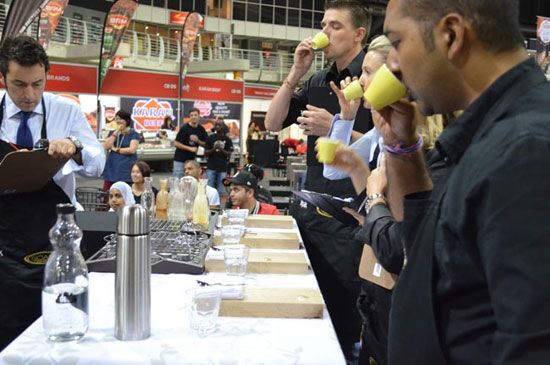 Gerald Charles (WC)packed an hours worth of enthralling information into his 15minute set, and battled technical difficulties with ease, leaving the audience on the edge of their seats!
Craig Sampson (KZN)bopped and weaved to his soundtrack, enjoying every second of his entertaining display and charming both audience and judges.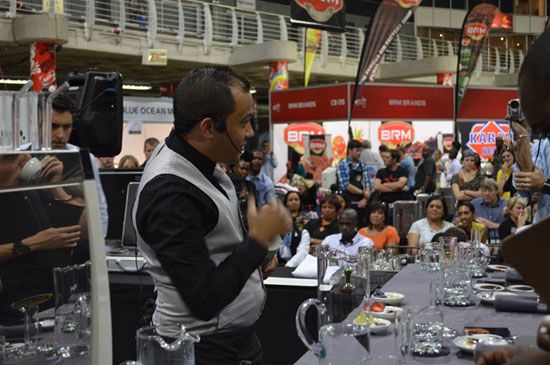 Phumlani Sibeko (Gauteng), a definite crowd favourite, being GP's current No 1 gave a solid performance although he was slightly disappointed with the extraction of his espresso, by his very high standards.
Scores were quickly tallied and soon, Lani Snyman (SCASA Board of directors) and Wayne Oberholzer were on stage making the announcement of the Top 6 baristas who will compete today:
(in the order they will be competing)
Romeo Chimunya (WC)
Stephan Brits (WC)
Craig Sampson (KZN)
Gerald Charles (WC)
Lovejoy Chirambasukwa (WC)
Charles Ngwarai (EC)
So the Western Cape dominate the Top 6, but the Championship crown and a place at the WBC 2013 in Melbourne next year are still up for grabs. Today these baristas lay it all on the judges table. Watch this space.
In the other categories today:
The Cup Tasting Final between two brilliant ladies of coffee, Cuth Bland (GP) and Maxine Keet (WC), vying for a position at the World's held in Nice, France next year.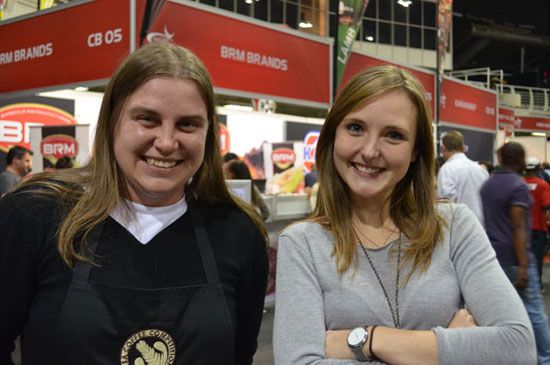 The Latte Art Final between Phumlani Sibeko(GP) and Stephan Brits(WC)
And the announcement of the Aeropress winner, between 2 previous Barista Champions, Ishan Natalie (GP) and Wayne Oberholzer (WC) will also be announced.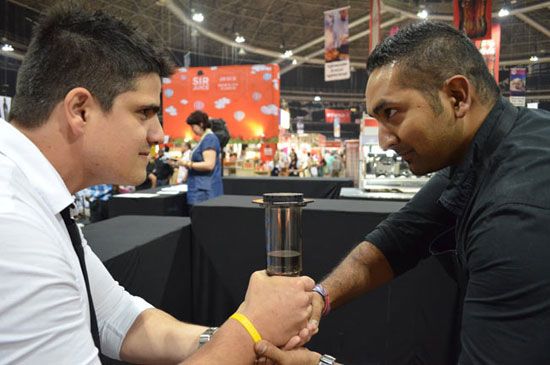 ---
Barista Championship Highlights 22/09/2012
Saturday at The Good Food and Wine Show. The place was heaving. We rushed in after our early morning trek from Durbs and followed our noses to the Creative Coffee Theatre.
Everyone had to agree, the buzz in the arena was incredible. Not a seat was empty as the baristas took the stage to strut their stuff. Months of training and perhaps years of dreaming were finally taking shape before a lively crowd. And of course the judges. Ah the judges. Each barista is joined by no less than 7 judges up on that stage, with every granule of coffee being accounted for.
The goal of events like these(other than the winner flying off to the World Barista Champs to compete) is to promote the culture of coffee and the profile of the professionals who make us amazing coffee everyday. People passing by simply had to stop and engage with the action.
The baristas are all champions, the amount of guts and passion it requires to get up there deserves kudos. Everyone had something unique to offer, especially when it came to choosing their specific competition beans. They tailored their entire performances, including complimentary signature drinks, around these flavour profiles, technical and tasty stuff.
Jamie Braun did KZN proud, opening the competition with some smooth operating at her first National event.
Donovan McLagen (you may have seen him on the latest Checkers ad?)of the Eastern Cape, last years cup tasting champ, this year tackled the barista discipline and produced a memorable signature drink including a vanilla mousse.
Simpiwe Adams' signature drink was inspired by the sun coming up over the sea in his home-town of PE.
Marinus Wijnbeek of Gauteng used a glass tablet with a drawing of a tongue to illustrate the different flavours of his espresso.
Stephan Brits has years of experience in the hospitality industry and his passion for all things delicious certainly shone through today.
Romeo Chimunya of the Western Cape was a rock star (he definitely had the most lively supporter: Jonathan of Bean There) and made a delightful citrus jelly for his signature drink.
Bruce Manning of KZN definitely provided us with the most memorable set up, including a hospital IV drip and a vacuum sealer.
Sipho Mabaso of Gauteng brought us a signature drink titled 'Brown Betty', need we say more?
Collins Odhiambo of the Western Cape had his coach, current SA Barista Champ Wayne Oberholzer, pacing with nerves, but there was no need for that with a spectacular display of knowledge and skill to wrap up the day's play.

Check out the video of events here:

Tomorrow there are 12 more baristas who will have their chance to impress the judges and the crowds. We can't wait.
---
Win 2 tickets to the Joburg Good Food & Wine show here!
---
This is a video that was produced around the 2010 World Barista Champs in London. Look at the massive crowds of supporters. Look at the intensity of the judges. Listen to the baristas. This is for real. The winner of this weekend's National Barista Championship held at The Good Food and Wine Show in Joburg will be going to Melbourne to compete in an event like this. Do you yourself a favour and come out to clap for damn fine cappuccinos this weekend.
21st-24th September 2012
The Good Food and Wine Show, Coca Cola Dome
3angrymen_Clapping For Cappuccinos from 3angrymen on Vimeo.
PS. In this vid you can see our own Ishan Natalie doing his thing on stage!
---
2013 SCASA National Coffee Competitions.
The Speciality Coffee Association of South Africa (SCASA) will host the National Coffee Competitions at The Johannesburg Good Food & Wine Show which takes places at the Coca Cola Dome in Johannesburg from September 21 to 24.
This begins the build-up to the SA National Barista Champs. And we are excited!
The stage is set for an amazing event at The Good Food and Wine show. The competition in SA has grown remarkably over the last few years and the level of performance has become increasingly high. There are 4 parts to the competition:
The National Coffee Competitions include the Barista Championship, Latte Art competition, Cup Tasters competition and for the first time an Aeropress division.
The National Barista Championships will take place at The Creative Coffee Theatre, which is the area dedicated specifically dedicated for National Coffee Competitions at the Goof Food & Wine show. The winners will represent South Africa at the World Championships in Melbourne in 2013. In addition, there will be an interactive theatre for visitors, with demonstrations and hands-on help from baristas on how to pull espresso shots, steam milk, do latte art and help visitors learn about creating perfect cups of coffee.
Defending champ Wayne Oberholzer will not be defending his National Barista title, but will be there to support all the baristas and will compete in the Aeropress category: "The barista championships is an amazing platform for showcasing baristas and their skills. I'm looking forward to seeing what the guys and girls do to impress the judges this year"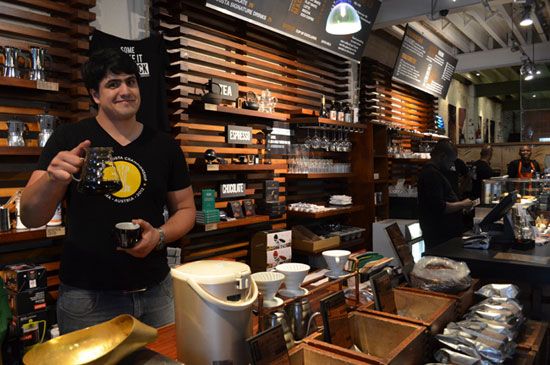 Current SA Barista Champion Wayne Oberholzer.
"I'm excited to interact with the public and get them involved, to actually show them how the machines work and to include them as part of the event, said Wayne.
This video shows Wayne representing SA at the recent WBC event and gives an idea of how the competitions are run at the highest level.

Download the Schedule of events- click here.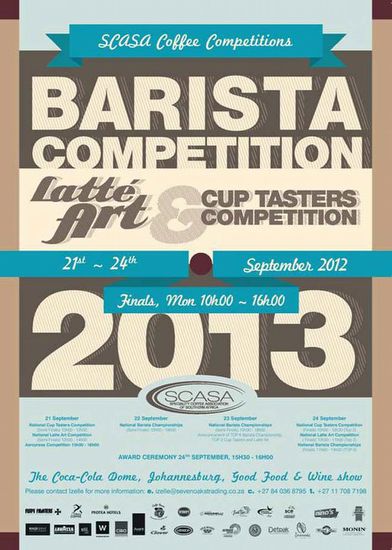 ---
More about the Johannesburg Good Food and Wine show...
Among the international chefs visiting the show is George Calombaris who become famous with South African television viewers as one of the judges of the hugely popular TV show MasterChef Australia and will once again keep viewers glued to the screen when the highly anticipated Junior Masterchef starts on M-Net later this year.
Says George: "I am thrilled to be coming to Johannesburg. I had to cancel last year because of filming commitments. There are going to be a few little surprises during the demonstrations. It's an opportunity for people to come and meet me and get a good idea of who I am and why food has played such a major part in my life."
Other international chefs coming to the food extravaganza include Indian cookery expert Anjum Anand; popular Masterchef Australia winner Adam Liaw on his second visit to Joburg thanks to overwhelming public demand; Rastafarian musician turned Caribbean cooking fundi Levi Roots and popular children's TV presenter Sid Sloane.
Adam Liaw wowed audiences at last year's Jozi Good Food & Wine Show. What can audiences expect this time around? "I want people to go away and make the dish. They must leave with a few tips and understand how I feel about food. It's not about showing them what a great cook I am but how easy it is to make food in your own home."
Entrance tickets to the show (R!35 for adults and R50 for children; children under 2 are free) can be bought through Computicket. This year the ticket price allows visitors access into the popular Chefs in Action theatre to watch the international chefs in action. (In previous years extra tickets had to be bought for this arena.)
Win: