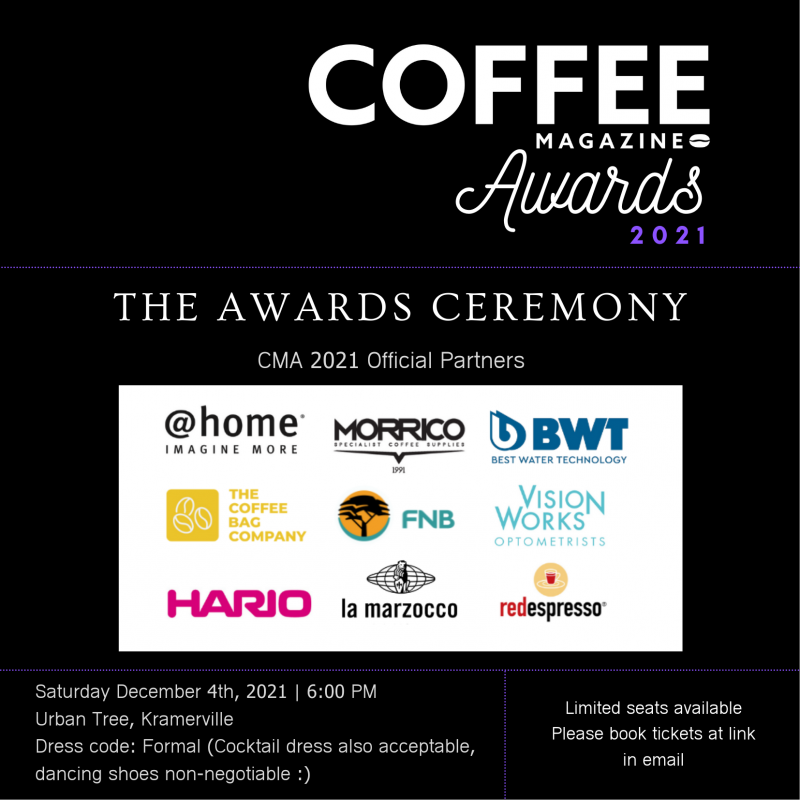 We are extremely happy to present the world with the Nominees for this year's Coffee Magazine Awards. The goal of these Awards is to honour the people and places in coffee that make coffee culture in South Africa great. Often, because it is the hospitality industry, this work goes under-appreciated. We want to celebrate the coffee community!
This year, we opened up the Nomination process to the public as we realise that in order for this platform to grow and become more and more inclusive, we need to keep expanding our horizons, so we are so grateful to the over 500 people who took the time to fill in the nomination form. As we have done in previous years, our previous nominees and winners were also asked to submit their nominations for the year that has past. Nominations have been open for a month.
It took a long time (much longer than we thought, with so many worthy names put forward) to work through all the categories and the various nominations. We researched, we verified, we counted. We had to narrow it down though and so we present to you, the 2021 Nominees...
These Awards, important to the continued improvement and upliftment of our industry, would not be possible without the support of our sponsors. Onwards and upwards. Thank you!
---
Dedication to Education
Presented by Ciro Coffee Academy
This award is handed out to the person or company who has dedicated their time and passion to coffee education, over and above what is required from their 9-5 responsibilities. Always willing to share knowledge with those who want to learn.
Previous recipients: Lani Snyman, David Bassett, Nicodemus Nabakwe
Khulekani Mpala
Abby Berman
Stevo Kuhn
Cuth Bland
Imile De Villiers
Michael MacDonald
Neil Maree
Tintswalo Tshabalala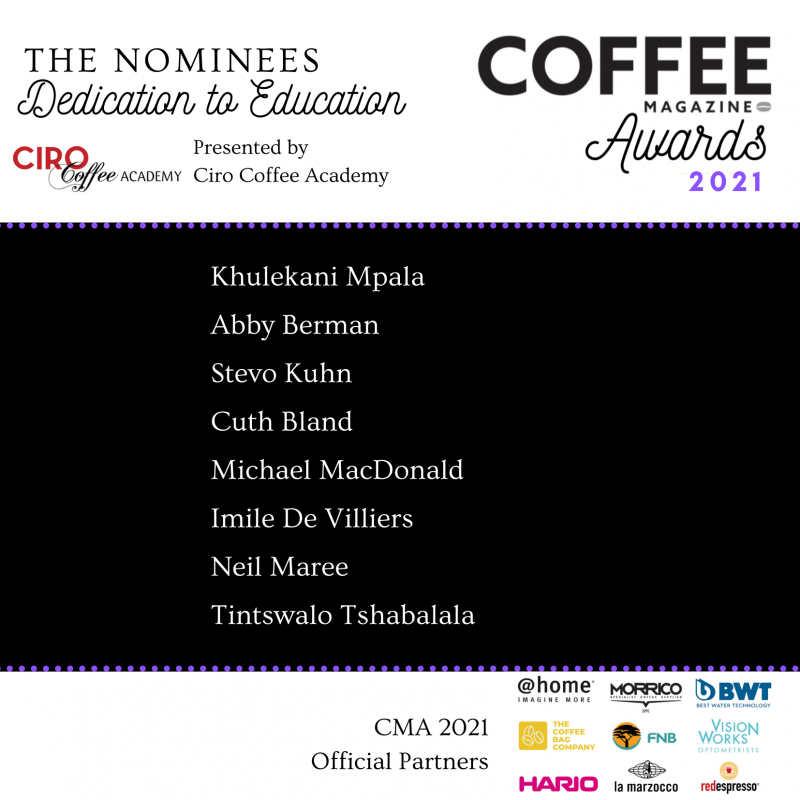 ---
Excellence in Coffee
Presented by Morrico Specialist Coffee Supplies
This Coffee Professional strives for and achieves excellence in their chosen area of the Coffee Production Chain. They are innovative, are recognized as a leadership figure in their field and are constantly inspiring others around them. Previous Winner: Jono Robinson, Cuth Bland, Percy Chikwira
Chad Goddard
Ettienne Broodryk
Carol Corlett
Sebastian Schneider
Nicodemus Nabakwe
Dario Scilipoti
Donovan McLagan
Lizaan Alberts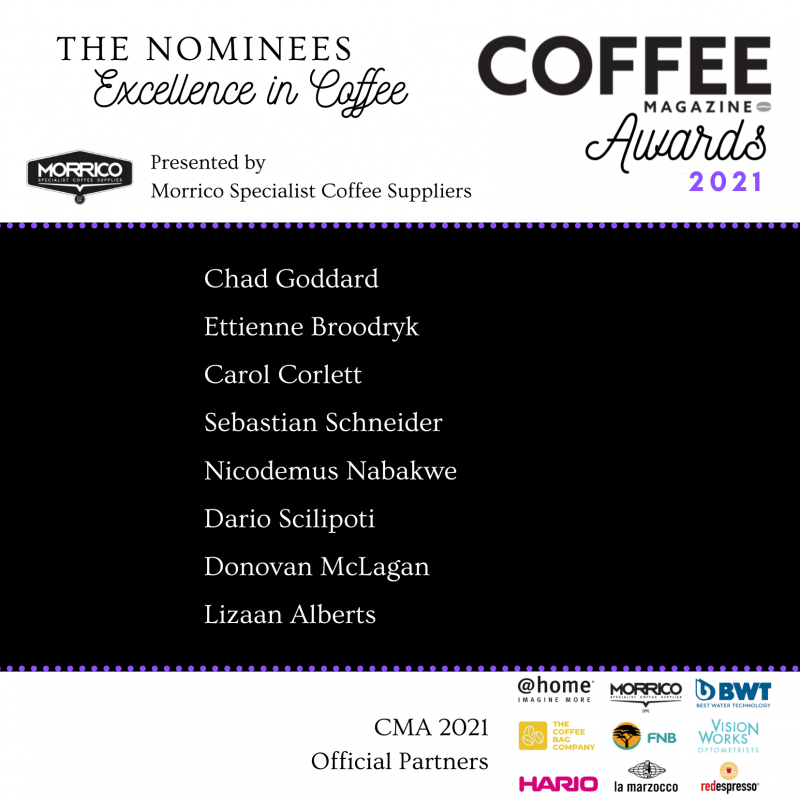 ---
Best Cafe Design
Presented by Visionworks Optometrists
The spaces created for coffee add equally to the experience of enjoying that coffee. Here are some of the most beautifully designed spaces in SA, a feast for the eyes!
Previous recipients: Big Dog Cafe, Franschhoek, Pauline's CT, Legado Coffee Stellenbosch
Barn Owl - KZN Midlands
Father Coffee - Kramerville
Manaka Coffee - Polofields crossing, Midrand
Jarryd's - Seapoint
Morning Glory - JHB
Le Parc by Tasha's - JHB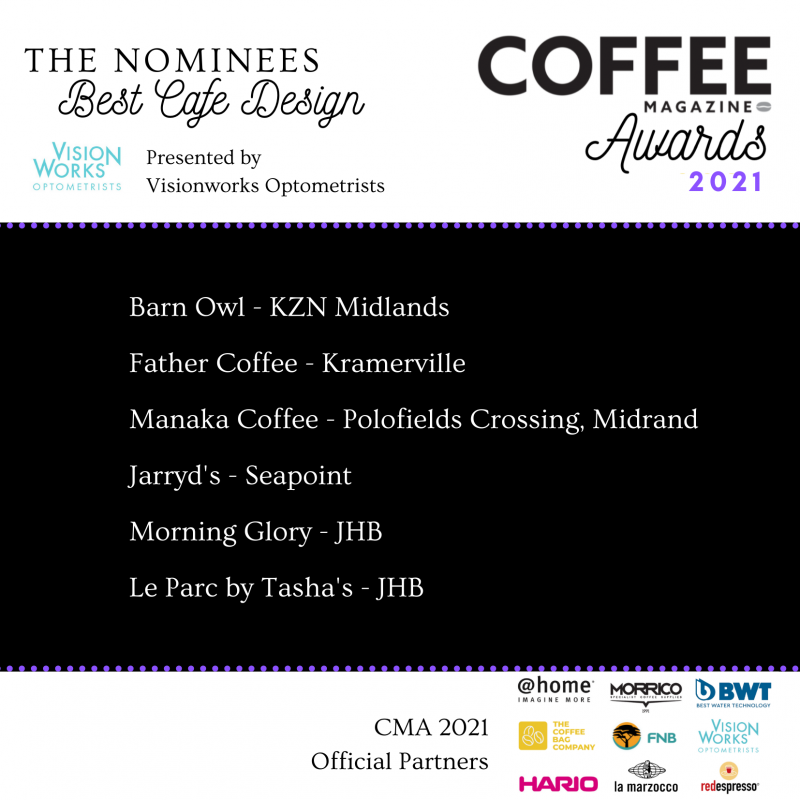 ---
Barista Trainer of the Year
Presented by Hostex 2022
These nominees are the very best Barista Trainers in the land. They teach and inspire, they train and they serve. They impart wisdom learned from thousands of hours behind the espresso machine and their subject matter is technique, science, aesthetic and service.
Previous Recipients: Johnson Sehoro, Belinda Flynn, Stevo Kühn
Armie Vanucci
Hayley Arendse
Teddy Nzama
Christopher Abrahams
Stevo Kuhn
Winston Thomas
---
New Category: Best Coffee Packaging
Presented by The Coffee Bag Company
Have you seen a bag of coffee on the supermarket shelves or at your local roastery that made you go, oooooh! Roasters put a lot of thought and effort into representing their coffees in the best possible way and packaging design has become more and more important over the years. These companies have produced some of the favourites in 2021.
Sorcery Coffee Roastery
Favor&Grace
Seam Coffee
Father Coffee
Red Truck Coffee Roastery
Terbodore Coffee
Bluebird Coffee Roastery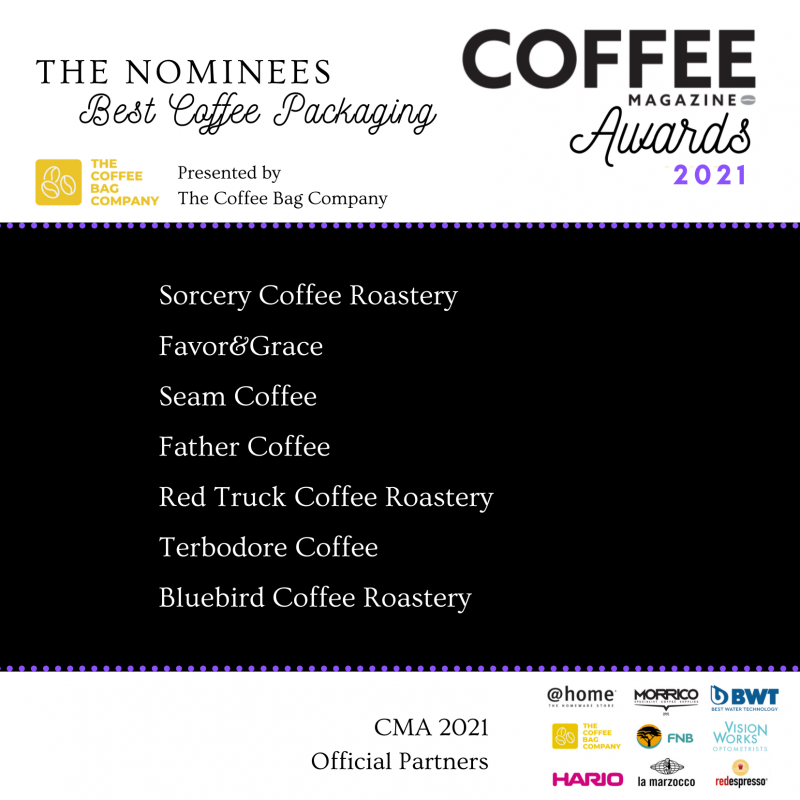 ---
New Category: Best Health Cafe
Presented by Red Espresso
A new Category to celebrate health and wellness in the café space. Cafes that embrace alternative flavours and ingredients and have a focus on health and well-being. Think creative ingredients, beautiful colours and all in the name of feeling good!
Rootbar - Cape Town
Mo'orea Juice and Coffee Bar - Plettenberg Bay
Lexi's Eatery - JHB
Fresh Earth Cafe - JHB
Nouriti - Durban North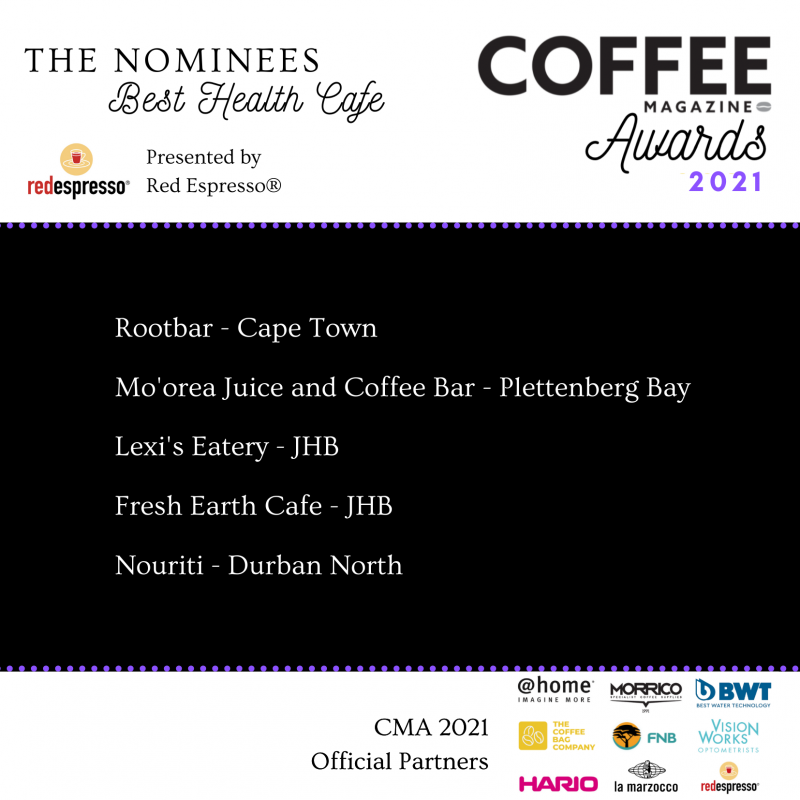 ---
Outstanding Woman in Coffee
Presented by Visionworks Optometrists
In a male dominated industry, we want these nominations to shine a specific light on women doing the most to make spaces more inclusive, uplift other women and challenge stereotypes.
Amy Gardiner
Jamie da Silva
Simnikiwe Mkhize
Carol Corlett
Alicia Steyn
Fikile Khuzwayo
Maryke Schoonwinkel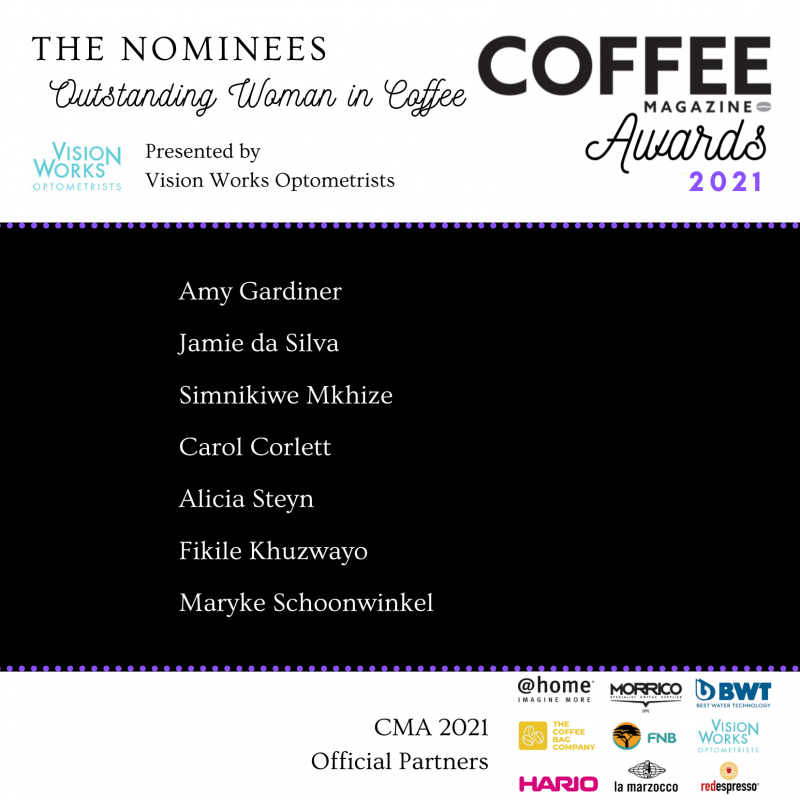 ---
Emerging Entrepreneur of the Year
Presented by FNB
Starting and running a business is really, really difficult, for anyone who attempts it. This particular category is dedicated to those entrepreneurs who have, against all the odds, despite challenges like a pandemic, tricky locations and lack of seed funding or access to it have come out swinging and we salute them. This Award is for coffee businesses dedicated to growing coffee culture where once there was none. The mavericks out there building community from the ground up, bootstrapping and making dreams come true. Previous recipient: Department of Coffee
Siki's Koffee Kafe - Khayelitsha
Home of the Bean - JHB
Thando Coffee Company - JHB
Fiks the Coffee Queen - Durban
Famous Sisa - Grahamstown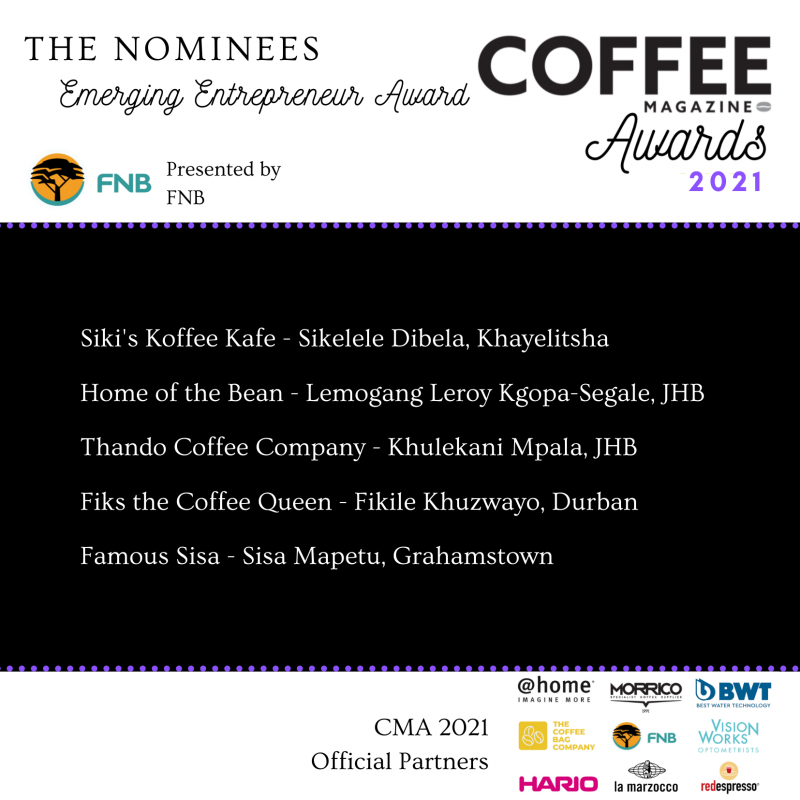 ---
Best New Cafe
Presented by Red Espresso
Cafés are meeting places, they are spaces of community, business meetings, collaborations and first dates. We see new Café's opening every month and the standard is increasing year on year – from better equipment, higher quality beverages, better service, to choice of design and outfitting, to creative seating, flow and ambience. Great toilets and bathrooms (everything counts!), and a fitting menu. Most of all though the criteria for this is based on the Café that opened in the last 18 months that has created something special where before it there was nothing.
Previous recipients: Dear Maria, Holiday Coffee, Bluebird Coffee Roastery
Now Coffee - Durban North
Pang Specialty - CT CBD
Home of the Bean - New location, Maboneng
Millwick's Cafe - George
Rosetta - New Location, Bree Street
From Ground Up - JHB North
Skyline Coffee - New location, Salt Rock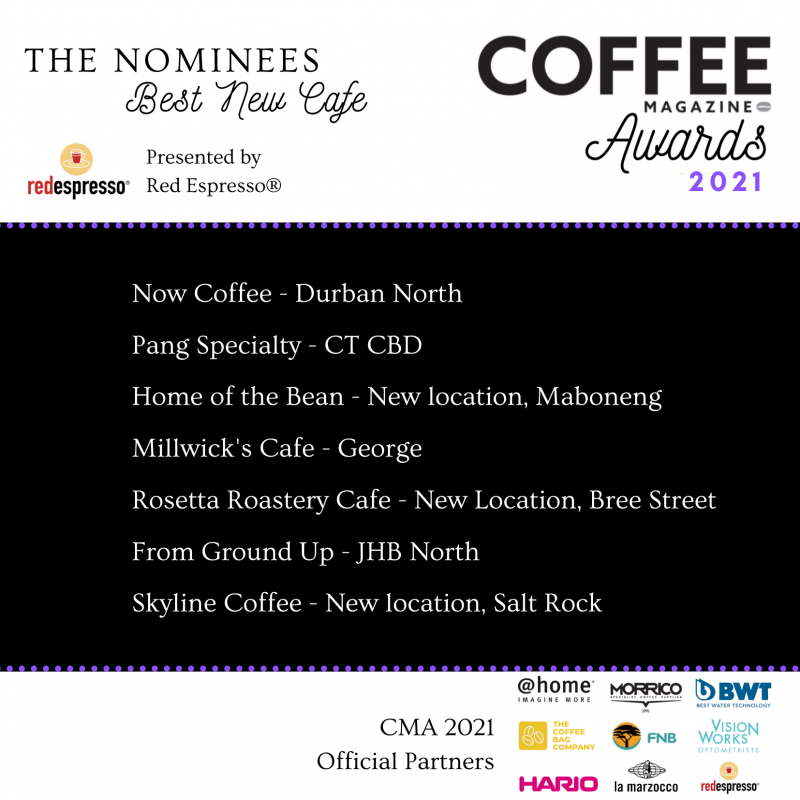 ---
Best New Roastery
Presented by Sevenoaks Trading
This category seeks to recognize Roasteries that have opened in the last year (up to 18months) and are gaining reputations as up and coming in the South African scene.
Previous recipients: Thirdspace (SEAM Coffee), Bluebird Coffee Roastery, Roast Wolff Coffee
Exhale Coffee Roastery - Cape Town
CP Coffee Roasters - Mossel Bay
Lucky Dice Coffee - Stellenbosch
Roasters Mug - Dundee
The Machinist Coffee Co - Kloof
Cuppa Coffee - Nigel, Gauteng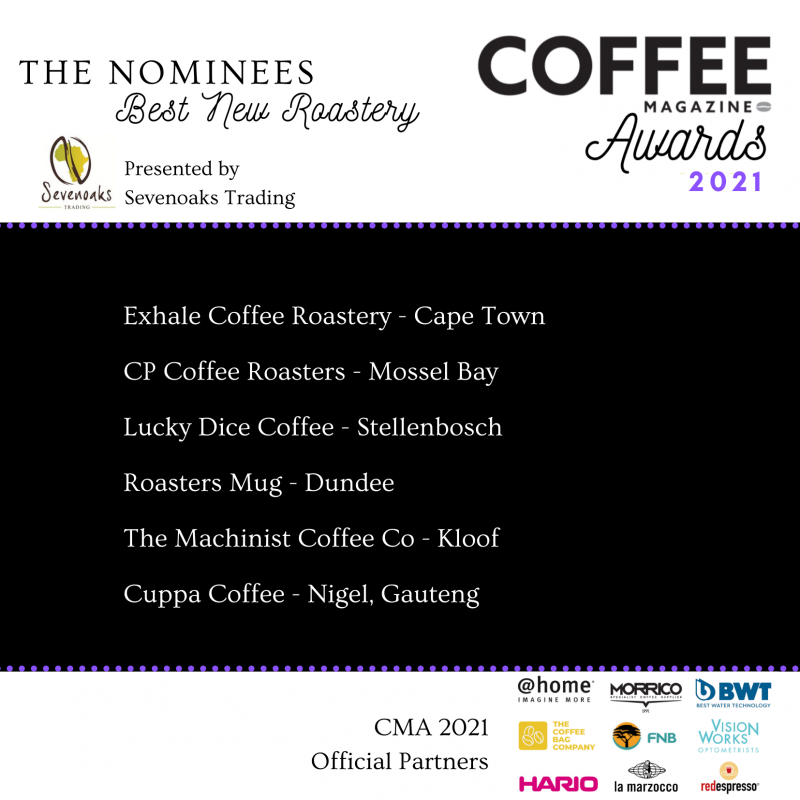 ---
Best Franchise
Presented by The Coffee Bag Company
Employing the bulk of the barista work force and satisfying tens of thousands of coffee lovers everyday, the Franchise coffee companies are an integral part of the coffee landscape.
Previous winners: Seattle Coffee Co, vide e caffe
Motherland Coffee
Seattle Coffee Company
Bootleggers
W Cafe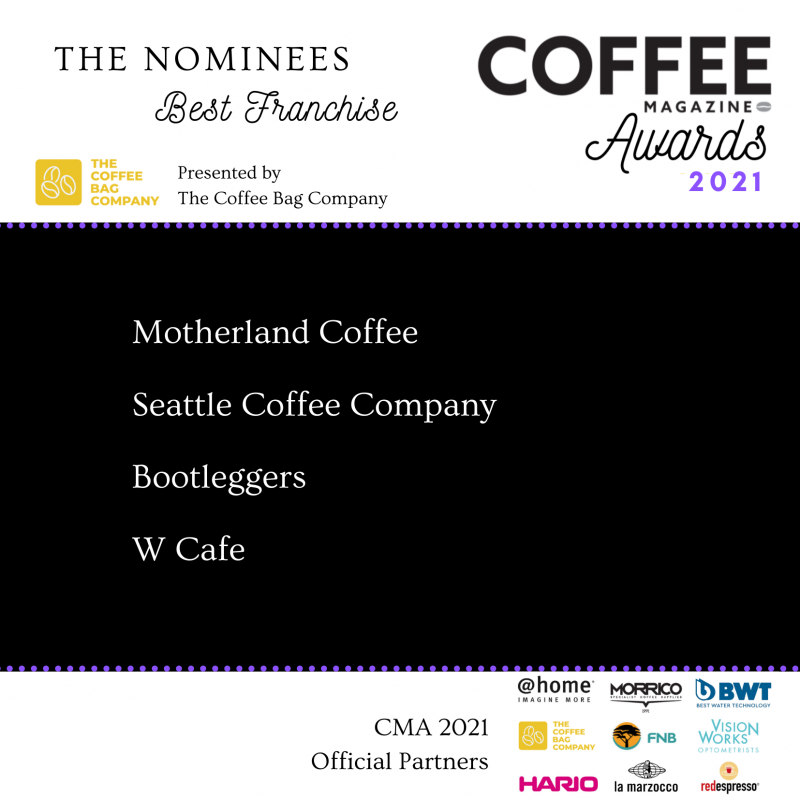 ---
New Category: Best Supplier to the Industry
Presented by FNB
The behind the scenes companies that make life easier for cafes and roasteries that keep you happy on a day to day basis. Think espresso machines and maintenance, packaging, take-away cups, green beans.
Equipment Cafe
Sevenoaks Trading
Dartpac
Electrical Industries
BWT
More Flavour
Morrico Imports
Ultimate Water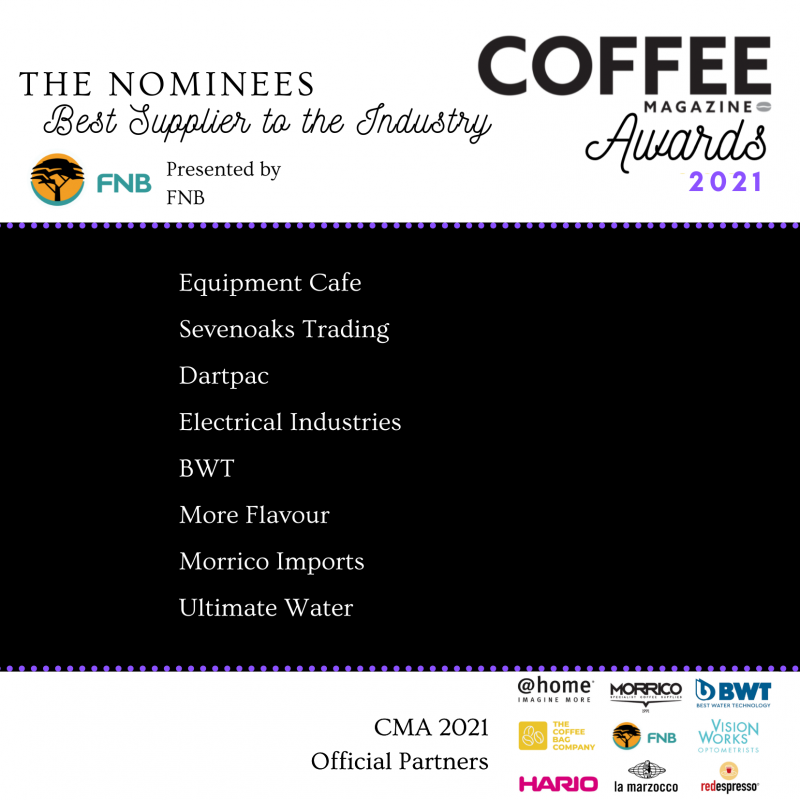 ---
Best Alternative Brewing Experience
Presnted by Hario
AeroPress, Chemex, Siphon or V60 pour-over to name a few! Who makes a black coffee seem like an adventure into a far-off land and creates a flavour explosion like no other? Please tell us your nominees for the best alternative brewing experience in South Africa for 2021.
Previous recipients: EspressoLab Microroasters, Origin Coffee Roasters, Espressolab Microroasters
Rosetta Roastery - Bree Street
Origin Coffee Roasters
Father Coffee
Velvet Coffee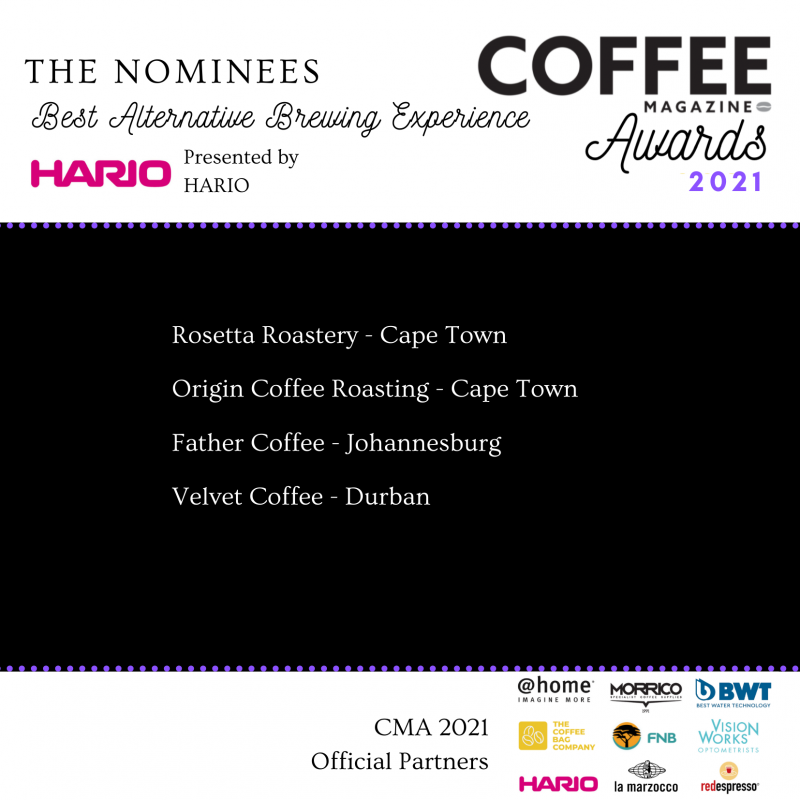 ---
New Category: Best Cafe Community Award
Presented by @home
This Award is to the teams who have created a loyal base of regulars who would ride-or-die for their favourite cafe. We decided to introduce this award, although it was not a category in the nominations, as through the over 500 people who took the time to fill in the Nominee form, it is clear to see that some cafes have people that just absolutely love their work, and we LOVE that.
Red Truck Coffee Roastery
Heavenly Coffee
Skyline Coffee - Morningside
Simple Bru Coffee
Bruder Coffee
Boston Coffee
Bliss Coffee Roastery
---
Coffee Team of the Year
Presented by BWT Africa
One of the most coveted awards in the industry! The Coffee Team of the Year Award recognizes that it is people that make a coffee company great – From the Owners who create a happy, respectful and creative ethos, to the staff who live the brand daily. A successful team is one in which all the people in the space uphold the same values and consistently serve with excellence and are rewarded well for doing so, creating a diverse and healthy team culture.
Previous Recipients: Bean There Coffee Company x 2, Rosetta Roastery
Deluxe Coffeeworks
Bean There Coffee Company
Skyline Coffee
Lineage Coffee
Beaver Creek Coffee
Sevenoaks Trading
CoffeeBox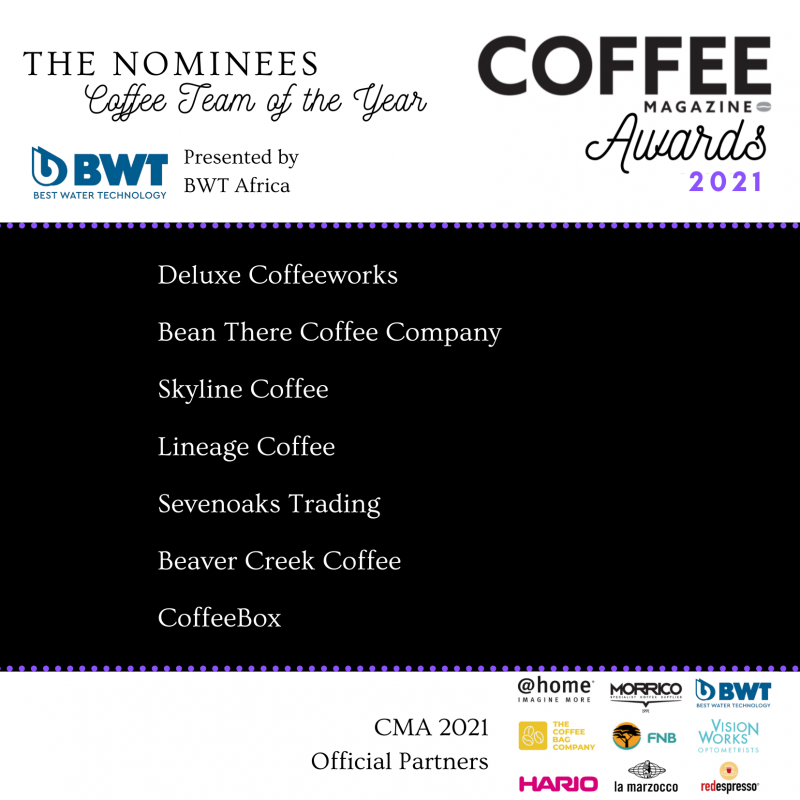 ---
Cafe of the Year
Presented by Morrico Specialist Coffee Supplies
This award goes to the establishment that has consistently created an amazing cafe experience for its patrons, serves great coffee along with exceptional food, excellent service, great ambience, design and most importantly, a loyal community of patrons. This is a bustling
Previous recipient: Truth Coffee, Thirdspace, Seam Coffee @ Thirdspace
Humble Coffee - Durban
Barn Owl Coffee - KZN Midlands
Jason's Bakery - Cape Town
Father Coffee - Kramerville
Coffeeberry - PMB
Gapp Cafe - George
Terbodore Cafe - Franschhoek
The Whippet - JHB
Starling's Cafe - Claremont
Salvation Cafe - JHB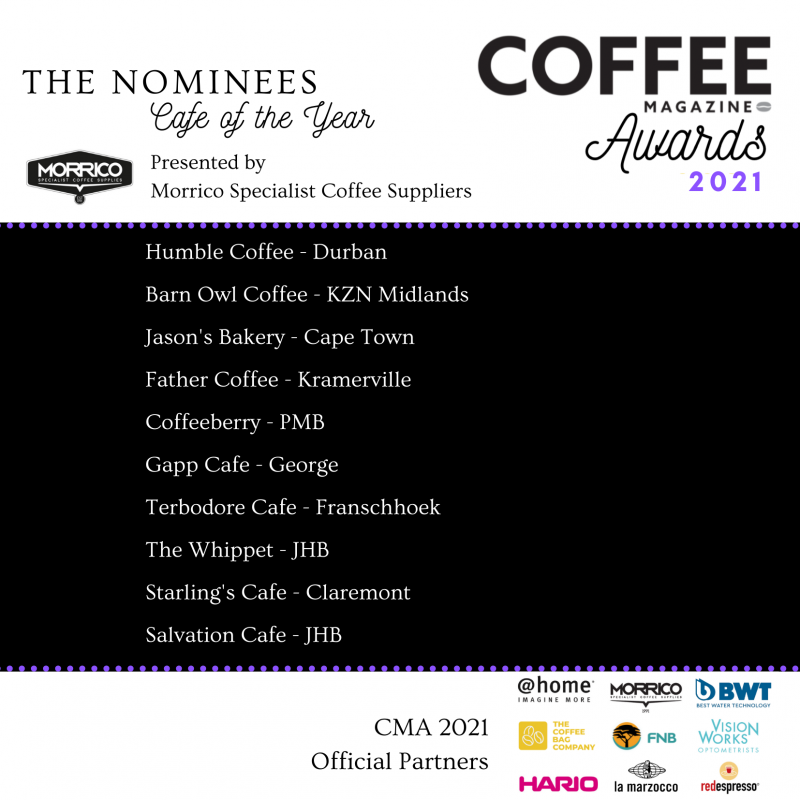 ---
Roastery of the Year
Presented by Bühler
The nominees in this category are the Roasteries in South Africa that have forged the path for speciality coffee in SA. They continue to push the boundaries of coffee roasting by sourcing the best coffees, investing in the latest technology, by collaborating, sharing and engaging with the global roasting community, by educating, informing and inspiring their customers – wholesale and retail and finally, by putting the highest quality coffee into the market that can make South Africa stand amongst the best coffee roasters in the world.
Previous recipients: Rosetta Roastery x 2, Father Coffee
SEAM - JHB
Father Coffee - JHB
Gegrond - Pretoria
Pause Coffee Roastery - Garden Route
Beethoven Coffee Roasters - JHB
Quaffee - Constantia
Bluebird Coffee Roasters - Howick
The Black Sheep Coffee Company - Malmesbury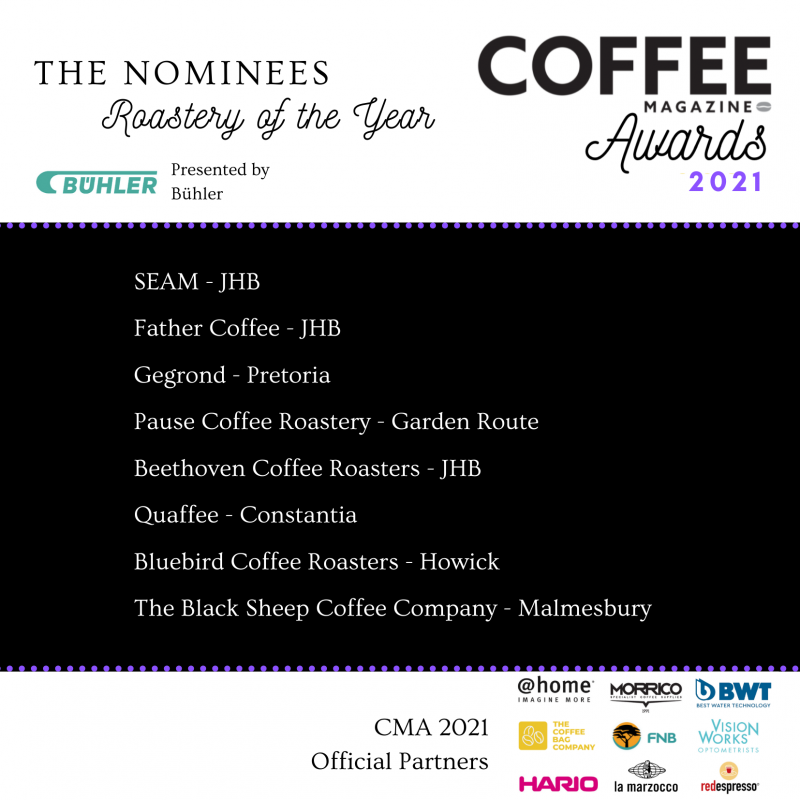 ---
Barista of the Year
Presented by La Marzocco South Africa
Barista of the year is not limited to competitive coffee competitions but is the barista all-rounder. They are the barista who epitomizes what it means to understand, to respect and to serve up amazing coffee experiences. They are masters of extraction, technique and technical understanding, but most of all they cherish that it's not just about the coffee served, but in the serving. This category is specifically for baristas who work behind the bar everyday and always make their customers feel like they're special, we salute you!
Previous Recipients: Winston Thomas, Simnikiwe Mkhize, Kgune Dlamini
Marcus Tlhomelang - Bean There Coffee Company
Teddy Nzama - Starbucks
Neli Dinabantu - Origin Coffee Roasters
Gareth Prior - Urban Brew
Kgune Dlamini - Lineage Coffee
Grant Vraagom - Simple Bru Coffee
Fikile Khuzwayo - Mr Price Foundation